Looking for an option to eat clean AND enjoy the Mexican food you love? This Healthy Chicken Enchilada Recipe loaded with Salsa Verde is the perfect solution! At only 9 net carbs, you will enjoy this amazing dish.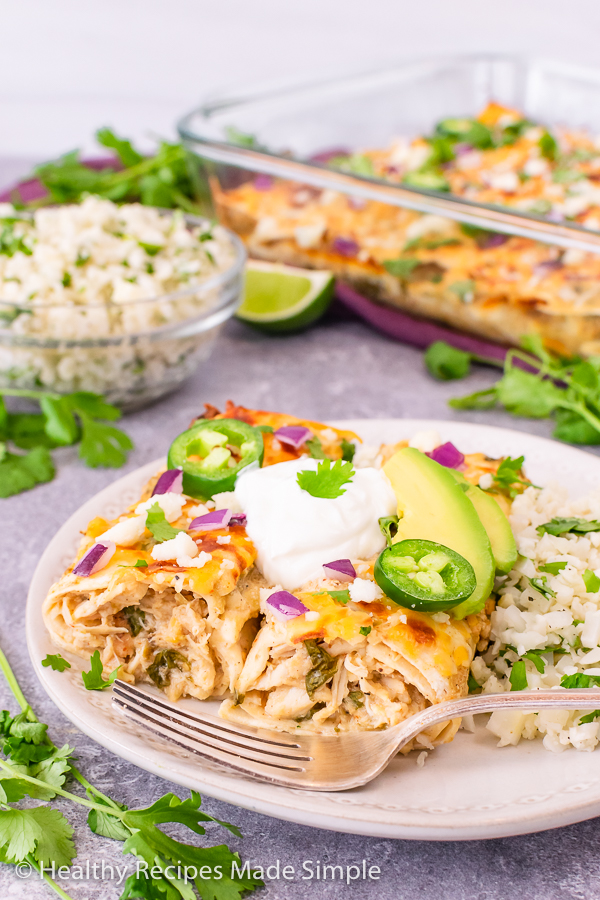 Jump to:
Why Make This Recipe
Do you love enchiladas but hate all the carbs? We've got the solution for you!
Our low carb white chicken enchiladas are easy to make and taste amazing. You can enjoy your favorite Mexican flavors without feeling guilty.
It's perfect for any diet, including Optavia and Keto. Plus, it can be on your table in about 35 minutes! Try it with our cilantro lime cauliflower rice to make it a full meal!
Taste amazing! These low carb chicken enchiladas have just enough spice to leave your mouth tingling but not too much that you won't be able to eat them again.
Healthy for you! They contain only 9 net carbs per serving, which means less guilt when eating these lean and green chicken enchilada roll-ups.
Key Ingredients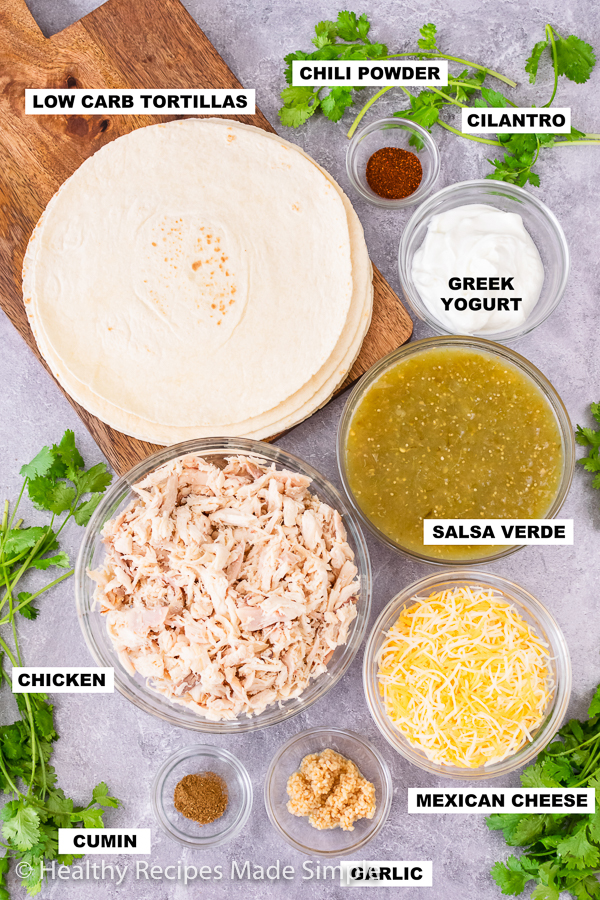 These lean and green chicken enchiladas are packed with flavor, so they won't feel like a sacrifice at all!
Chicken - Precooked shredded chicken gives this dish the protein punch you want in this healthy recipe. Using store-bought rotisserie chicken will save you time.
Low Carb Tortillas - These 8" tortillas only have 4 grams of carbs vs a 40 gram tortilla making them the perfect choice for these enchiladas. We have found La Banderita Carb Counter is the perfect tortillas for this dish.
Greek Yogurt - This is a perfect substitute for sour cream. Greek yogurt is full of protein and gives you that creamy taste without all the extra fat.
Salsa Verde - Also known as green salsa, this delicious sauce is made with tomatillos, cilantro, and peppers. You can find it in the salsa aisle at your grocery store.
Cheese - Shredded low fat Mexican cheese gives this the finishing flavor with less fat than a typical cheese.
Spices - As prepared, this dish is not too spicy. More seasonings can be added for an extra spicy flavor.
How to Make Healthy Chicken Enchiladas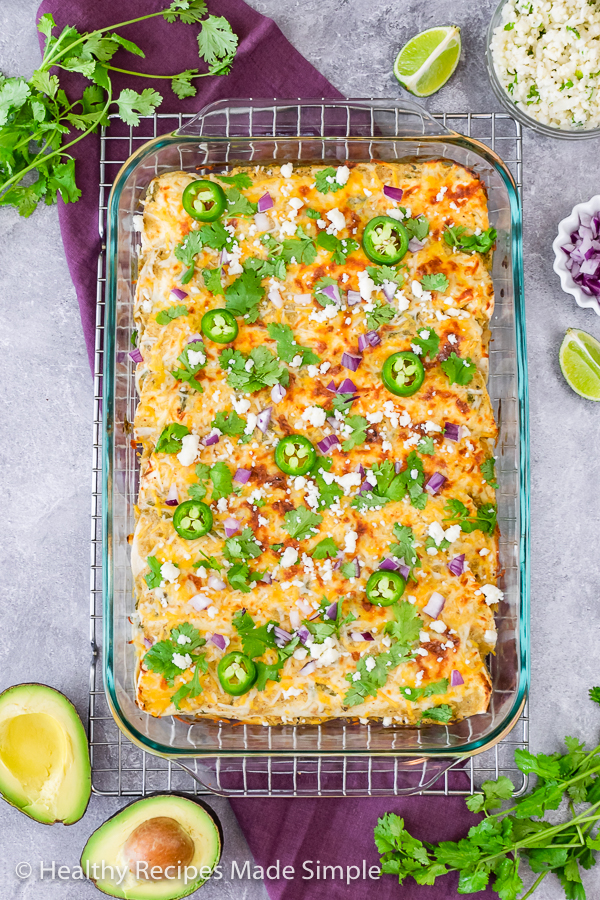 We know what a pain it can be to make dinner every night when you have a busy schedule. This easy-to-follow recipe will help you get dinner on the table in no time flat.
All your friends and family will love this healthy chicken enchilada recipe, so don't wait any longer - try it today!
Make the Chicken Mixture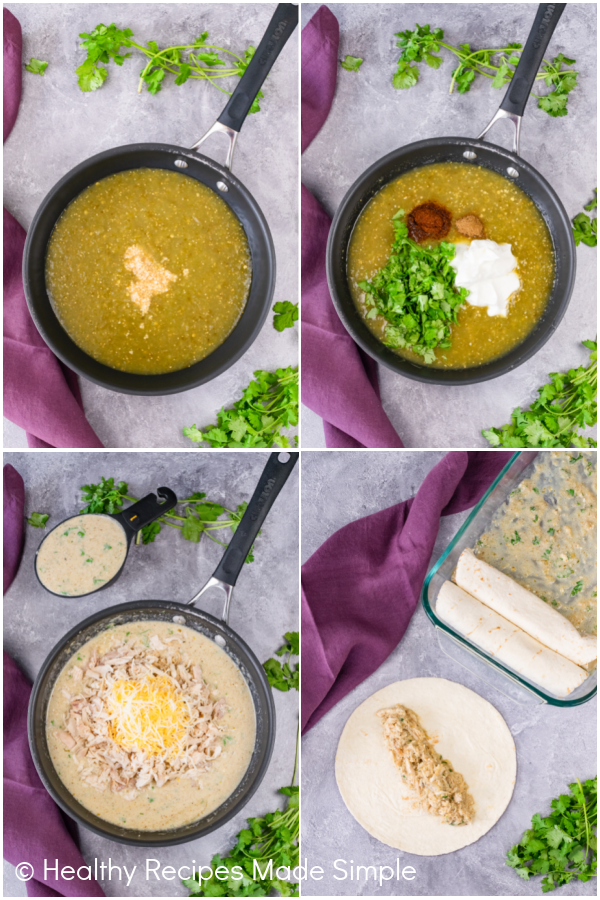 In a bowl, mix the salsa and garlic in a skillet and heat until warm.
Add the yogurt, cilantro, and seasonings and stir in. Set aside some of the sauce for later.
Stir in the shredded chicken and half of the cheese.
Spoon some extra sauce onto the bottom of a baking dish. Doing this will ensure the tortillas do not stick when you bake them.
Assemble and Bake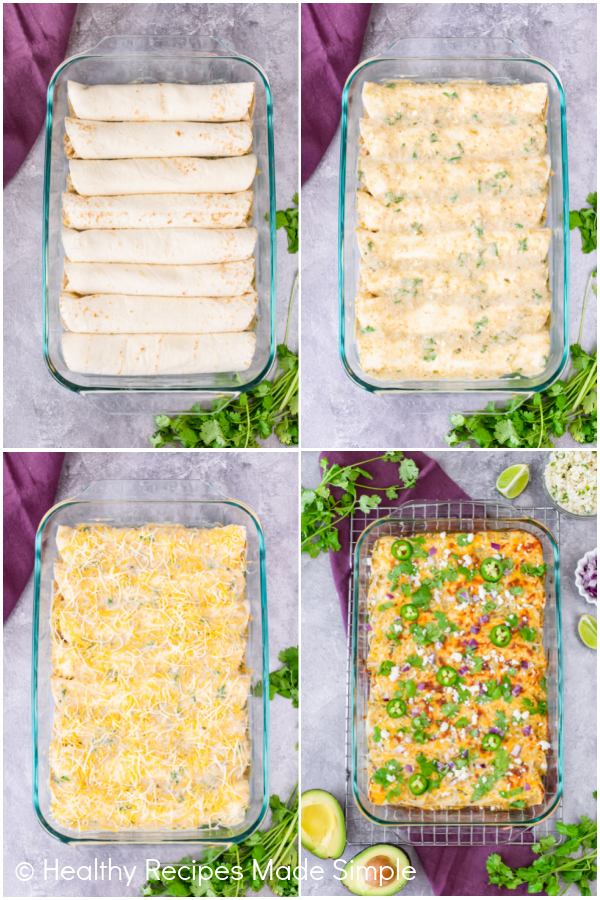 Add a spoonful of chicken mixture down the center of the tortillas and roll them up. Place them in the pan with the seam side down so they do not reopen on you. Do this with the remaining chicken and flour tortillas.
Pour the rest of the sauce on top of the rolled tortillas and cover with shredded cheese.
Cover with foil and bake. Remove the foil and broil the dish in the oven for the last few minutes to get the cheese nice and melted.
Storage
Any leftover low carb salsa verde chicken enchiladas can be stored in an airtight container in the refrigerator for three days.
Like most foods, this dish is best on day 1. The tortillas will absorb the moisture, leaving reheated leftovers to be less moist and creamy.
FAQs
What diet does this work for?
This works for Low Carb, Keto, and Optavia. For those following the Optavia plan, this recipe is one lean, two greens, one fat, and one condiment. The overall macro breakdown is 50 grams of protein, 9.5 grams of net carbs, and 18 grams of fat.
Can I make this ahead of time?
You can make this ahead of time. The best flavor and texture will be if you make it the day you eat it.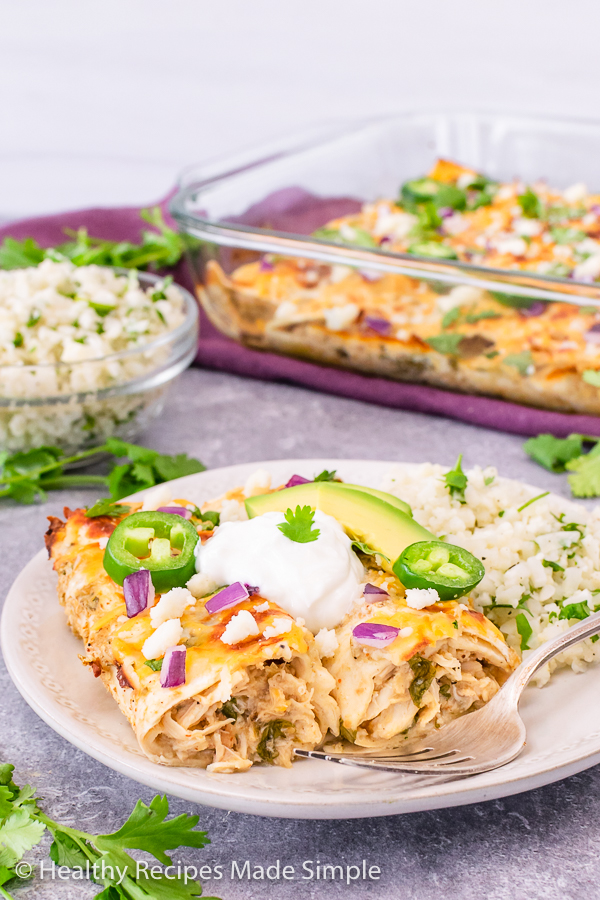 More Healthy Dinners
❤️ THIS RECIPE? If you do, will you consider giving it a 5⭐️ review?
This will help us provide quality recipes for everyone to enjoy!
Recipe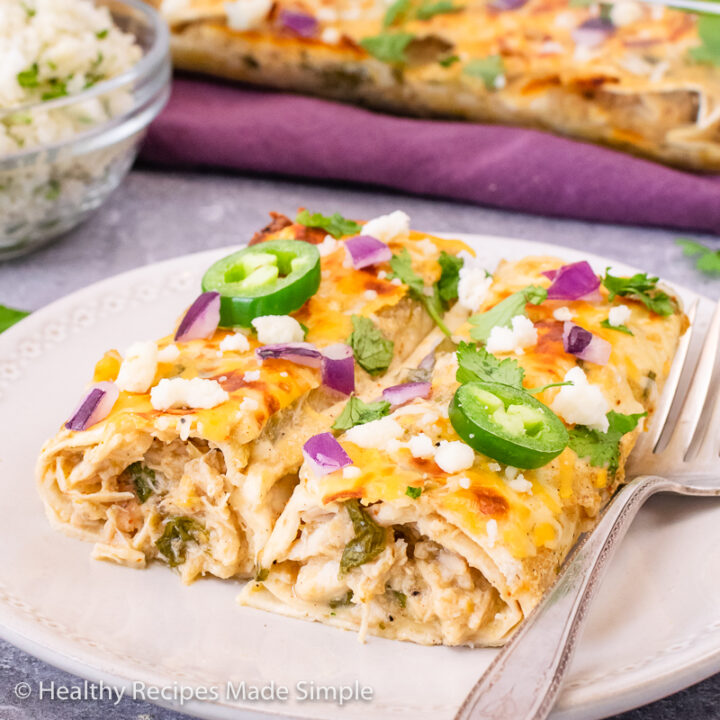 Low Carb Salsa Verde Chicken Enchiladas
This low carb healthy chicken enchilada recipe is easy to make and tastes delicious. You can enjoy the mexican flavors you love without feeling guilty about your diet.
Ingredients
1 - 16 oz jar salsa verde
1 tablespoon minced garlic
½ cup plain Greek yogurt
⅓ cup chopped cilantro
1 teaspoon chili powder
½ teaspoon cumin
3 cups shredded chicken
1 cup low fat shredded Mexican cheese
8 - 8 inch low carb tortillas
Instructions
Preheat oven to 375°. Spray a 9x13 pan with nonstick cooking spray.
In a large skillet, mix the salsa and garlic until heated through. Stir in the yogurt, cilantro, and seasonings.
Set aside 1 cup of the sauce. Spread a few tablespoons of sauce into the 9x13 pan. Save the rest to use for later.
Mix the shredded chicken and ½ cup of cheese into the sauce.
Spoon the chicken mixture evenly into the tortillas. Roll them up and place them in the pan with the seam side down.
Pour the remaining sauce evenly on top and sprinkle with the remaining cheese.
Cover with foil and bake for 15-20 minutes. Remove the foil and broil for another 2-3 minutes until the cheese is melted or browned to your liking.
Garnish with Greek yogurt, jalapeños, avocado, onions, and Cotija cheese.
Notes
We have found La Banderita Carb Counter tortillas are the perfect tortilla for this dish. They only contain 4 net carbs per serving.
Nutrition Information:
Yield:

4
Serving Size:

2
Amount Per Serving:
Calories:

417
Total Fat:

18g
Saturated Fat:

7g
Trans Fat:

0g
Unsaturated Fat:

8g
Cholesterol:

104mg
Sodium:

1157mg
Carbohydrates:

17.5g
Fiber:

8g
Sugar:

8g
Protein:

50g