Do you love the flavor of orange and sesame? This one pan Orange Sesame Chicken Recipe is a delicious dish that will make your mouth water. This takeout favorite tastes so good you won't even notice it's healthier than your typical Orange Chicken.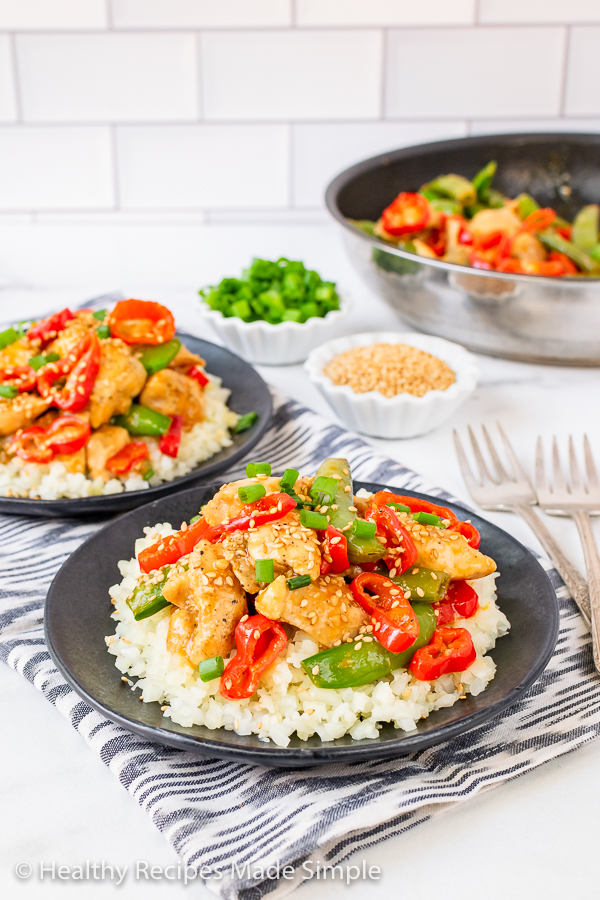 Why This is So Good
We love eating at home and are getting back into cooking more meals together as a family. Cooking doesn't have to be complicated...our one skillet orange sesame chicken recipe proves that.
It's quick, delicious, and has all of the Asian flavors we crave without breaking the calorie bank! If you're looking for low carb recipes, this orange chicken is the perfect dish.
Nutritional Information
You don't often find a lean and green orange chicken, but here it is. This easy dinner works well on the Optavia 5&1 plan. It is only 390 calories. This simple guide also lays out the macro count to keep things simple.
Optavia
Lean - 0
Green - 1
Healthy Fat - 1
Macros
Protein - 26 grams
Carbs - 12 net grams
Fats - 2 grams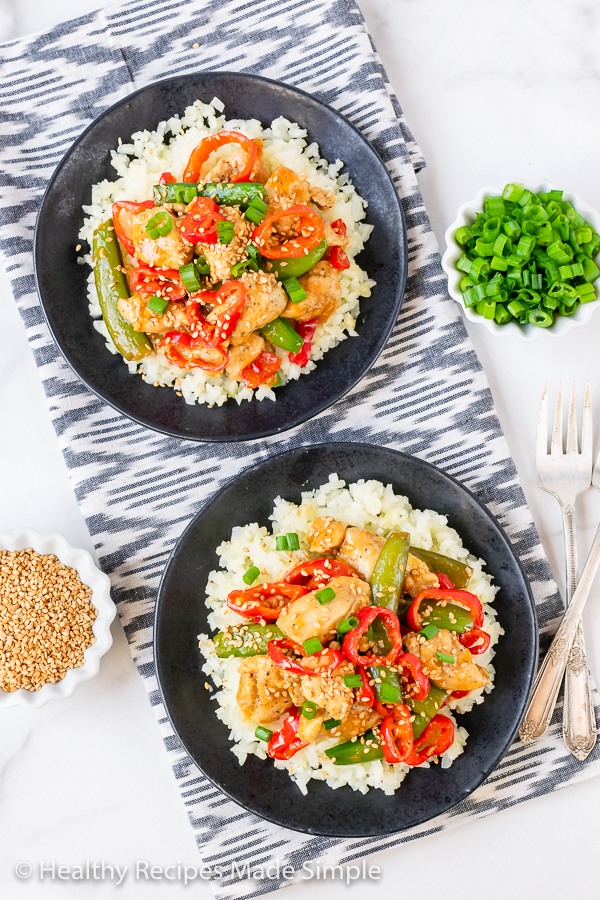 Main Ingredients Needed
This orange chicken can be made and customized with any type of vegetables you would like. This one includes peppers and snap peas.
Chicken - We like to use all white chicken breast for the leanest protein.
Red Pepper Chunks - Peppers are a perfect complement to the orange flavor of the chicken.
Sugar Snap Peas - Not only will this give your dish a beautiful color, this great vegetable is perfect for chinese food.
Orange and Orange Marmalade - Fresh orange juice and zest plus the marmalade give this the best orange tang!
Sesame Oil - This has an amazing nutty flavor without being overwhelming.
Soy Sauce - Adds that bold flavor that balances the orange.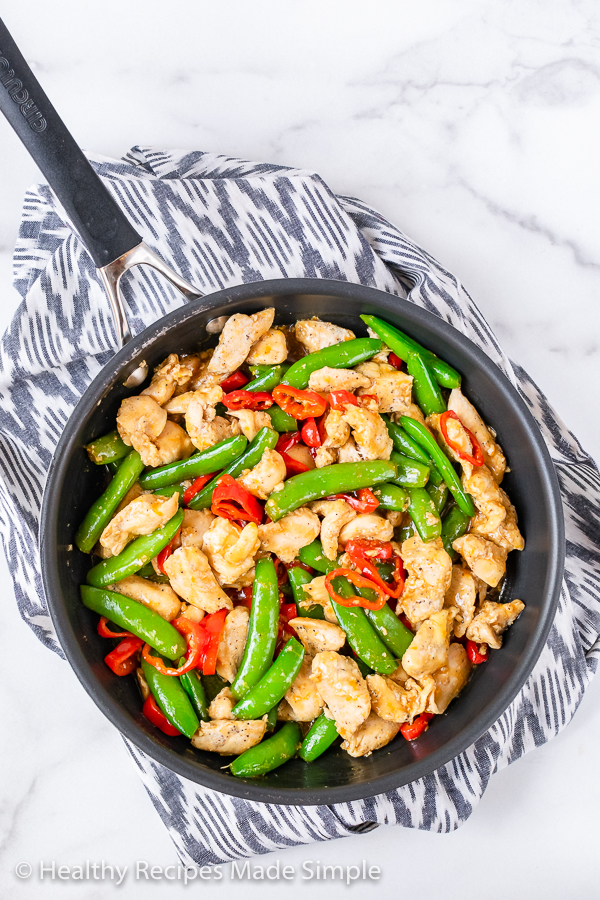 Is this Orange Sesame Chicken quick and easy to make?
This dish is super simple. Don't believe me? Decide for yourself!
Simply dice your chicken, season with salt and pepper, and cook it in the oil and then set it aside.
With the same pan, heat oil and sauté the veggies.
In a small bowl, wisk together the sauce ingredients and pour it over the vegetables.
Cook until thick and then add the cooked chicken and simmer for 2-3 more minutes.
Put it on top of your favorite rice or cauliflower rice and enjoy!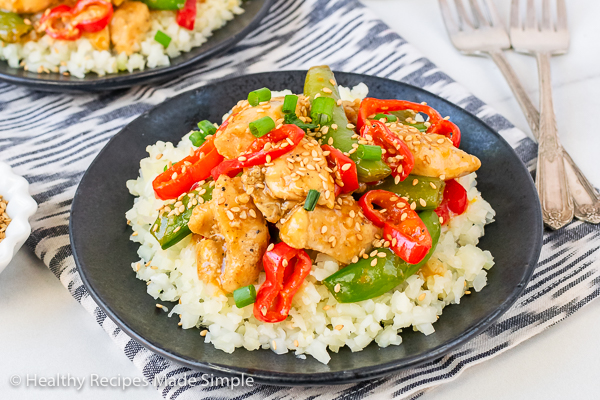 How to Serve
This one skillet meal can easily fit into any healthy eating plan. You don't have to worry about hidden ingredients that might throw off your day or diet.
Lower Carb Option - If you are on a low carb or Optavia lean and green plan, serve this as is or substitute some of the snap peas and pile the chicken on a bed of cauliflower rice or slaw mix.
Higher Carb Plan - Another delicious way to eat this is on top of a bed of brown or white rice. This is the more traditional way that you find it served.
Additional toppings - Have fun with this orange chicken recipe. Top it with your favorite toppings such as sesame seeds, cilantro, wonton strips, dried coconut, or green onions.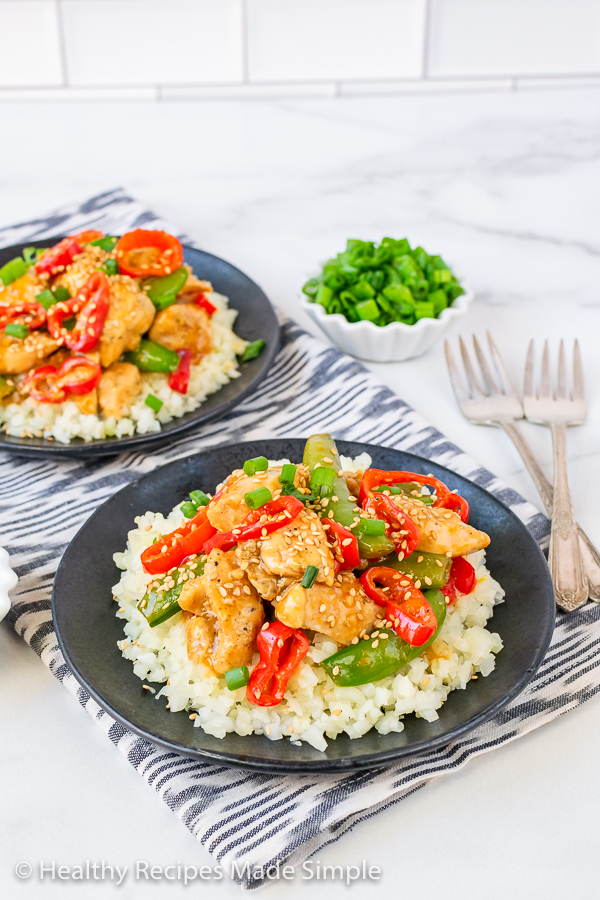 Keep It Simple Tips
Use a large enough pan to fit the chicken in one layer. If it is stacked on top of each other, it won't cook properly and may even steam instead of sautéing!
This orange zest chicken is delicious without the need for tons of brown sugar. If you like a sweeter taste you could add honey if you prefer.
You could use pre-cooked diced chicken that would cut down the overall cooking time of this orange zest chicken.
You could also purchase an orange sauce for this recipe to replace the homemade sauce. Check your nutritional labels because store bought sauces are generally higher in sugar content.
Common Questions
What do I do with leftovers?
Store in an airtight container in the refrigerator for up to three days. You can freeze this but the texture of veggies won't be as good when reheated. If you're planning on freezing it, make sure it's completely cooled before freezing!
What kind of oil can I use?
You can use any type of oil or marinade you prefer - we've had success with everything from olive oil, sesame oil, coconut aminos, and even teriyaki sauce instead of the sesame oil.
What is a good side dish with this recipe?
We love serving it over brown rice or cauliflower rice. Experiment and see what you like the most.
Is this orange chicken spicy?
This version is not spicy at all. You could add some red pepper flakes or pepper oil to increase the spicy factor.
Other Cauliflower Rice Dinners
Recipe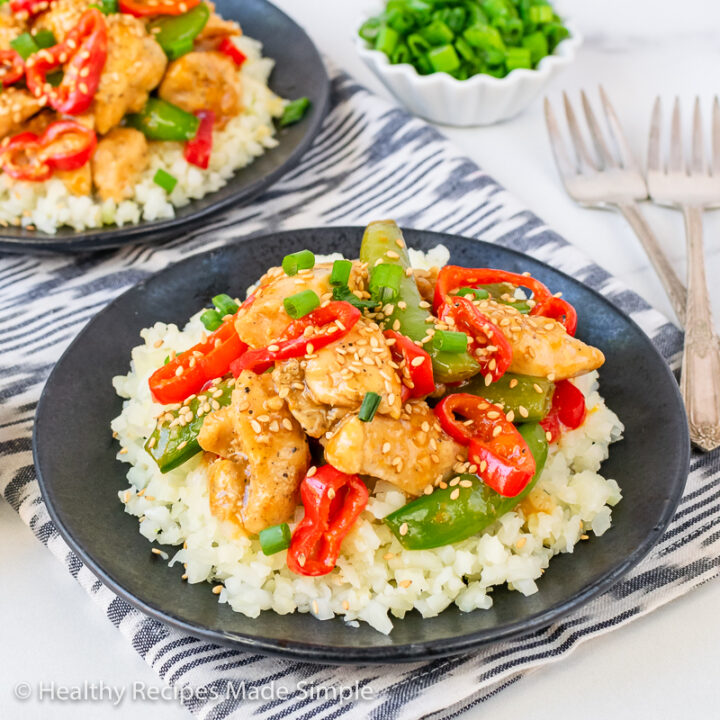 Orange Sesame Chicken Recipe
This one pan Orange Sesame Chicken Recipe is a delicious dish that will make your mouth water. This takeout favorite tastes so good you won't even notice it's healthier than your typical Orange Chicken.
Ingredients
1 navel orange
2 tablespoons soy sauce
1 tablespoon sesame oil
1 tablespoon vinegar
2 tablespoons orange marmalade
1 tablespoon minced garlic
1 tablespoon cornstarch
1 pound diced chicken
Salt and pepper to taste
2 teaspoons vegetable oil, divided
1 cup diced red pepper
8 ounces sugar snap peas, trimmed
Instructions
In a large skillet, heat 1 teaspoon vegetable oil and cook the chicken until done. Set aside.
Zest the orange and then juice the orange into a small bowl.
Add the soy sauce, sesame oil, vinegar, marmalade, garlic, and cornstarch to the orange juice and zest. Wisk ingredients together.
In a large skillet, heat 1 teaspoon vegetable oil and cook veggies until crisp and tender.
Add the sauce and cook until thickened, stirring occasionally.
Add the cooked chicken and simmer for 2-3 minutes.
Enjoy with rice or cauliflower rice.
Nutrition Information:
Yield:

4
Serving Size:

1
Amount Per Serving:
Calories:

390
Total Fat:

21g
Saturated Fat:

5g
Trans Fat:

0g
Unsaturated Fat:

14g
Cholesterol:

107mg
Sodium:

602mg
Carbohydrates:

20g
Fiber:

3g
Sugar:

13g
Protein:

30g