Are you tired of the same old recipes? Do you want to try something new and delicious but don't know where to start? One Pan Zucchini Alfredo with Chicken Sausage is your answer! This low carb, lean and green recipe will get 2 thumbs up every time!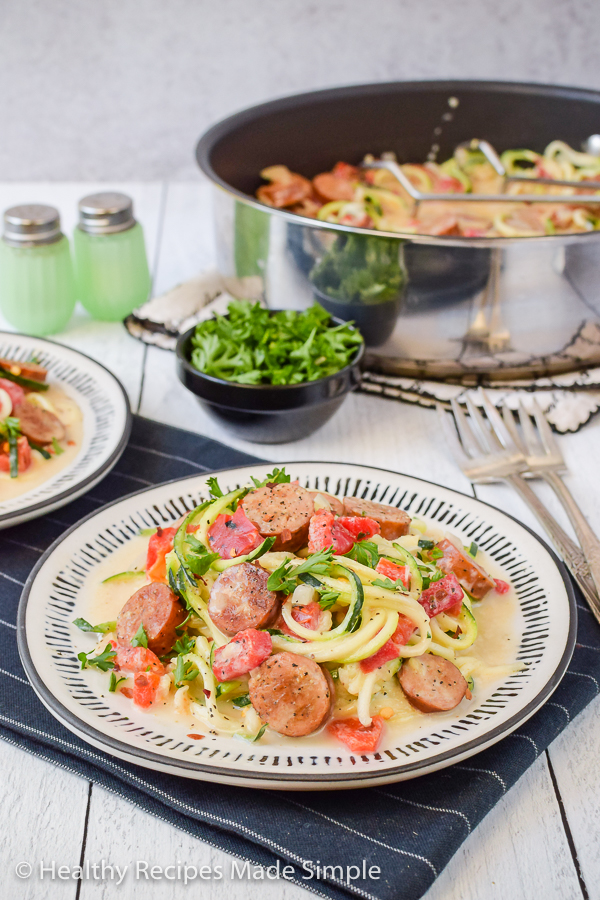 Why You Will Love This Recipe
If you are like us, we used to believe the only way to eat healthy was a salad and some type of protein. To be honest, that can get boring over time. If meals are boring, then it is easy to get off your plan and away from your goals. We loved chicken alfredo but did not love how heavy we felt afterwards (or how heavy it made us!)
However, when we discovered the power and versatility of zucchini, our whole world changed. This low carb zucchini recipe is packed with flavor, and the homemade alfredo sauce is lower in fat and calories than any sauce you can buy. Plus, it is super simple to make with dynamite flavor!!
Best of all, you can cook all the ingredients in one pan to keep meal prep simple. If you are looking for an easy one pot meal that will leave everyone satisfied - look no further!
Nutritional Information
Chicken Sausage with Zoodles is a great Optavia lean and green recipe. It fits perfectly on the 5&1 nutrition plan. At only 266 calories, this will fit great into your macros.
Optavia
Lean - 0
Green - 1
Healthy Fat - 1
Macros
Protein - 26 grams
Carbs - 12 net grams
Fats - 2 grams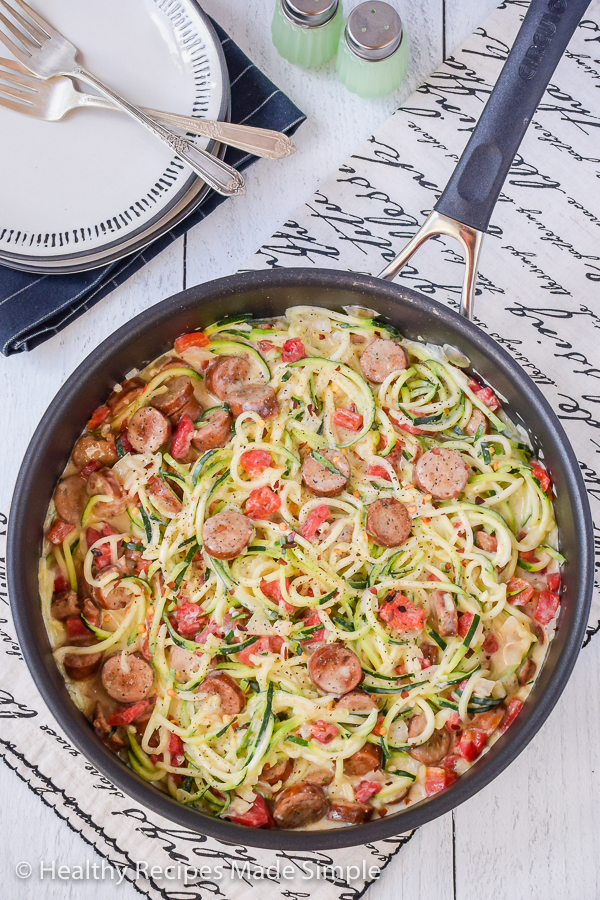 Ingredients Needed
Get ready to make this easy low carb zucchini alfredo in minutes with just a few ingredients.
Zucchini - We use a spiralizer to turn these into noodles. You can have these zoodles ready to go in less than 2 minutes!
Chicken Sausage - Really any protein will do. We used a chicken sausage that pairs well with the sauce.
Garlic and Onions - Great flavoring in Italian dishes that give the food so much flavor.
Half and Half, Butter, Mozzarella Cheese - You will be surprised at how little of this you have to use to create an amazing alfredo flavor and still be low in calories.
Roasted Red Peppers - We like to buy these already roasted and jarred in oil.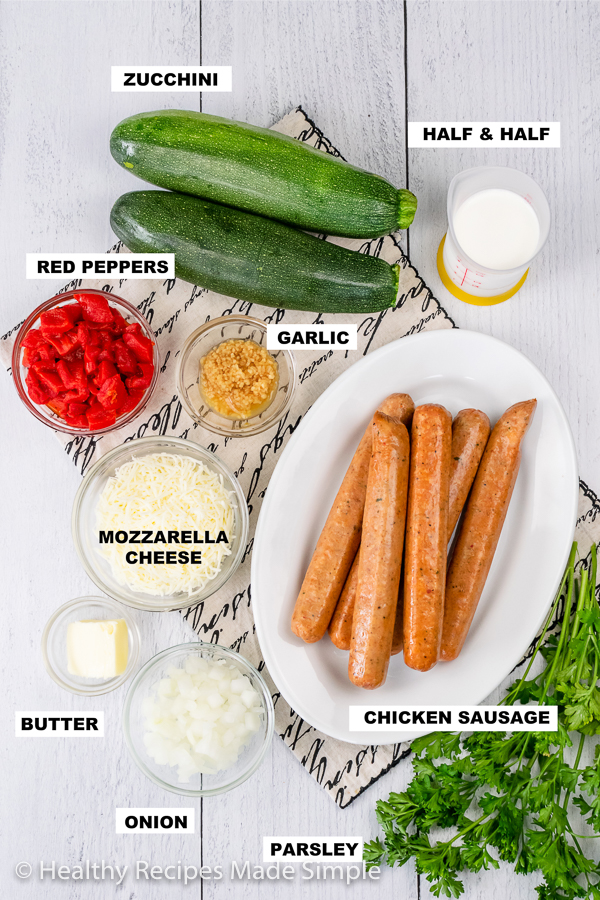 How to Make This Recipe
This zucchini alfredo recipe is a healthy recipe made in 3 easy steps.
Step 1
Wash and dry the zucchini.
Use a spiralizer to turn the zucchini into noodles.
Salt the noodles and place them onto a paper towel. This will help remove extra moisture from the zucchini.
Step 2
Slice your pre cooked chicken sausage.
Place the sliced sausage in a large skillet and brown it over medium to high heat. We like to cook it until it has a nice crust on the outside of the sausage giving it an added texture.
Set the sausage aside.
Step 3
In the pan the sausage was cooked in, melt the butter. Then sauté the onions for 1 minute.
Add the garlic, half and half, and mozzarella cheese. Stir until melted.
Add the cooked sausage, zucchini noodles, and roasted red peppers. Stir until the noodles are heated through.
Enjoy!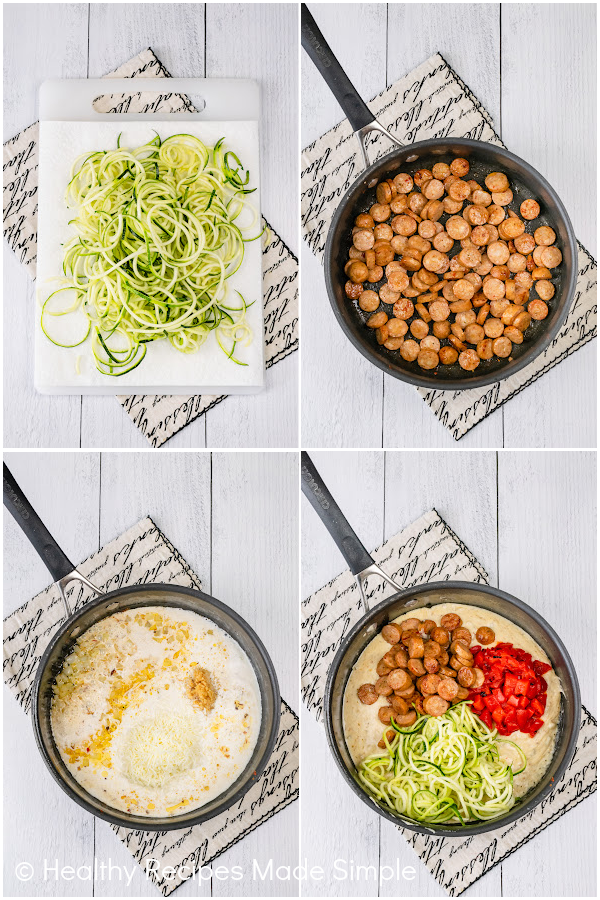 Precooked protein is the easiest to use. We love the precooked chicken sausage for a lower fat content than regular smoked sausage. Mix it up by using precooked chicken, shrimp, or steak.
If you prefer, you can also purchase zucchini already spiralized. It doesn't take long to spiralize zucchini on your own, but if you do not have the right tools, you can purchase it already done.
Chop the spiralized zucchini into smaller bite sized pieces if you want. This will make it a little easier to eat later unless you like those long zucchini noodles.
All this can be done in one pan! Less mess equals less dishes!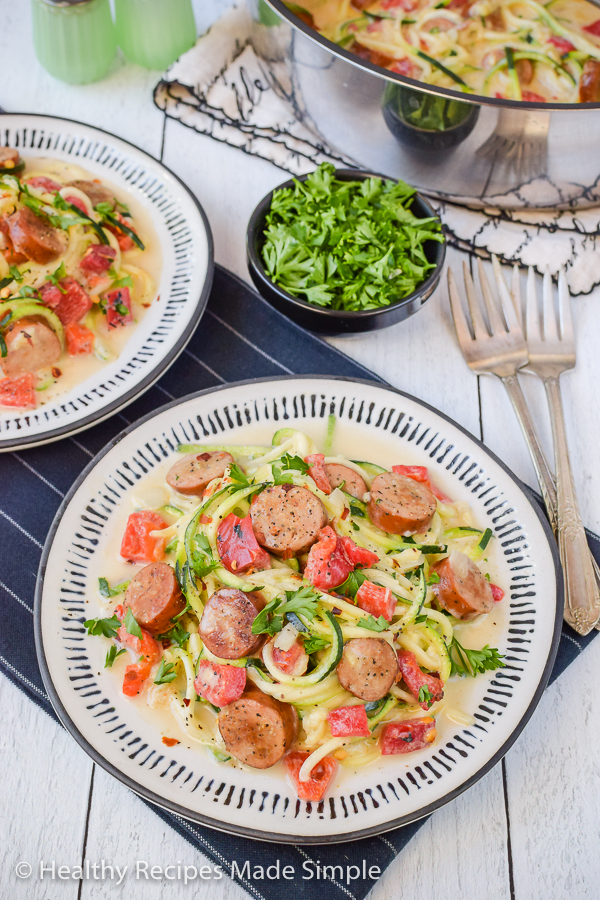 Common Questions for this Zucchini Alfredo Recipe
What is a zoodle?
Zoodles are zucchini noodles. They technically are not noodles, but rather zucchini in the shape and form of a spaghetti or alfredo noodle. These are great substitutes for people who cannot eat gluten or are trying to keep their carbohydrates low.
How many calories are in this meal?
Each serving is about 300 calories depending on what protein you use. For those following the OPTAVIA lean and green plan, each serving contains 1 lean, 3 greens, and 1 healthy fat.
Is this alfredo sauce thick and creamy like Olive Garden's chicken alfredo?
Short answer, No. Most alfredo sauces in a restaurant are made with a lot of fats. Butter, heavy cream, and tons of cheeses give these sauces that thick and creamy texture. Yes they are delicious, but the calorie and fat content is super high.
This recipe gives you that same amazing flavor with a fraction of the calories. The moisture from the zucchini noodles will also cause this to be a little runnier than other pasta sauces.
How long do I cook the zucchini noodles?
Once you mix the zucchini noodles into the alfredo sauce, we close the lid and cook on medium low for about 5 minutes. This will heat the noodles up, but will still allow them to retain the crunchier texture. If you like a softer noodle, cook them longer to your preferred texture.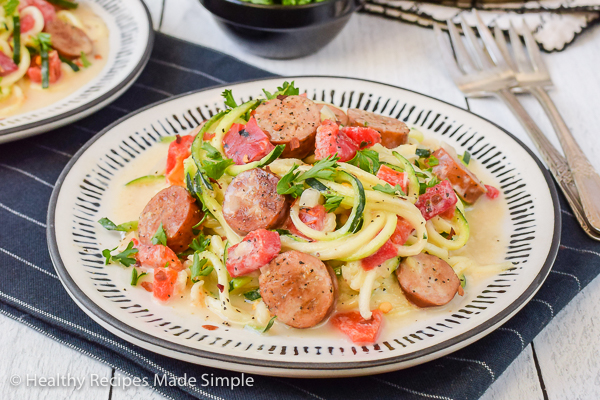 More Lean and Green Zucchini Recipes
Other Lean and Green Recipes
Recipe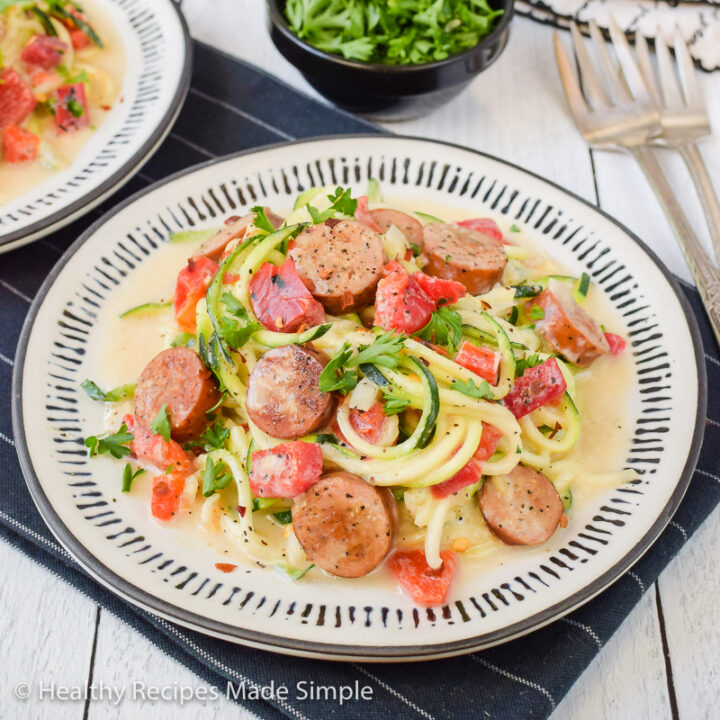 Zucchini Alfredo Recipe
This one pan low carb Zucchini Alfredo with chicken sausage is packed with flavor and is lower in fat. Healthy dinner recipe in minutes.
Ingredients
8 cups zucchini noodles
6 smoked chicken sausage links
1 tablespoon unsalted butter
¼ cup diced onions
½ cup half and half
½ cup shredded skim mozzarella cheese
1 tablespoon minced garlic
½ cup diced roasted red peppers
Salt and pepper to taste
Instructions
Clean the zucchini and then spiralize them. Lay the spiralized zucchini on a paper towel and sprinkle with a little bit of salt. This will help draw out some of the extra moisture.
Slice the chicken sausage into bite sized pieces. Heat in a large skillet over medium high heat. When it is heated and browned to your liking, remove from pan and set aside.
In the same pan, sauté the butter and onions until they are soft.
Add the garlic, half and half, and mozzarella cheese and stir until the cheese is melted and creamy.
Add the sausage, zucchini noodles, and red pepper. Mix it all together and cover on low to medium heat until the zucchini noodles are heated.
Serve immediately.
Notes
Add salt and pepper to taste.
Garnish with parsley, red pepper flakes, or parmesan cheese for extra flavor.
Nutrition Information:
Yield:

4
Serving Size:

1
Amount Per Serving:
Calories:

266
Total Fat:

14g
Saturated Fat:

6g
Trans Fat:

0g
Unsaturated Fat:

6g
Cholesterol:

79mg
Sodium:

642mg
Carbohydrates:

13g
Fiber:

3g
Sugar:

9g
Protein:

24g