Keto Egg Muffin Cups are a great way to start your day! This low carb breakfast recipe makes it easy to get the whole family eating healthy.
You can enjoy these low carb muffin cups on-the-go, at home or as a snack by themselves.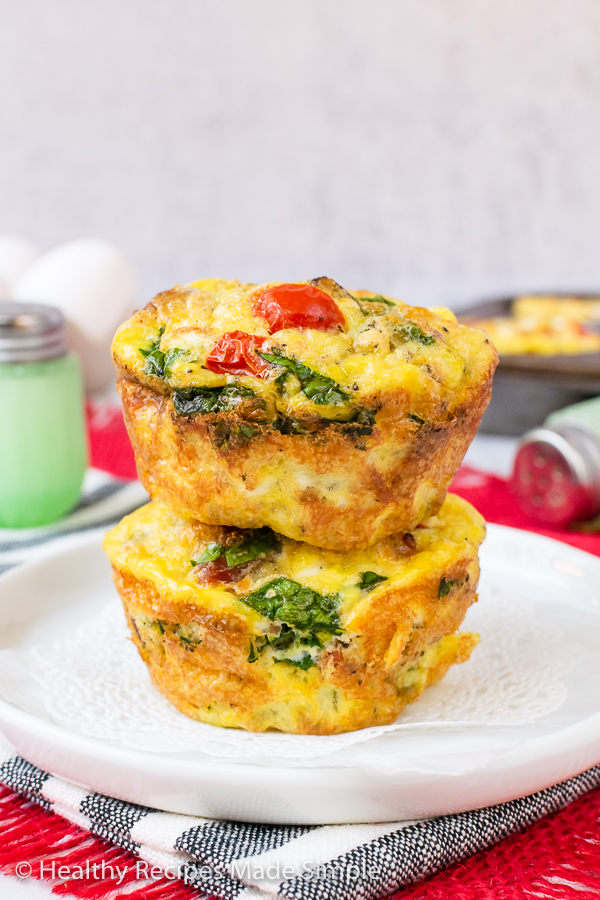 Jump to:
We will walk you through how to make our favorite Keto Egg Muffin Cups...BLT style! It's an easy 20 minute recipe that will have your mouth watering in no time.
To top it off, they're full of high quality protein so you won't feel hungry again until lunchtime rolls around. With just 5 ingredients and very little time, you can have a delicious and nutritious breakfast.
Reasons To Love This Recipe
Easy Ingredients - Keto egg muffin cups are a quick and easy breakfast that is high in protein, fat, and fiber. This recipe has only five ingredients: eggs, spinach, bacon, tomato, and seasoning.
Quick To Make - These are super simple to make - just mix all the ingredients together in a bowl. Add to a muffin tin and bake! Interested? Read on for the full recipe!
Perfect Nutrition - Healthy egg muffin cups are a quick and easy breakfast that is high in protein and low in carbs. This is a great Optavia lean and green egg recipe or the keto diet.
Dairy Free - This makes them a great option for certain dietary restrictions. Substitute out the bacon and they can be vegetarian as well.
Ingredients Needed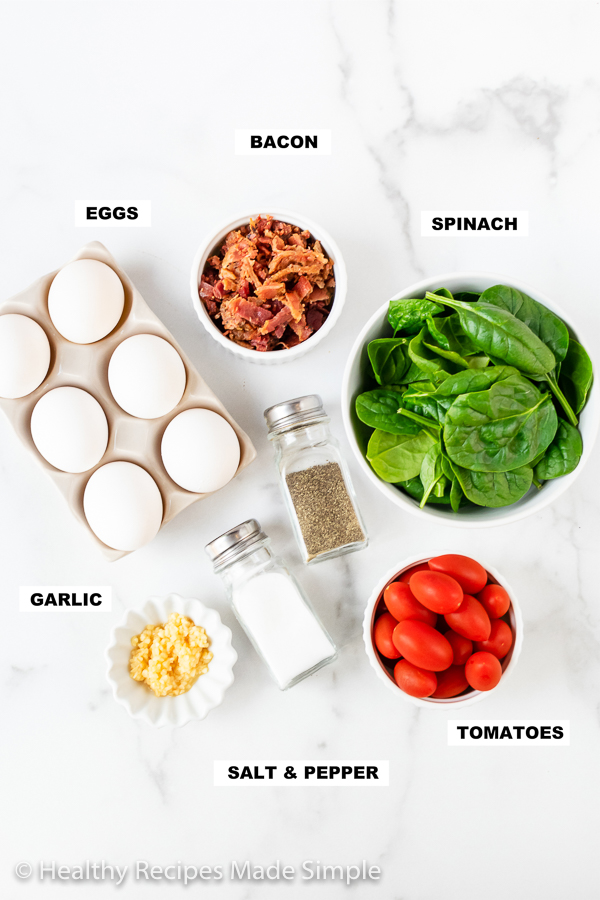 Eggs are a great source of protein and healthy fats, but they can be time-consuming to make. That's why we created these easy egg cup muffins!
They're the perfect breakfast for busy mornings because they can be made ahead of time when you don't have time to cook. This way, all you have to do is pop them in the microwave before heading out the door. We promise they won't disappoint!
Eggs - These are a great source of protein for your healthy diet.
Bacon - This is the "B" in BLT! The smokey and salty flavor of the bacon give these breakfast egg muffins a great flavor. If you want to lower your fat, you can substitute and use turkey bacon.
Tomato - Something about tomato and bacon creates a great flavor. In this recipe we used quartered cherry tomatoes but Roma tomatoes would work as well.
Spinach - Spinach holds up really well in these egg muffins and is much better than your typical lettuce. Loaded with nutrients, spinach gives these muffins added nutrition.
Garlic - This delicious ingredient adds some great flavor as well as helps to lower inflammation.
How to Make Bacon and Egg Muffin Cups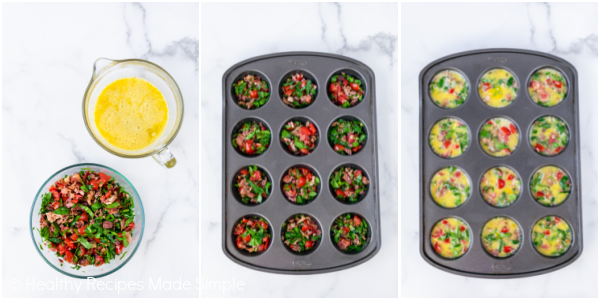 This recipe makes 12 muffins. Eat what you want and keep leftovers for the next morning. You can even freeze extras, if you would like.
Combine diced tomatoes, crumbled bacon, chopped spinach, and garlic into a separate mixing bowl.
Divide the mixture evenly into the 12 sprayed muffin tins.
In a large bowl, whisk the eggs together with salt and pepper.
Pour the egg mixture over into the muffin tins filling them close to the top (they will be full).
Bake and enjoy!
Variations
These egg muffins are delicious on their own or with your favorite toppings like cheese, avocado, or our favorite easy salsa recipe.
Kale is a great substitute for spinach. Red peppers would be great instead of tomatoes. Just be sure to substitute the same measurement of ingredients, so they will fit into your muffin pan.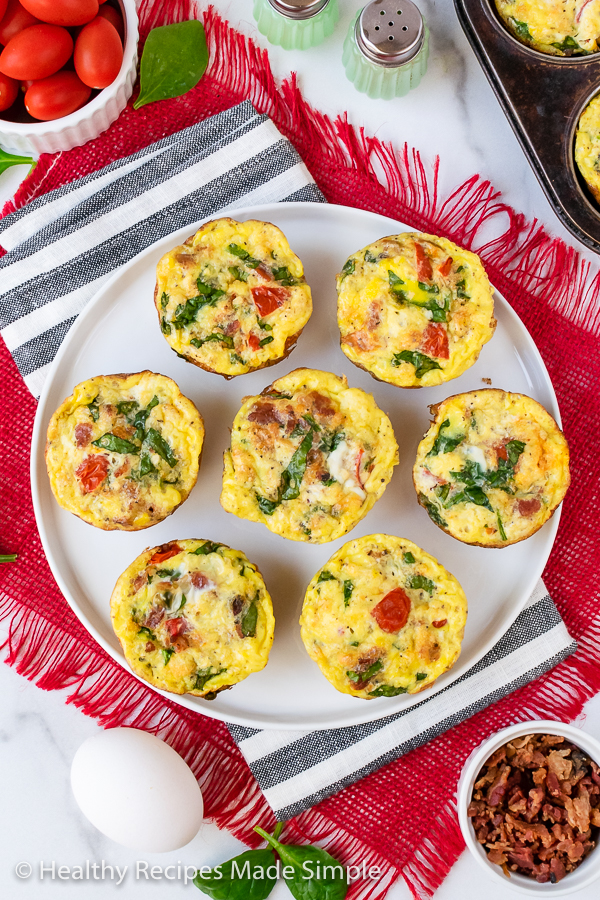 Simple Tips
Don't want the mess of cracking eggs? Use egg beaters for these muffins. This will save a little time and mess. Check the box for the conversion from liquid eggs to regular eggs, but for most products it will be ¼ cup of liquid egg equals 1 large egg. For this recipe you would use about 2 ½ cups.
Buy the bacon already cooked and crumbled. You save a lot of time and mess in the kitchen when you purchase pre-cooked bacon. Generally it does not cost a lot more either considering the amount of fat that comes off bacon when you cook it.
Make a double batch every time you make this and freeze the egg muffin cups. Once they are cooled, you can wrap them in plastic wrap or place them in a ziplock bag and put in the freezer for an easy breakfast for the week.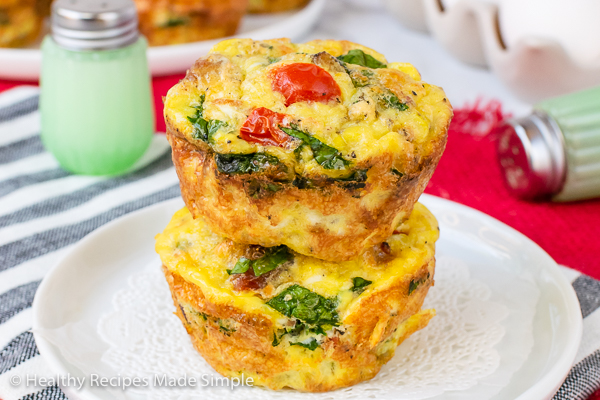 FAQs
What is the nutritional value?
3 muffin cups equal 24 grams of protein, 8 grams of fat, and 2 grams of carbs. On the Optavia plan, 3 muffin cups are 1 lean and 1 green.
Can I freeze egg muffins?
Absolutely, these are freezer friendly egg muffins. Once the they are cooked, you can store them in the refrigerator for up to 3 days. You can also place the egg muffins in a ziplock freezer bag and freeze for up to 2 months.
How do you reheat egg muffin cups?
Cold - Take the cold muffin and microwave it on a plate for 20-30 seconds.
Frozen - Take the frozen muffin and wrap it in a damp paper towel. Place it on a plate and microwave from 60-90 seconds.
How do I keep the egg muffins from sticking to the pan?
Spray the muffin tins generously with cooking spray. Once they are cooked, remove them as soon as possible by running a knife or spatula around the edges.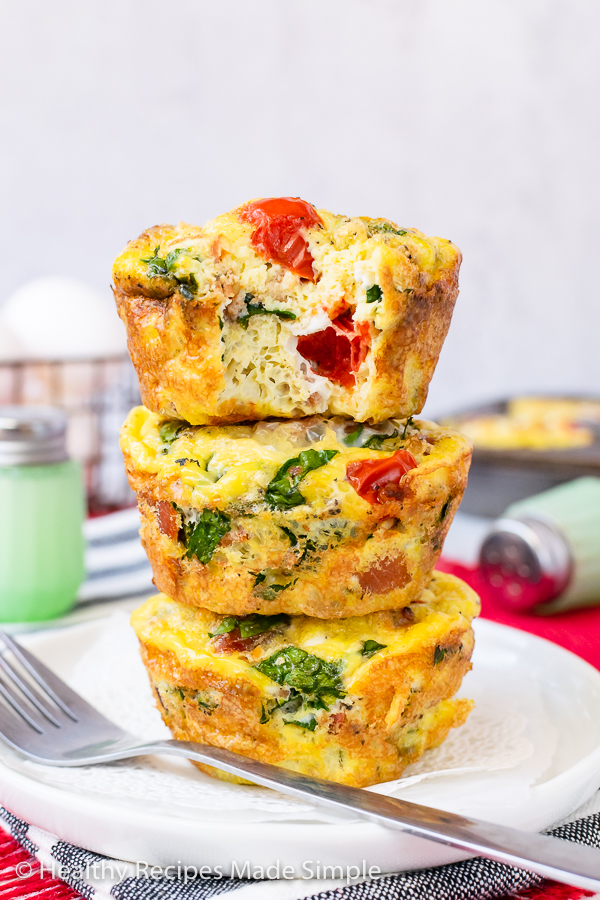 Other Egg Breakfast Recipes
❤️ THIS RECIPE? If you do, will you consider giving it a 5⭐️ review?
This will help us provide quality recipes for everyone to enjoy!
Recipe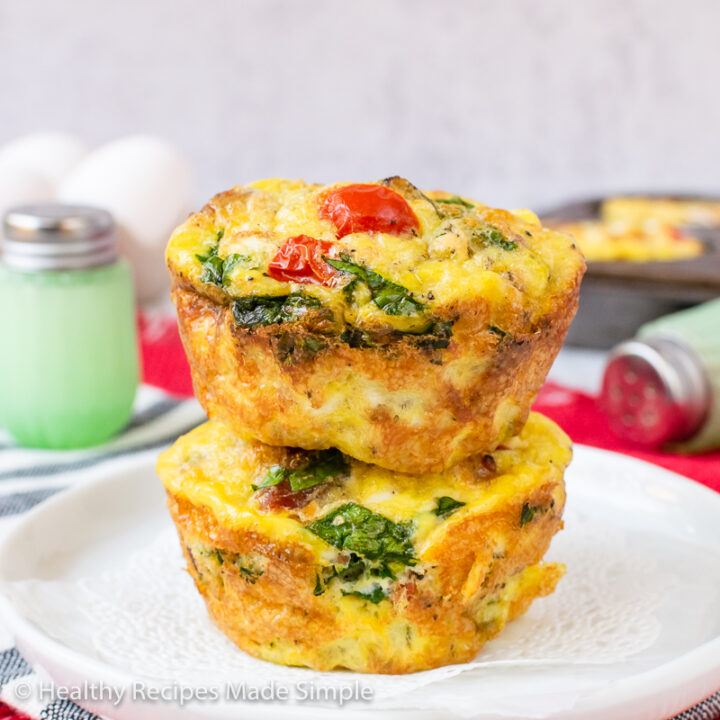 Keto Egg Muffin Cups Recipe
Keto Egg Muffin Cups are a great way to start your day! This low carb breakfast recipe makes it easy to get the whole family eating healthy.
Ingredients
1 cup cooked bacon
1 cup cherry tomatoes, quartered
1 cup lightly packed spinach, chopped
1 teaspoon minced garlic
10 large eggs
½ teaspoon salt
½ teaspoon pepper
Instructions
Preheat oven to 375°. Spray 12 count muffin tin with cooking spray.
In a mixing bowl, combine bacon, cherry tomatoes, spinach, and garlic.
Evenly distribute the mixture into prepared muffin tins.
In a mixing bowl whisk 10 eggs together with salt and pepper.
Pour eggs over meat and vegetable mixture in the muffin tins filling them to the top.
Bake for 20 minutes. Let cool for a minute, remove from pan and enjoy.
Nutrition Information:
Yield:

12
Serving Size:

1
Amount Per Serving:
Calories:

97
Total Fat:

6g
Saturated Fat:

2g
Trans Fat:

0g
Unsaturated Fat:

4g
Cholesterol:

162mg
Sodium:

271mg
Carbohydrates:

2g
Fiber:

1g
Sugar:

1g
Protein:

8g