Tired of boring low carb food? Bring some excitement to your tastebuds with this Cilantro Lime Cauliflower Rice! This flavorful side dish is easy to make and adds the perfect pop of color and texture to any meal!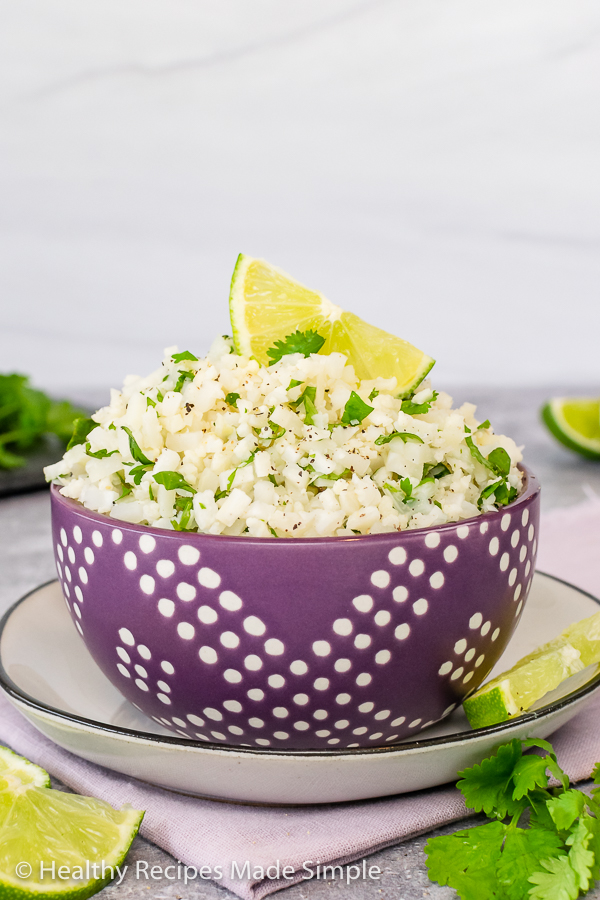 Jump to:
Why Make Faux Rice
We love tacos and burritos, but the rice is such a carb bomb. And let's be honest, a burrito bowl is just not the same without rice.
This copycat Chipotle cauliflower rice recipe is the perfect solution! The fresh flavor and rice like texture fills in the gap without all those extra pesky carbs!
This simple side dish literally comes together in 5 minutes. It is a delicious addition to tacos, burritos, enchiladas, or even as a base for nachos.
What is Cauliflower Rice
Cauliflower has become one of the most versatile vegetables in the low carb community. It is like the Superman of the vegetable world. A head of it is like Clark Kent. Kind of plain and boring. But when it gets down to business, it transforms into a low carb super ingredient!
It has been made into bread, mashed potatoes, and even buffalo chicken pizza. One of the easiest ways to use cauliflower is as a rice substitute.
Cauliflower is used as an acceptable substitute for rice because it's low carb and has no gluten. If you are not sure what cauli-rice looks like, it looks almost exactly like regular white rice with some small differences in texture due to the lack of grains under the surface.
It tastes great when cooked properly, so you don't have to sacrifice too much when lowering your carb intake!
A single serving of cauliflower rice is around 24 calories compared to the 210 calories from a single serving of brown or white rice.
Ingredients Needed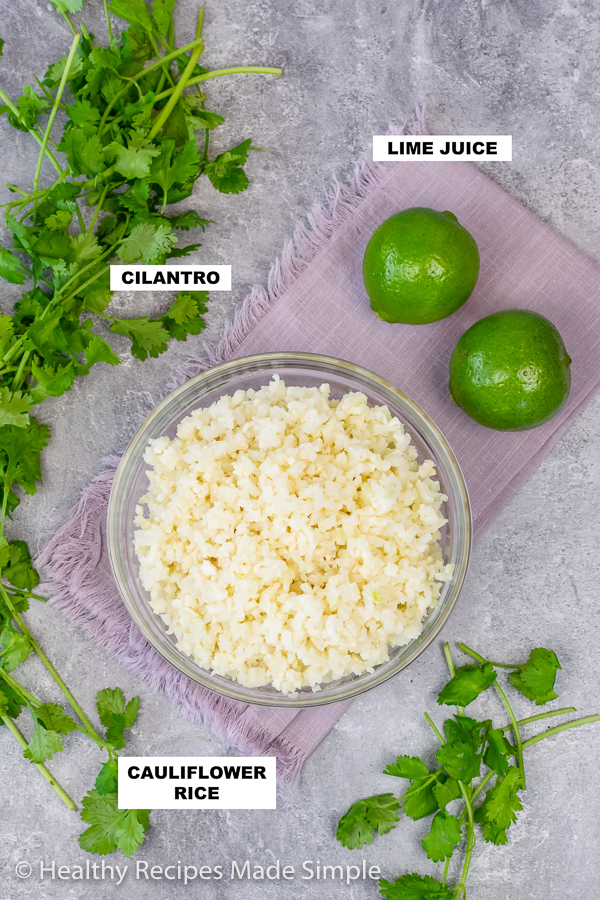 Cauliflower rice is a great substitute for regular rice, but it can be bland on its own. Our recipe adds cilantro and lime to give you all of the flavor you love with none of the carbs!
Cauliflower - This recipe uses a bag of frozen cauliflower rice. You can also rice your own cauliflower, if you would like. Check out how to make easy cauliflower rice yourself.
Cilantro - Also known as Chinese parsley, this leafy green can be chopped down to add a fresh herb flavor to Mexican dishes. If you think cilantro tastes like soup, use chopped parsley instead.
Limes - Lime juice adds a fresh citrus flavor that pairs well with the cilantro.
Salt and pepper - Add to taste.
How to Make Cilantro Lime Cauliflower Rice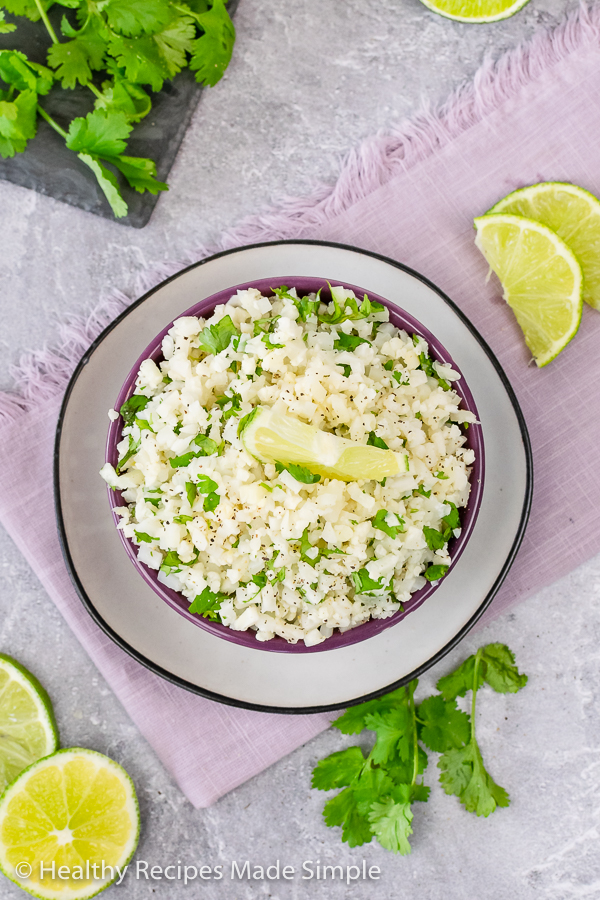 This quick and easy cilantro cauliflower rice recipe will quickly become one of your favorite side dishes. With just four ingredients, this healthy alternative to traditional rice takes just 10 minutes to prepare.
It pairs well with tacos, burritos or as an accompaniment to protein-based meals like chicken breast or fish filet.
Heat the frozen cauliflower rice according to the package directions. Drain the liquid.
Stir in the chopped cilantro and lime juice.
Season to taste with salt and pepper.
Simple Tips
Easy to microwave. Cilantro lime cauliflower rice microwaves in minutes. This shortens the time cooking over a hot stove!
Wash your cilantro. Often times you might find sand and dirt in the cilantro which will cause a gritty texture to the finished dish.
Keep cauliflower rice on hand. We purchase Costco riced cauliflower or you can get it from most grocery stores. Store a few bags in your freezer to keep things simple when you are in a hurry.
Use store bought lime juice. We keep a bottle of lime juice in our refrigerator. It works out great to add to water, salsa, tacos, or any other dish.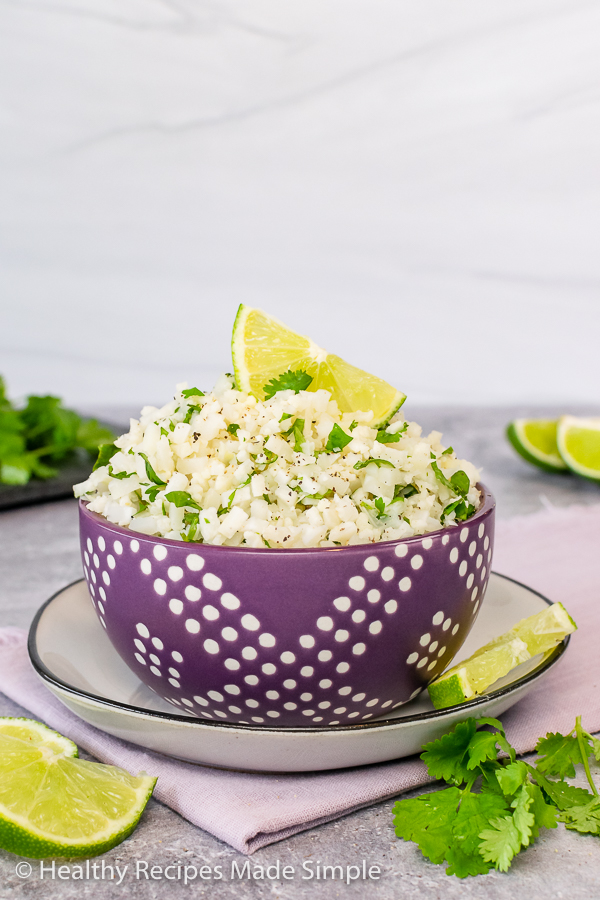 Make It a Meal
Serve this up with your favorite grilled chicken, steak, fish, or shrimp for complete low carb or Optavia approved lean and green meal.
Add your favorite toppings to create a low carb burrito or fish taco bowl.
For a great plant based option add additional vegetables, mushrooms, and quinoa for a full meal. Black beans and cauliflower rice go great together as well.
Recipe FAQs
What is the shelf life of cauliflower rice?
You can store cooked cauliflower rice in an airtight container in the fridge for about 4-5 days. Raw cauliflower can last up to 7 days.
Does cauliflower rice taste like rice?
Yes and no. Because the texture is a little different most people can tell a difference between rice and cauliflower rice. The differences are small, but cauliflower rice will take on the flavoring of what you add to it making it a great substitute.
How much cauliflower rice can you make from a head of cauliflower?
That really depends on the size of the cauliflower. One head of cauliflower will generally get you about 4-6 cups of cauliflower rice.
How do I rice cauliflower?
There are quite a few ways to do this. We have found the simplest ways are to shred it with a cheese grater or to chop it and pulse it in a food processor until you have small rice like pieces.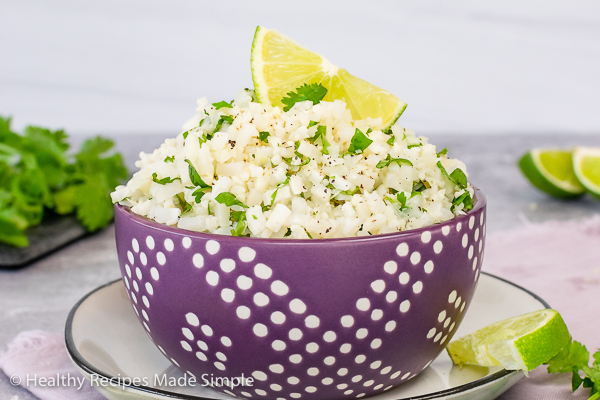 Other Healthy Meals
❤️ THIS RECIPE? If you do, will you consider giving it a 5⭐️ review?
This will help us provide quality recipes for everyone to enjoy!
Recipe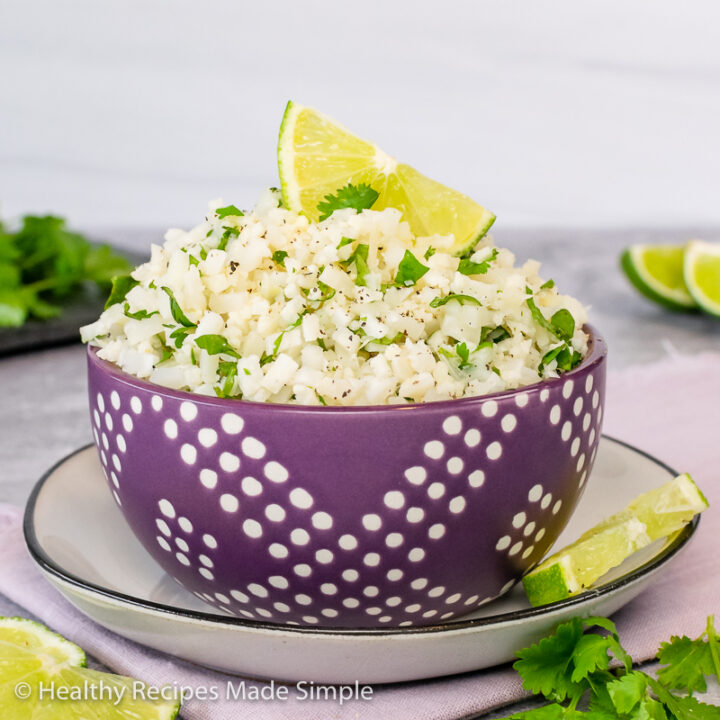 Cilantro Lime Cauliflower Rice Recipe
This Cilantro Lime Cauliflower Rice is not your average side dish! The pop of color and fresh flavor will make you want to try this recipe for dinner.
Ingredients
1 12oz bag of riced cauliflower
¼ cup chopped cilantro
2 tablespoons lime juice
salt and pepper to taste
Instructions
In a microwave safe dish, heat the cauliflower rice according to the package directions. Drain off excess liquids
Mix cilantro and lime juice with the cauliflower rice.
Season with salt and pepper to taste.
Nutrition Information:
Yield:

4
Serving Size:

½ cup
Amount Per Serving:
Calories:

24
Total Fat:

0g
Saturated Fat:

0g
Trans Fat:

0g
Unsaturated Fat:

0g
Cholesterol:

0mg
Sodium:

100mg
Carbohydrates:

5g
Net Carbohydrates:

3g
Fiber:

2g
Sugar:

2g
Protein:

2g