This lean and green Easy Asian Salad has all the flavor without the extra carbs. Traditional Asian chicken salads have additional noodles that add the extra macros. But with this delicious salad, you won't even miss them.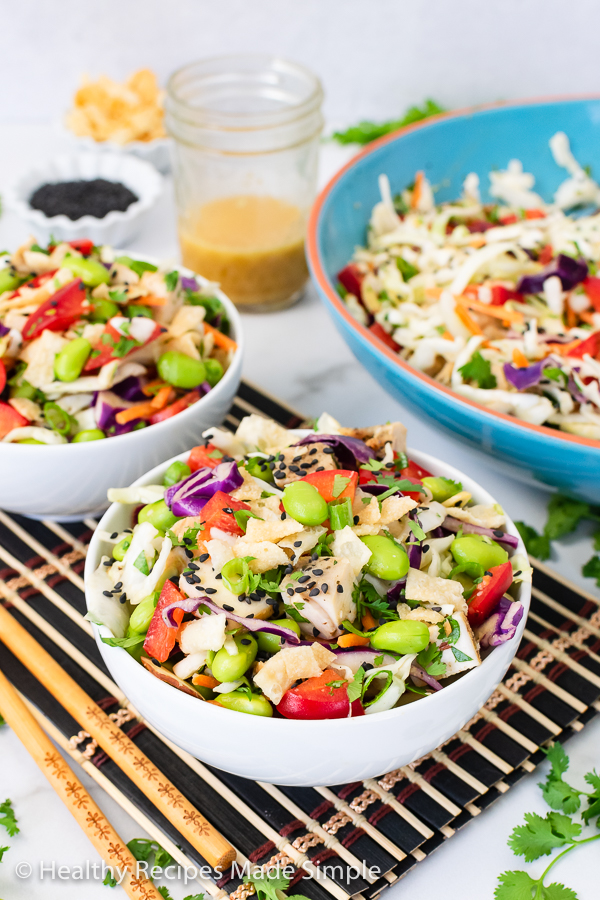 To be honest, there was a time when I did not think this salad would taste that great. It wasn't the salad's fault, it was mine. I was consumed with the SOS diet..Salt, oils, and sugars. I needed help!
Sometimes fresh foods don't taste that great when your taste buds are confused by the overwhelming flavor of salts, oils, and sugars. What I found when I started to eliminate processed foods is that clean, fresh food tastes amazing.
What Diet This Works For
This easy asian salad works for so many styles of eating. For those following the Optavia plan, this is a great lean and green with chicken recipe that you will always want to keep on hand.
Eliminate the chicken and it works well for a vegan diet. For the most part, this will work on just about any diet or just as a way to get a great, fresh salad in from time to time.
I don't know where you are in the process of a healthier you, but this chopped chicken salad is a great place to start.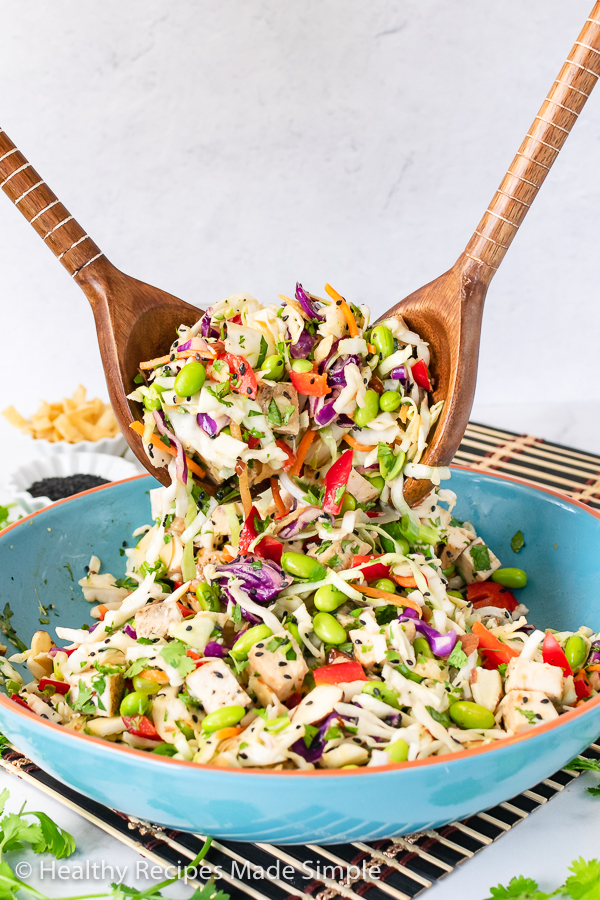 Ingredients Needed
This salad uses simple ingredients that are all fresh. Adjust as needed if you are following other diets such as carnivore or vegan.
Coleslaw Mix - This gives you the cabbage and carrots already sliced and shredded which is a time saver. Make sure it does not have dressing on it already.
Cilantro - This gives a nice fresh and light spice flavor to the salad.
Green Onions - Add some color and mild onion flavor to this salad.
Sliced Almonds - Raw almonds add healthy fats as well as great texture.
Edamame - These soy beans taste amazing and give you excellent fiber and protein to this dish.
Red Pepper - This sweet pepper brings vibrant color and a sweet tart to the salad.
Chopped Chicken - Grilled chicken breast gives you a delicious protein.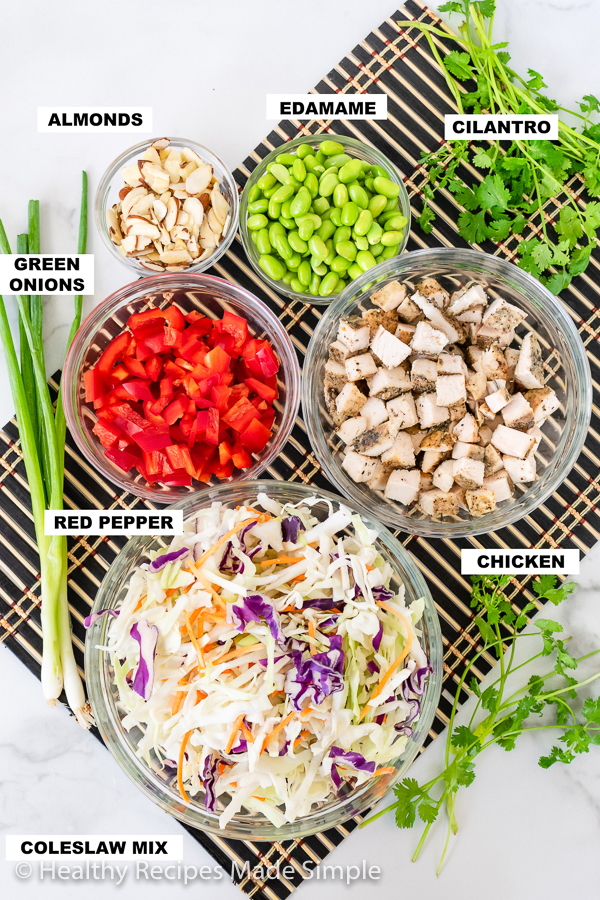 How to Prepare
This Asian Chopped Chicken Salad Recipe can be made up in less than 30 minutes. If the chicken is already cooked, you can have it on the table in under 10 minutes.
Cook the chicken - Prepare the chicken to your liking. We like to season it with salt and pepper and grill until the internal temperature is 170 degrees.
Boil the shelled edamame according to the package directions which is usually around 5 minutes. Drain and rinse.
Combine the coleslaw mix, cilantro, green onion, almonds, edamame and red pepper. Toss together in a large bowl.
Serve with 6 ounces of cooked chicken.
Add your favorite dressing or this homemade orange ginger vinaigrette.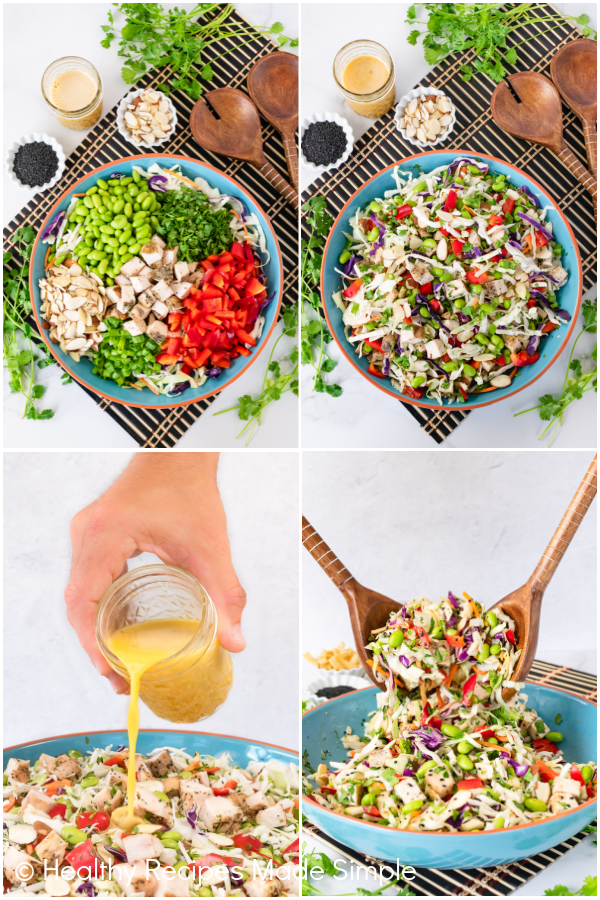 How to Store Leftovers
Any leftover salad mix can be stored in the refrigerator in an airtight container for 2-3 days.
Please note, any salad mix with dressing on it will become soggy in the refrigerator. It is best to only store leftovers that do not have dressing on it.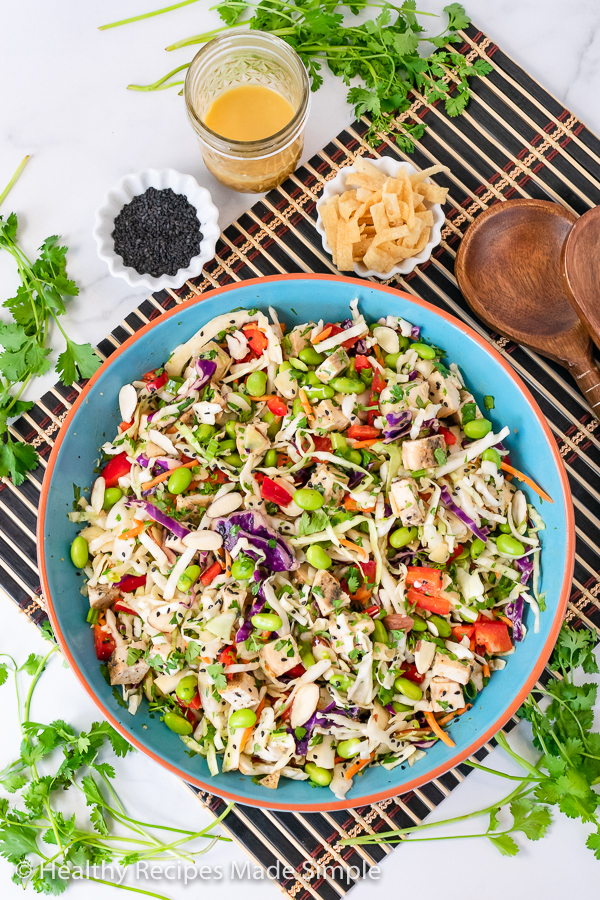 Keep It Simple Tips
Precooked chicken is the easiest to use. If you are looking to save time canned chicken or rotisserie chicken is a great way to add protein.This salad is also delicious served with steak or shrimp.
Bagged cabbage is a great option. You could also use a head of cabbage and shred that. A large cheese grater works nicely.
Mix all the ingredients together and put servings in mason jar for quick lunches throughout the week. Just be sure not to add any dressing until you are ready to eat it or the salad will get soggy.
Other Healthy Salads You Will Love
Recipe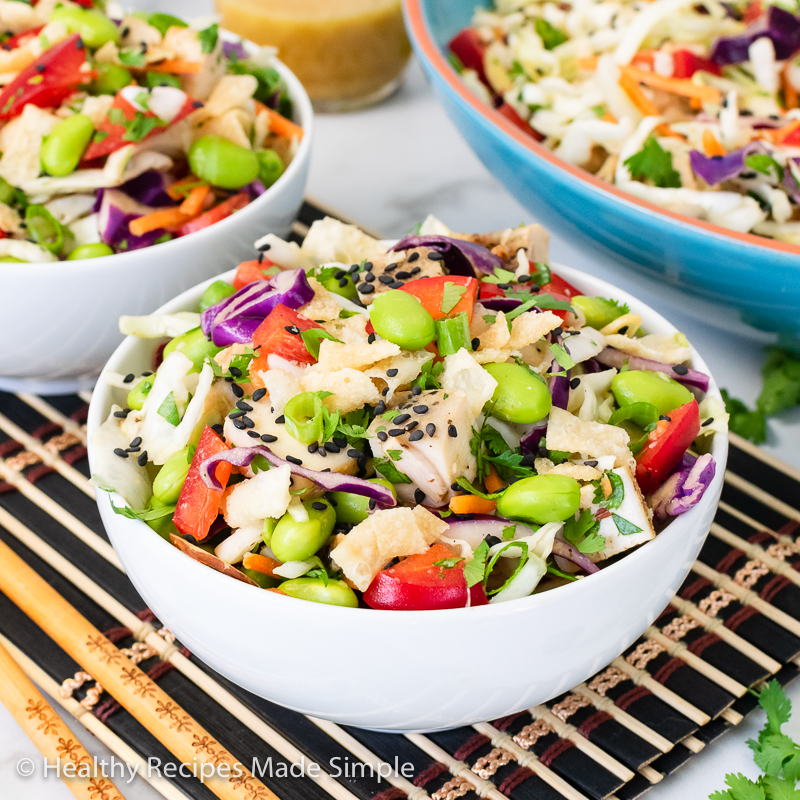 Healthy Asian Chicken Salad
This Healthy Asian Chicken Salad has all the flavor you love without the extra carbs from the noodles.
Ingredients
16 oz bag of tricolor coleslaw mix
1 cup loose cilantro leaves, chopped
½ cup almond slices
2 green onions, diced
1 cup shelled, cooked edamame
1 cup diced red pepper
24 ounces cooked skinless chicken breast, chopped
(optional) Sesame Seeds or Wonton Strips, for garnish
Instructions
Cook the chicken according to the package directions. Dice the chicken into bite sized pieces.
Boil the shelled edamame for 5 minutes. Strain and rinse.
Combine all the ingredients and toss in a large bowl.
Top with your favorite healthy dressing.
Garnish with sesame seeds or wonton strips, if desired.
Notes
Complete Lean and Green Facts:
1 Lean
3 Green
1 Healthy Fat
Nutrition Information:
Yield:

6
Serving Size:

1
Amount Per Serving:
Calories:

368
Total Fat:

17g
Saturated Fat:

3g
Trans Fat:

0g
Unsaturated Fat:

12g
Cholesterol:

102mg
Sodium:

262mg
Carbohydrates:

15g
Net Carbohydrates:

12g
Fiber:

3g
Sugar:

9g
Protein:

39g