Let's be honest, salad can be boring. But not anymore! This BLT Chicken Salad with avocados is just what your taste buds are screaming for! The homemade balsamic dressing is the perfect finisher to this amazing dish!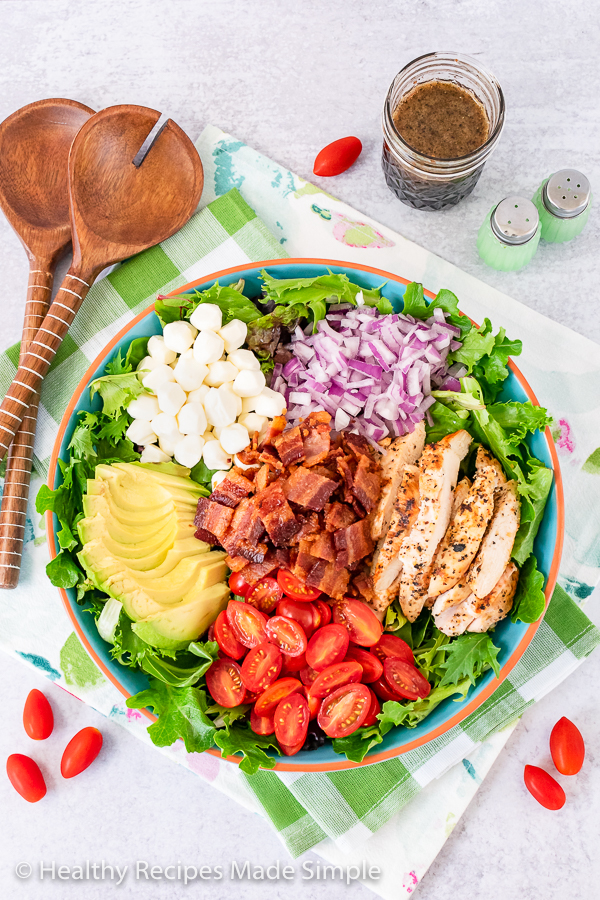 Why this is perfect
I don't know about you, but we love a good BLT Sandwich. Thick bacon, juicy tomatoes, and crunch lettuce is simply an incredible combination on sliced bread.
The only problem with this is that sometimes those extra bread carbs do not fit into our health goals. So this BLT Chicken Salad is the tasty solution. Keep that same great bacon, lettuce, and tomato taste in a delicious salad.
The ingredients for this are perfect if you are following Keto, low carb, or an Optavia lean and green plan.
Nutritional Information
This lean and green chicken salad works great for the Optavia 5&1 plan or if you are following macros. Each serving is just over 400 calories giving you a nutritious meal.
Optavia
Lean - 0
Green - 1
Healthy Fat - 1
Macros
Protein - 26 grams
Carbs - 12 net grams
Fats - 2 grams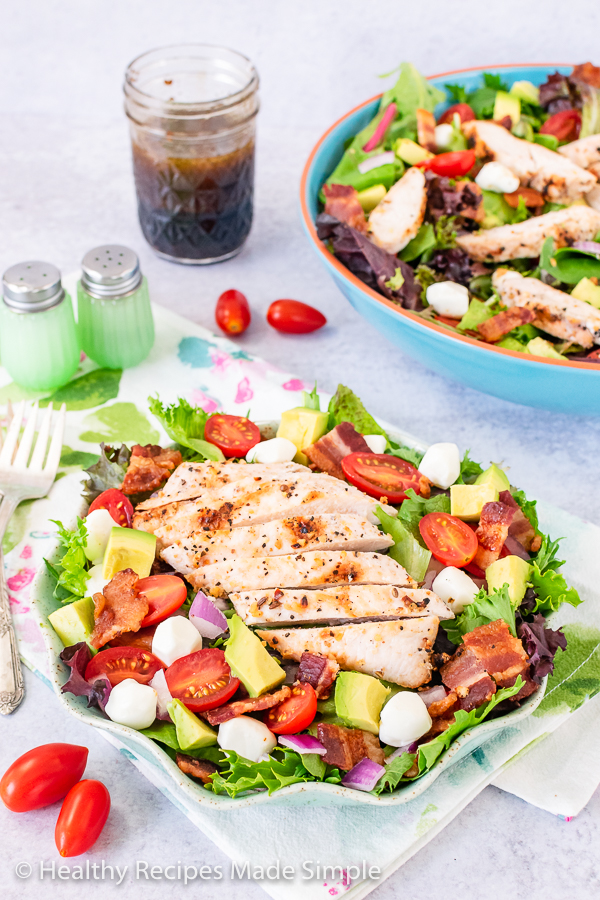 Ingredient List
Here is what you need to make that perfect BLT salad!
Bacon - This is the "B" of the BLT! We prefer it thick and crunchy but you can prepare it how you like it!
Lettuce - Use whatever lettuce you prefer. For this salad we used a spring mix.
Tomato - Grape tomatoes are perfect for salads. They are bite sized and need less cutting than other tomatoes.
Chicken - Grilled, broiled or fried chicken adds some additional protein to this salad.
Onion - Red onion gives this a nice additional flavor and crunch.
Avocado - Avocado provides a nice healthy fat, as well as adds that creamy texture.
Mozzarella Pearls - While this is not typically on a BLT sandwich, this cheese adds some additional protein and great flavor.
Homemade Balsamic Dressing - A simple dressing allows the salad flavors to pop and not be drowned out by the dressing.
Salt and Pepper - add as desired.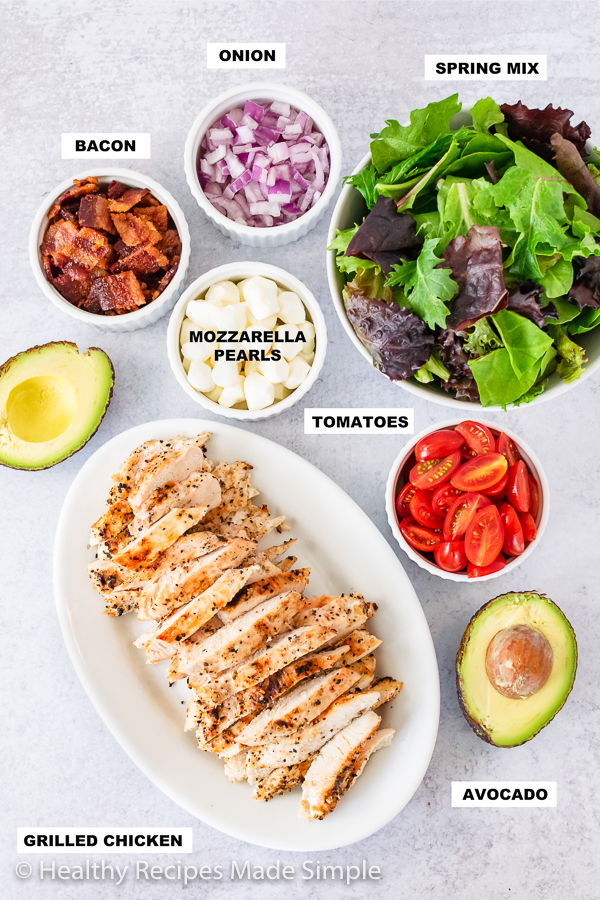 Putting it all together
This BLT chicken salad with avocado can be plated individually or it can be made in one large bowl. This makes it easy for tailgating or bringing as a dish to parties.
Large Bowl
Fill your bowl with rinsed and dried spring mix. You can dry with a paper towel or with a salad spinner.
Add the other ingredients in a nice pattern for a pretty presentation.
Toss it together when you are ready to serve.
Plated
If you are on a specific plan or counting your macros, you may want to plate this individually. This will make it easier to get an accurate macro or calorie count.
Divide the ingredients in the recipe card below by 4. This will allow you to make up 4 separate salads all with the same nutritional value.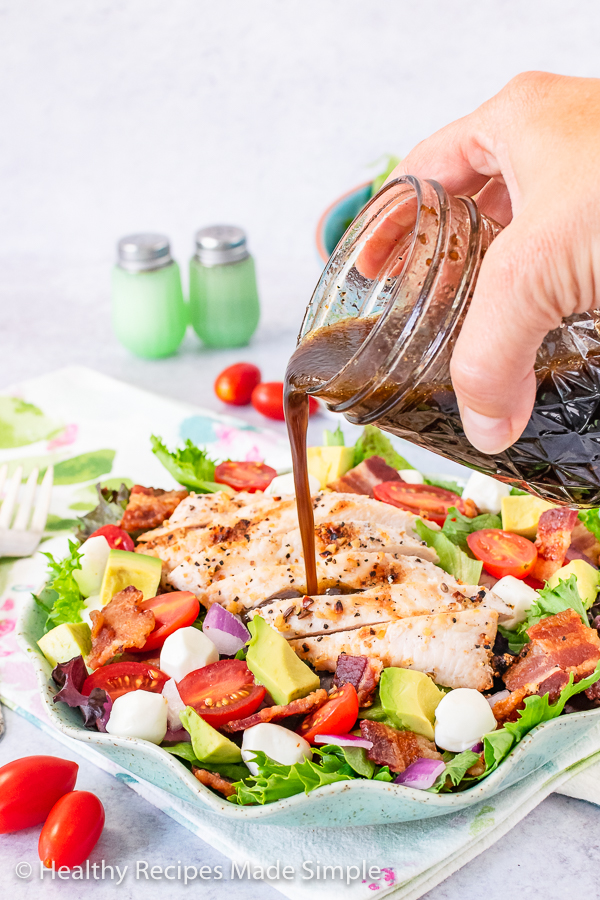 Keep it Simple Tips
Save time on your meal prep with these tips for an easy BLT chicken salad recipe!
If you don't want to grill up your own chicken, buy precooked rotisserie chicken from your local grocery store. Chop it up and use approximately 4-6 ounces per serving. Freeze the remaining shredded chicken for another recipe!
If you don't want to cook bacon, buy it pre-cooked. You can get this in slices or already crumbled.
Use your favorite bagged salad. Save time by not having to chop it yourself.
Portion the ingredients into 4 salad containers. Lunch is now ready for the next few days.
Do not add the dressing until you are ready to eat because it will turn the salad soggy.
Wait to slice up the avocado until you are ready to eat because they tend to turn brown quickly when sliced.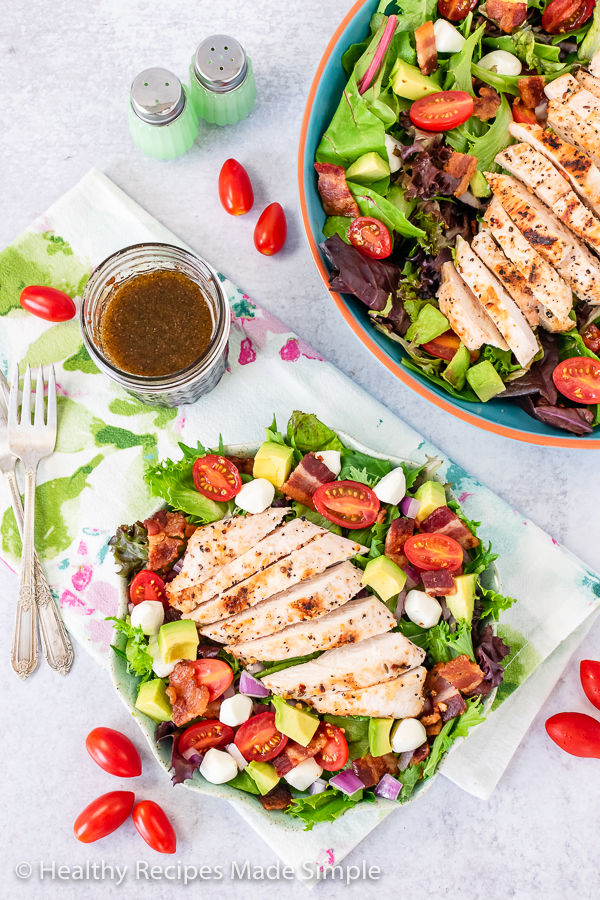 Common questions about this BLT chicken salad
What kind of salad can I use?
We prefer using spring mix due to the extra vitamin content that you get from it. If you prefer a crunchier mix, you can switch to romaine. Or, get the best of both worlds and combine the two. If you have a different lettuce you like, feel free to use it for this blt chicken salad recipe.
Can I use any kind of dressing?
Absolutely. The homemade balsamic is one we prefer. This creamy avocado dressing is a great choice as well.
Does this follow the Optavia lean and green meal plan?
Yes it does. The great thing with this salad is that it is easy to measure out into the appropriate portions for your eating plan.
Can I use turkey bacon?
Yes you can. Turkey bacon generally has less fat content. This is a great substitute if you are trying to keep fat lower based on your health and macro goals.
How do I store leftovers?
If you have already applied the dressing to the salad, it will not last long before turning soggy. That is best when eaten right away.
Any salad without dressing can be stored in a sealed container in the refrigerator for about 3 days.
Recipe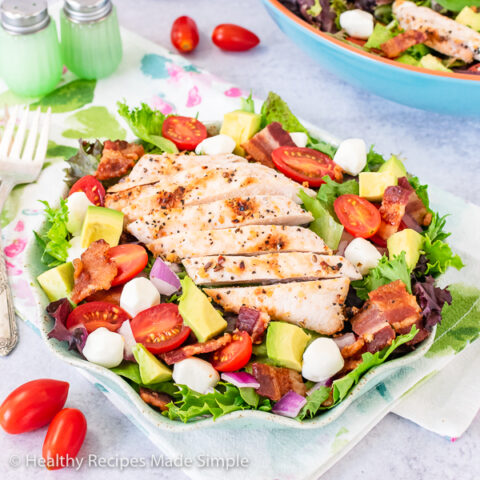 BLT Chicken Salad Recipe
This BLT Chicken salad is loaded with fresh ingredients and a ton of flavor. This lean and green meal will keep you on track with your nutrition goals.
Ingredients
4 cups spring mix
½ cup diced red onion
1 cup halved cherry tomatoes
1 avocado, sliced
24 ounces grilled chicken breasts
4 slices cooked bacon
4 ounces mozzarella pearls
Instructions
In a large bowl, add the 4 cups of salad mix
Add the remaining ingredients onto the salad mix
Toss the salad and serve with your favorite dressing
Nutrition Information:
Yield:

4
Serving Size:

1
Amount Per Serving:
Calories:

414
Total Fat:

21g
Saturated Fat:

6.3g
Trans Fat:

0g
Unsaturated Fat:

14g
Cholesterol:

189mg
Sodium:

305mg
Carbohydrates:

8g
Fiber:

5g
Sugar:

3g
Protein:

45g