Enjoy spicy buffalo chicken and melted cheese on a low carb cauliflower crust for your next family pizza night. This easy Buffalo Chicken Cauliflower Pizza is a delicious choice for anyone that is eating keto or low carb.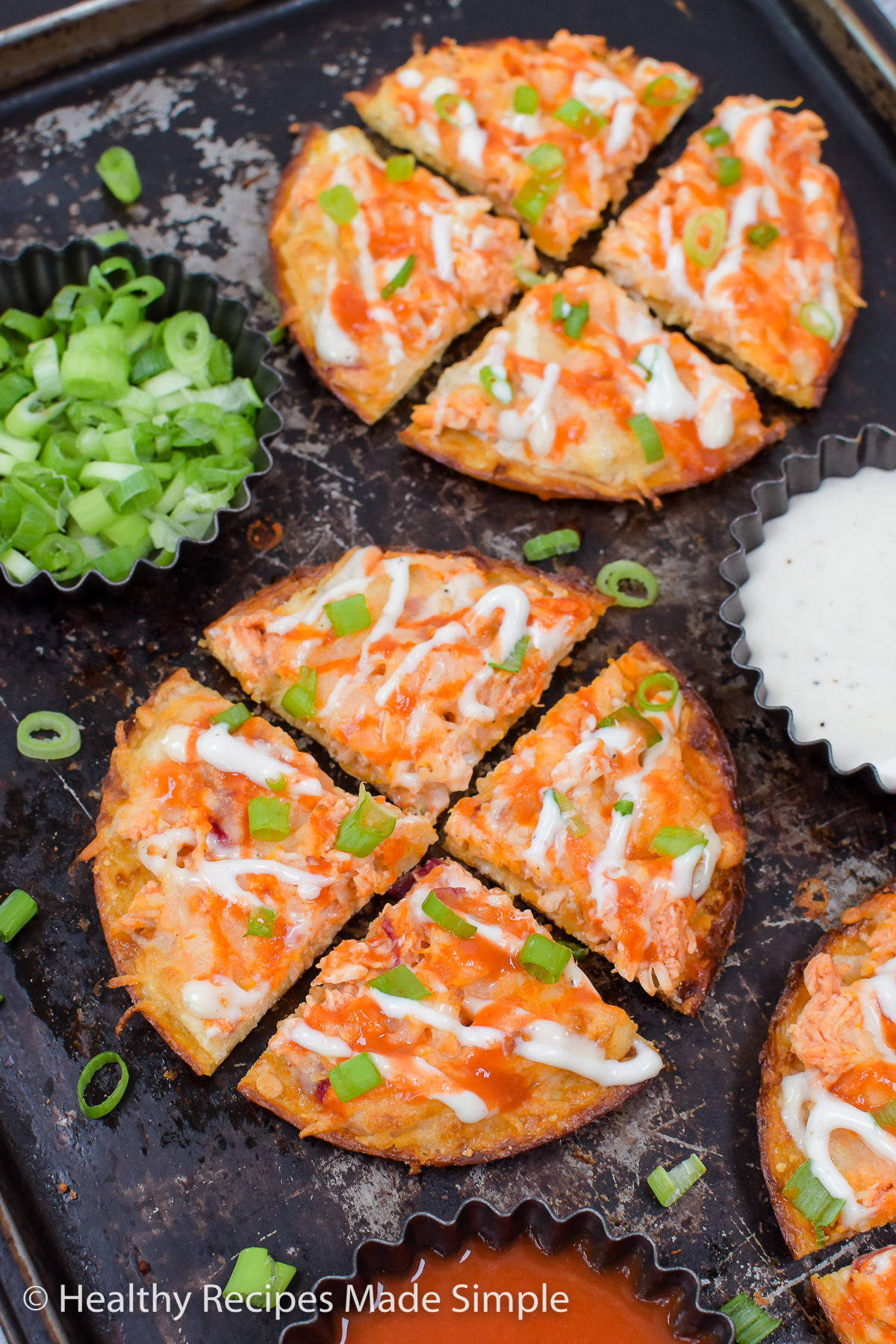 If you are like us, you love pizza. It's one of those meals that we love to enjoy with our kids at least once a week.
The problem with pizza is the amount of carbs in the crust. This usually makes pizza off limits for anyone that is eating low carb, keto, or on the Optavia plan.
Pizza crusts made from cauliflower are the answer to that pizza dilemma. We found these low carb cauliflower thins made with clean ingredients at Costco. Hooray for finding a way to make pizza healthy!
Since buffalo chicken is a popular flavor combo, we had to try it on a cauliflower pizza. Spoiler alert...it's amazing!
Why Make This Recipe
If you love the flavor of buffalo wings, you are going to love these mini buffalo chicken pizzas.
Low carb. Using a cauliflower crust keeps your carbs much lower than a regular pizza crust.
Great buffalo flavor. The chicken is mixed with buffalo sauce and then more is drizzled on the top.
Good source of protein. Each mini Optavia pizza is topped with a generous helping of spicy chicken.
These mini buffalo chicken cauliflower pizzas are low on carbs and high on taste. You won't even miss the traditional pizza crust.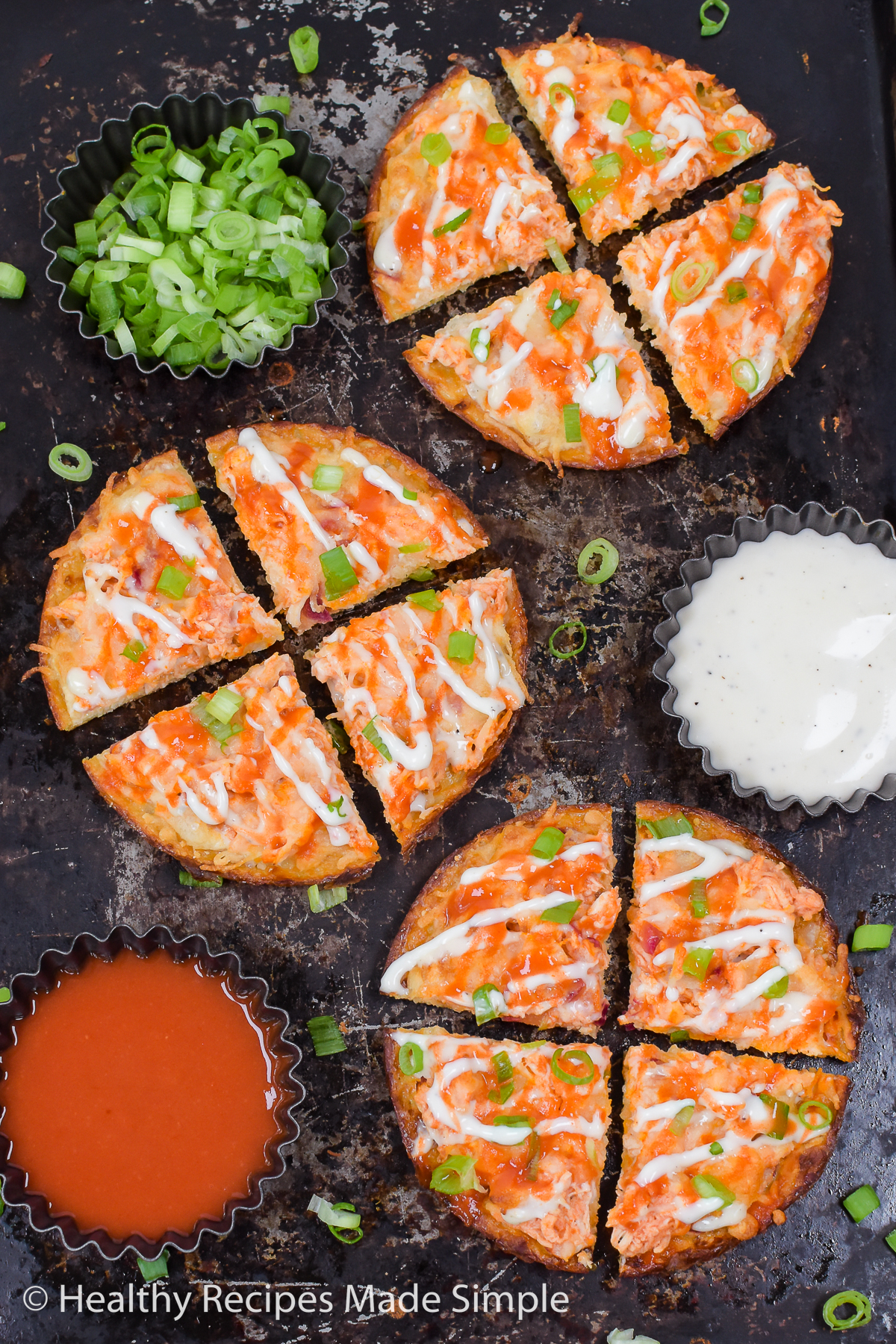 Ingredients Needed
With just a few ingredients, you can be eating these cauliflower buffalo chicken pizzas in no time.
Cauliflower Pizza Crust - You could make your own if you prefer, but we like to keep things simple. These mini cauliflower crust are pre-made without any of the mess! Two we found that we like are Outer Aisle Cauliflower sandwich thins and Trader Joes mini cauliflower pizza crusts.
Light Ranch & Garlic - Rather than use a traditional pizza sauce, this dressing with minced garlic compliments the flavor of the buffalo chicken.
Chicken - A rotisserie chicken is a great choice for this pizza. You can keep it even easier and use canned chicken.
Hot Sauce - Because you can't have a spicy chicken pizza without it. We love and use Frank's hot sauce for all things buffalo.
Cheese - Using a low fat cheese keeps the fat content low without sacrificing taste.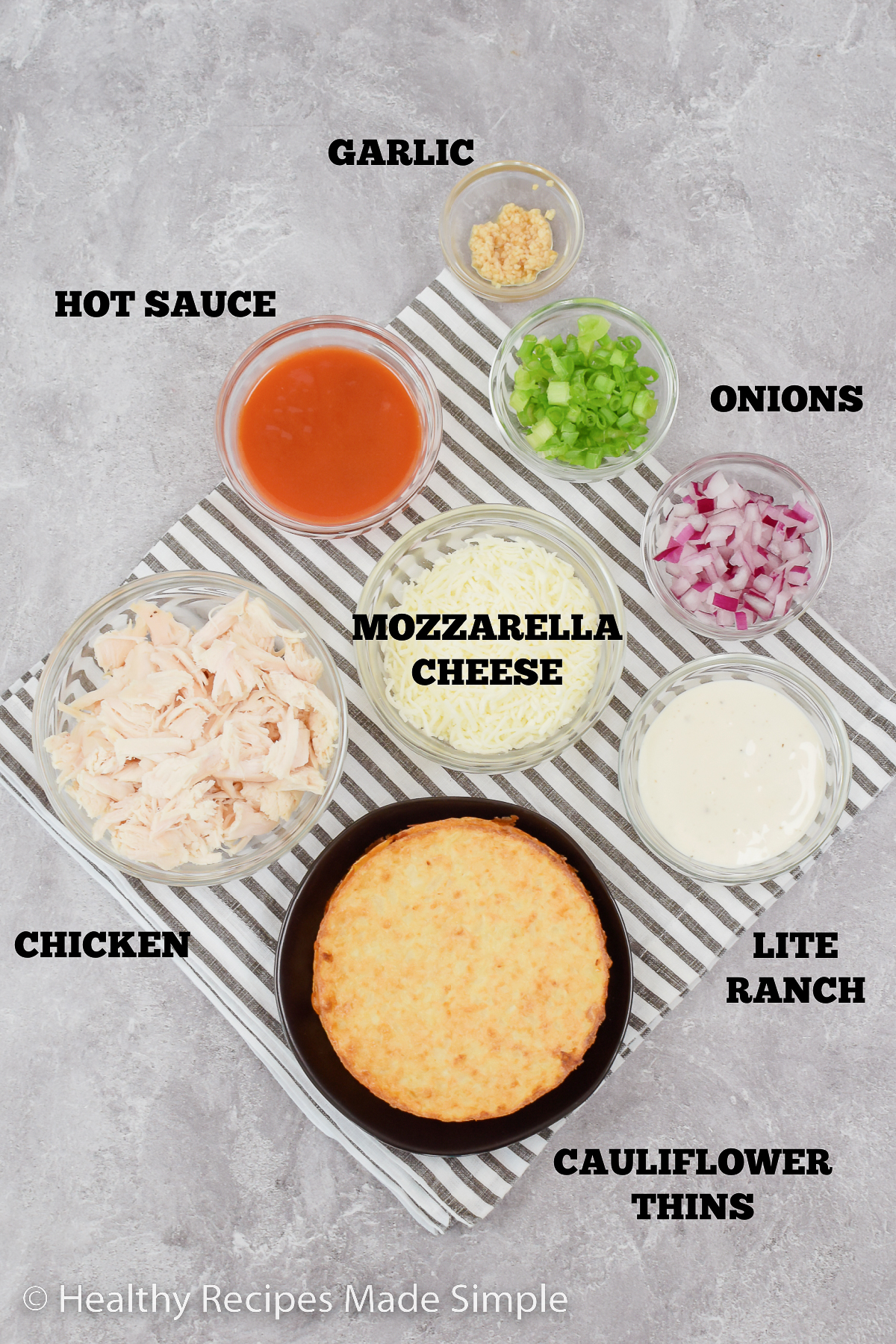 How to Make Healthy Buffalo Chicken Pizza
Whether you have owned a pizza place (like we have) or whether you have never made a pizza, these steps will help you become a pizza maker with ease.
For the Sauce and Toppings
In a small bowl, stir together the garlic and the ranch dressing. It may look like there is a lot of garlic, but don't worry, the flavor combo of the garlic and ranch make these taste amazing.
In a separate small bowl, combine the shredded chicken, onions, and hot sauce.
Putting It All Together
Place 6 mini cauliflower crusts on a pan. Spread 1 tablespoon of the ranch sauce onto each pizza crust. Spread the sauce to ½ inch to the edge.
Divide the chicken mixture evenly on the pizza crusts.
Top with cheese. Be sure to spread the cheese all the way to the edge of the crusts.
Bake until the edges are crispy and cheese is melted.
Garnish with a little bit more ranch and buffalo sauce and green onions.
Enjoy your low carb, keto buffalo chicken pizzas.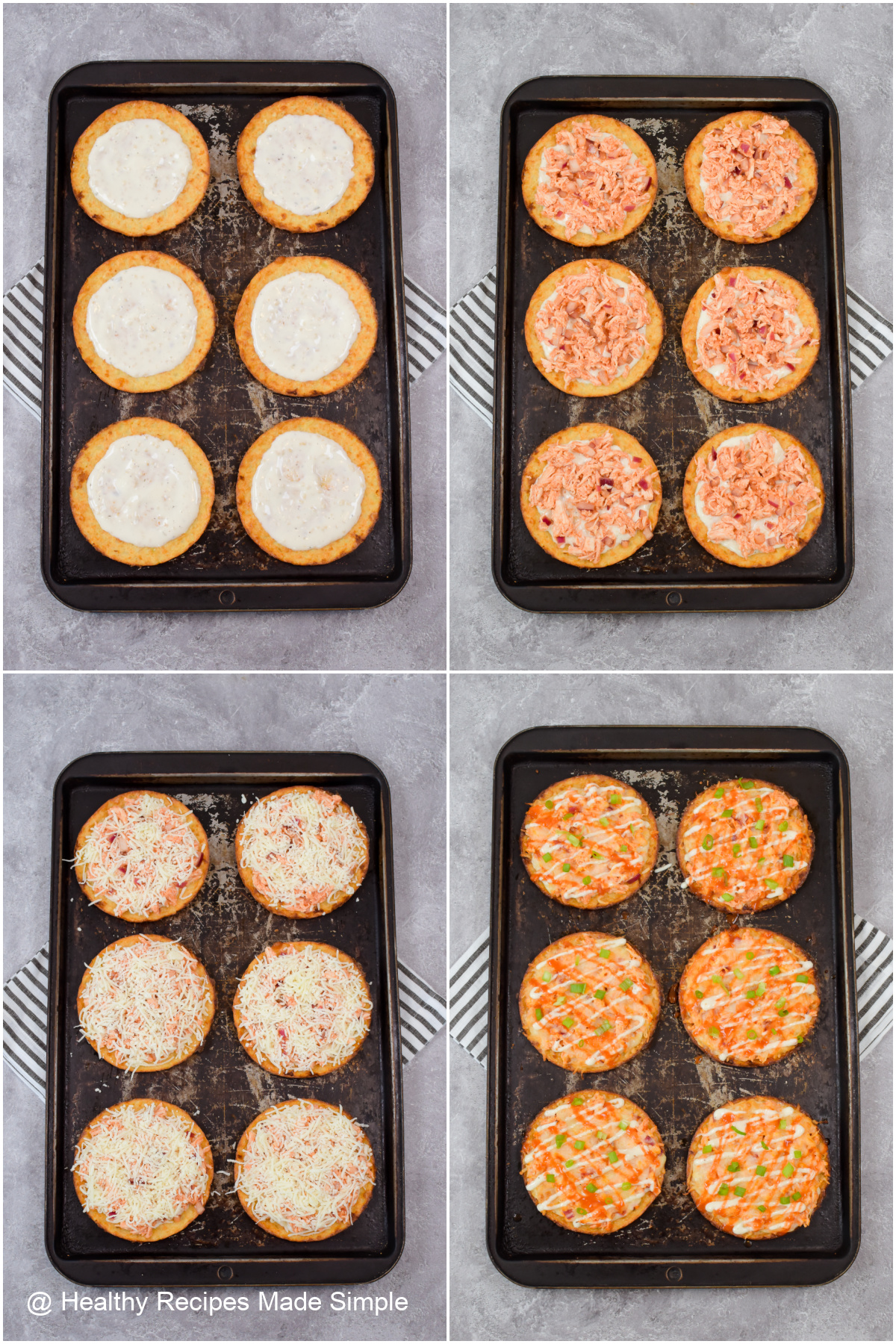 Simple Tips
Buy a rotisserie chicken from Sam's Club or Costco. Shred, cool, and package it in 2 cup portions for easy lean and green meals.
Store bought cauliflower crusts keep your meal prep time to a minimum. Look for ones made with clean ingredients.
Want to make this with a little bit less spicy flavor? Use a buffalo wing sauce instead of Frank's hot sauce.
To add minimal drizzles on the top of the pizzas, spoon sauce and dressing into 2 small ziplock bags. Cut one small corner off and drizzle on top of the hot pizzas right before serving.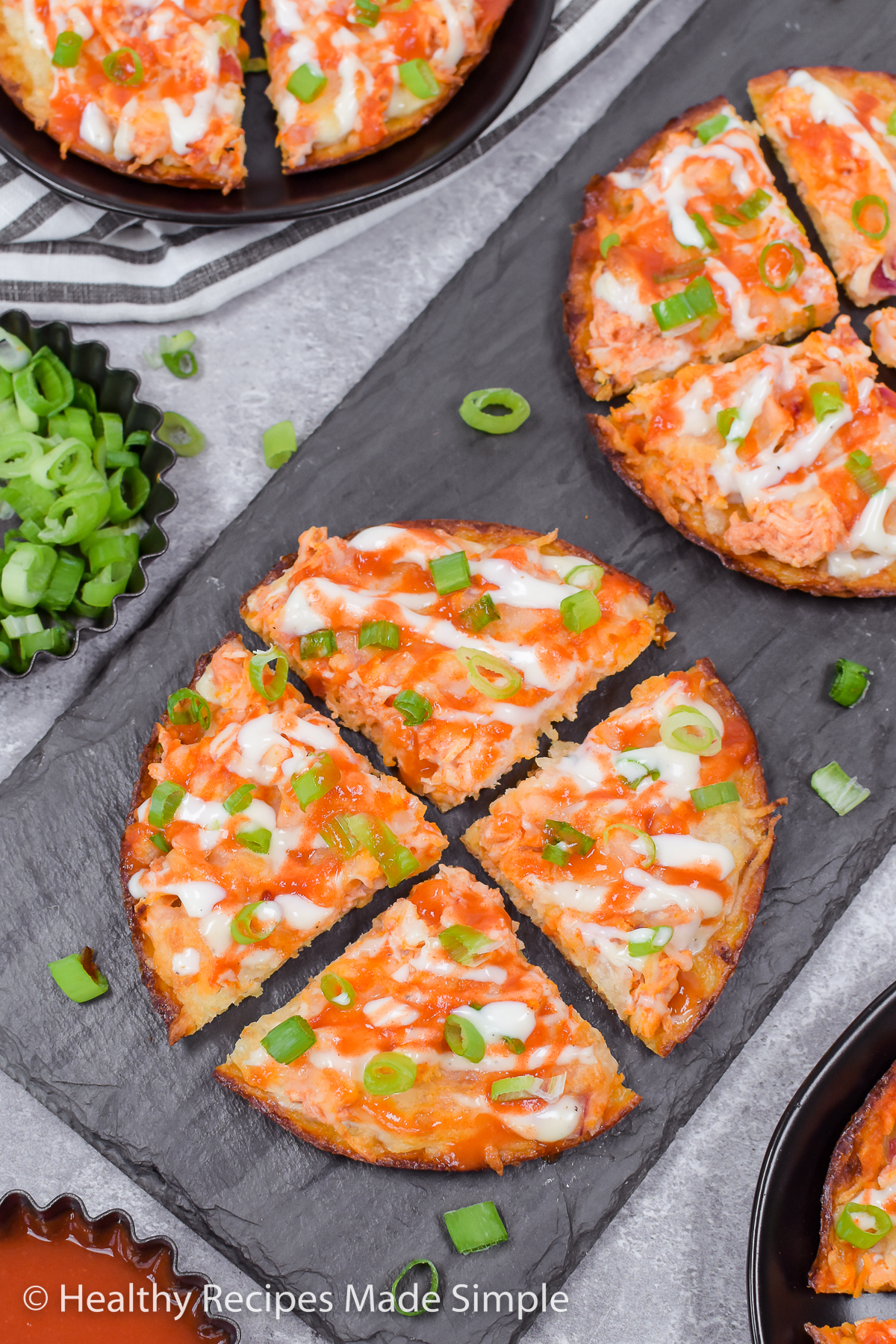 Nutritional Information
One of the best parts about this healthy buffalo chicken pizza is that it works with many eating plans. Here are 2 popular programs many people follow. So grab these simple ingredients and get ready for a delicious dinner that won't derail your goals.
Optavia
Lean - 1
Green - 1
Healthy Fat - 1
Macros
Protein - 26 grams
Carbs - 12 net grams
Fats - 2 grams
Frequently Asked Questions
Where do I find cauliflower pizza crusts?
These mini cauliflower pizza thins were found at Costco. We have found others with the same carb and calorie count at Trader Joes. Check your local grocery store for other great cauliflower crusts.
Are these Optavia approved pizzas?
Based on the macros and breakdown, this cauliflower buffalo chicken pizza does follow the Optavia plan. You could have 2 pizzas and 2 more greens and be right on track. Pair it with a small side salad for a great lean and green dinner.
Can I cook these buffalo chicken pizzas in an air fryer?
Absolutely. We tested these in an air fryer at 375 degrees for 6 minutes, and they turned out great. The cheese will crisp up a little more in the air fryer.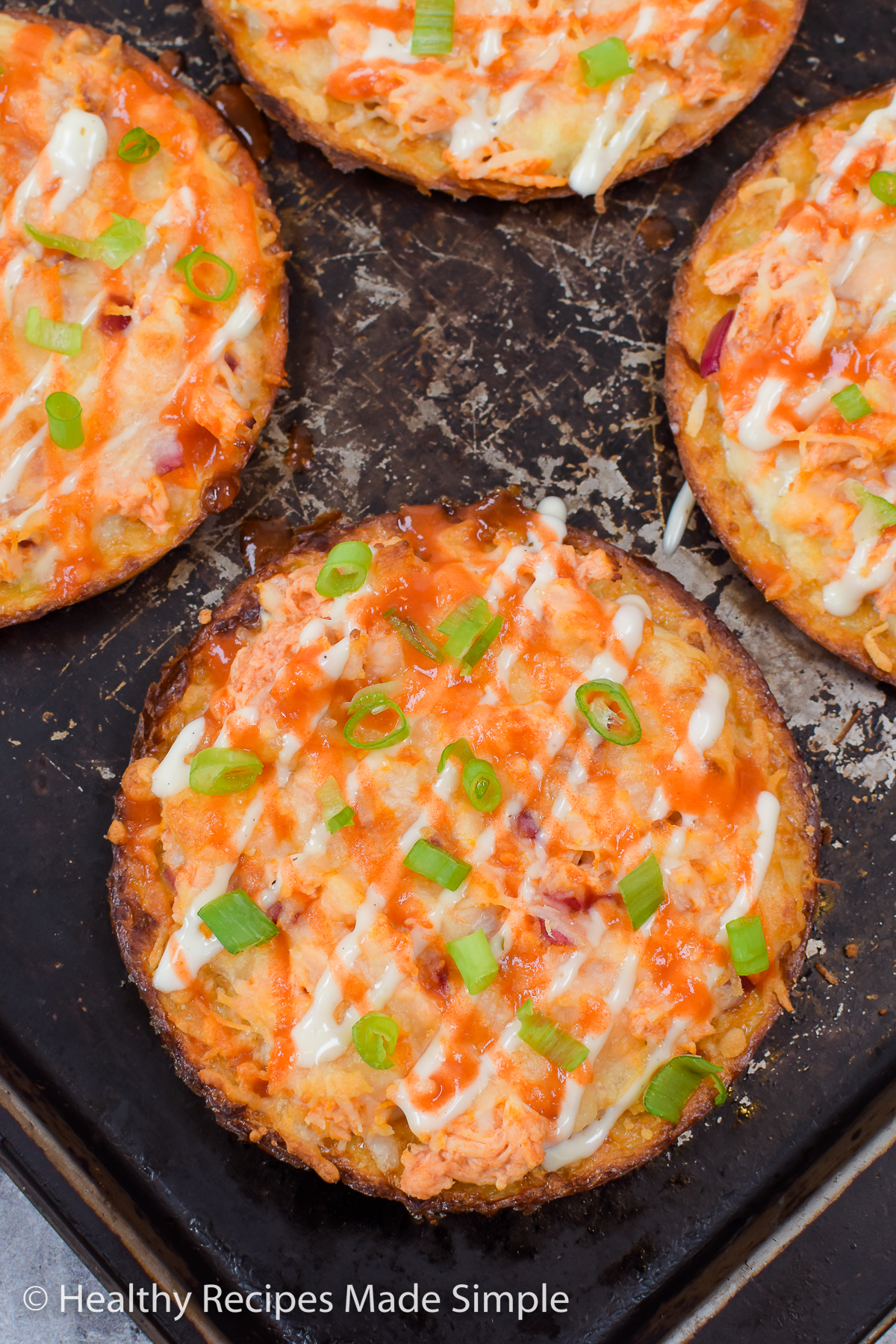 Other Lean and Green Meals
Cauliflower is all the rage these days, and for good reason! Check out these easy and tasty recipes that use it.
❤️ THIS RECIPE? If you do, will you consider giving it a 5⭐️ review?
This will help us provide quality recipes for everyone to enjoy!
Recipe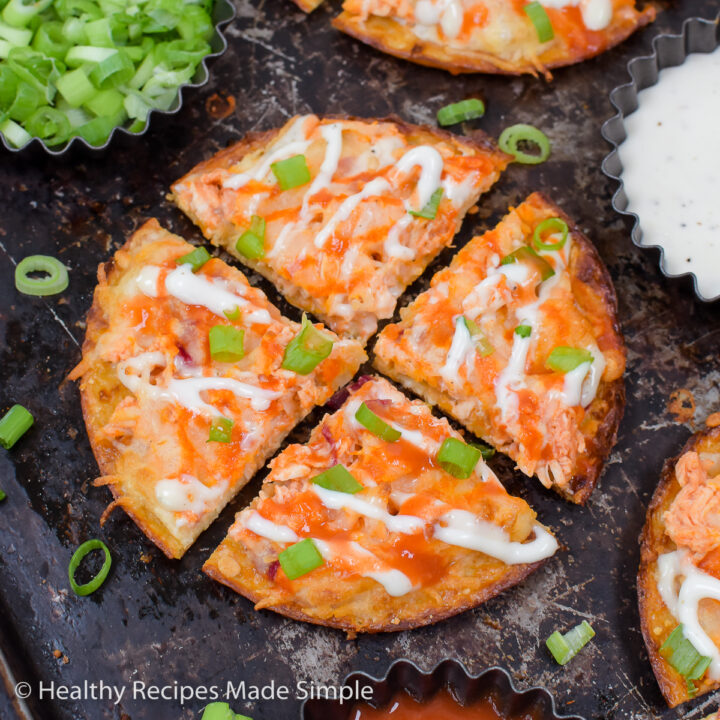 Buffalo Chicken Cauliflower Pizza
Loaded with cheese, buffalo chicken, and an amazing dressing, this Buffalo Chicken Cauliflower Pizza will have you wishing every night was pizza night.
Ingredients
6 mini cauliflower pizza crusts
4 tablespoons lite ranch dressing
1 teaspoon minced garlic
1 cup shredded chicken
¼ cup diced red onion
¼ cup Frank's hot sauce, plus a little extra for topping
¾ cup low fat mozzarella cheese, finely shredded
1 green onion
Instructions
Preheat oven to 400°.
In a small bowl, combine the garlic and ranch dressing. Mix well.
In a separate bowl, combine the chicken, red onions, and buffalo sauce. Mix until all the chicken is covered in sauce.
Place 6 mini cauliflower crusts on a pan. Evenly distribute the ranch dressing onto the crusts. Spread the sauce to ½ inch of the edge of the crusts.
Evenly place the chicken mixture onto the sauce. You can pull the chicken closer to the edge of the crust but not all the way to the edge.
Cover the pizza crusts with the cheese. The cheese can go all the way to the outer edge of the crust.
Bake for 12-14 minutes or until the cheese is melted as you like.
Top with green onions and some extra buffalo and ranch drizzles.
Notes
Want to make these a little less spicy? Use a buffalo wing sauce in place of the hot sauce.
Cauliflower crusts don't get as crispy as a regular pizza crust. Cook on a wire pizza tray on a lower shelf in the oven for a crispier crust.
Nutrition Information:
Yield:

3
Serving Size:

2 pizzas
Amount Per Serving:
Calories:

318
Total Fat:

21g
Saturated Fat:

6.7g
Trans Fat:

0g
Unsaturated Fat:

0g
Cholesterol:

85mg
Sodium:

1210mg
Carbohydrates:

7g
Net Carbohydrates:

5g
Fiber:

2g
Sugar:

1g
Protein:

24g