Craving Italian food but don't want the carbs? We've got you covered with a delicious homemade meal. Our Zucchini Noodles with Tomato Sauce and chicken meatballs are so good, you won't even miss the pasta.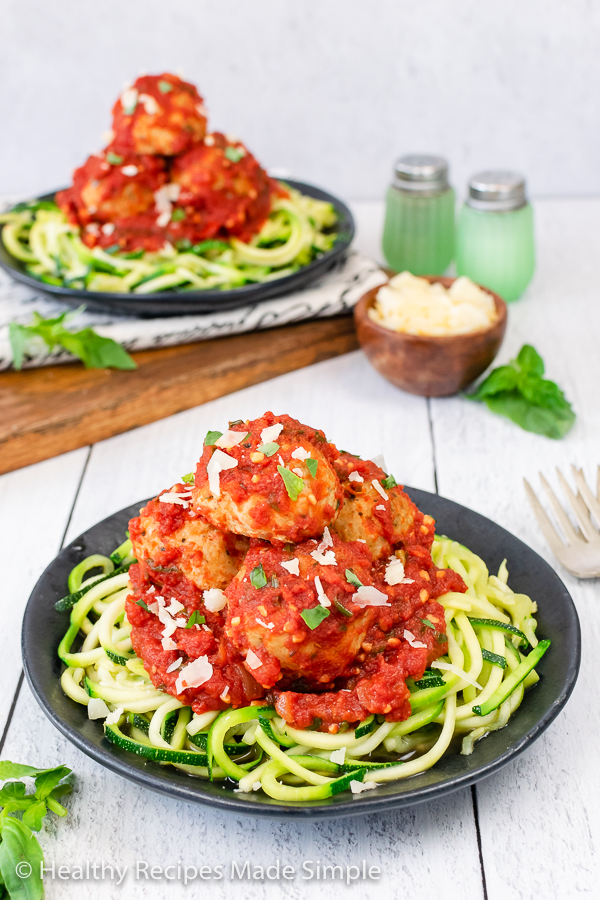 With all of the flavors of your favorite Italian dish, this is one meal you can enjoy guilt-free. Plus, it's perfect for low carb and keto diets.
If you are like me, pasta was a staple in my home growing up. A pan of lasagna or a plate of spaghetti brings back great memories of my childhood.
Zoodles vs Noodles
Many people love pasta. But pasta does not always love them back. The high gluten content tends to bother a lot of people. Too many carbohydrates from pasta can lead to inflammation and weight gain. Not to mention it can make you feel bloated and sleepy after a big dinner.
Zucchini noodles are the perfect solution to the pasta problem. You can easily replace starchy noodles with this vitamin packed vegetable. All the flavor you desire in an Italian meal without the extra problems that come from consuming too many carbs and gluten.
Once you make the switch and implement this versatile vegetable, you really won't miss traditional noodles.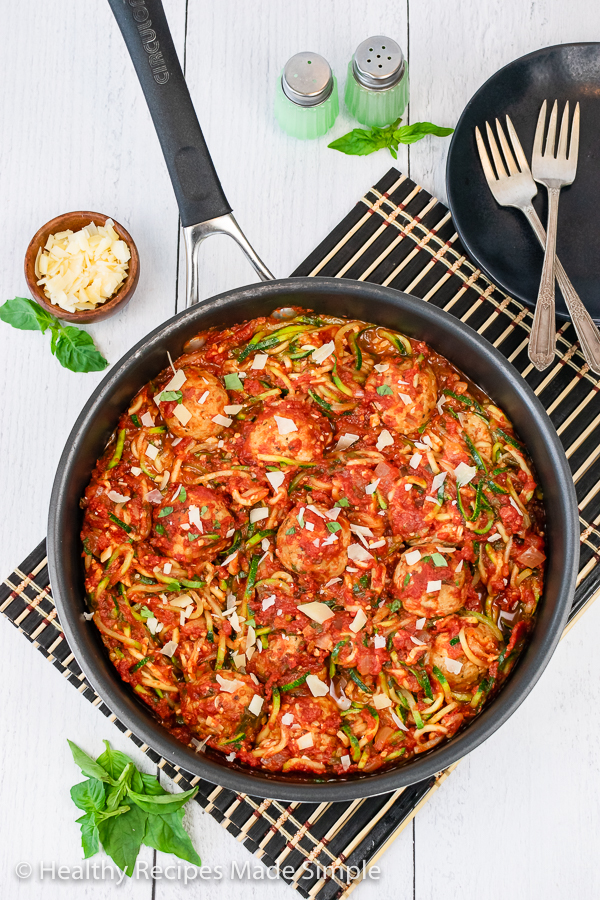 Nutritional Information
If you are counting your macros or on a specific plan like Optavia, here is a simple breakdown of the basic nutrition of 1 cup of prepared noodles with sauce.
Optavia
Lean - 0
Green - 1
Healthy Fat - 1
Macros
Protein - 26 grams
Carbs - 12 net grams
Fats - 2 grams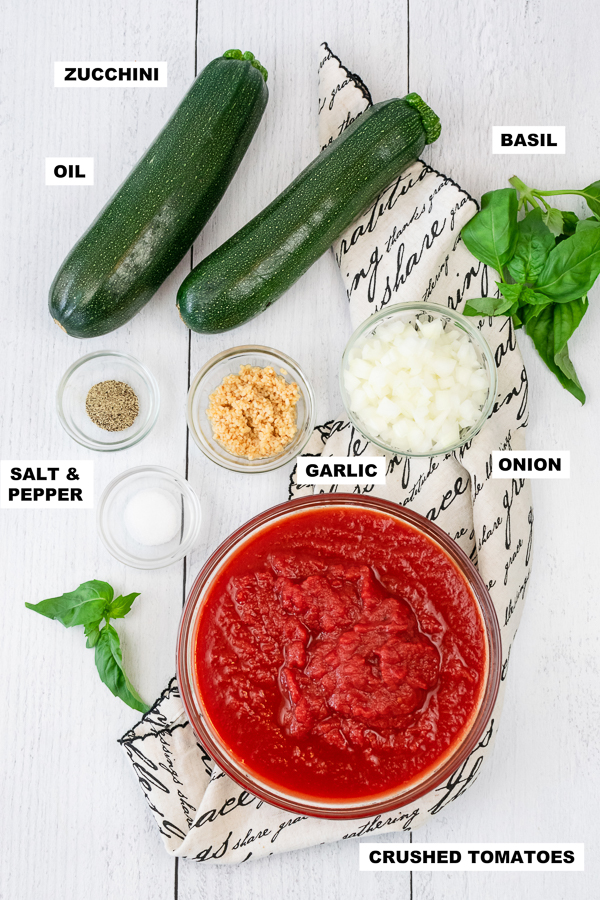 Ingredients and Tools Needed
This zoodle recipe with chicken meatballs can be made with just a few ingredients saving you time and money.
Zucchini - 2 medium to large zucchini are the perfect amount to make into your noodles for this Italian dish.
Onion - Just a little onion goes a long way in giving this sauce the flavor you will love.
Garlic - Combined with the onion, this seasoning is a staple for a pasta sauce.
Crushed Tomatoes - One 28 ounce can of crushed tomatoes is the perfect base for your sauce.
Fresh Basil - This adds that Italian flavor you love in a red sauce.
Chicken Meatballs - These amazing homemade meatballs will fit into your nutrition goals. They are easy to prep on the same day or make ahead of time.
Spiralizer - The easiest way to turn a regular zucchini into a bowl full of zoodles.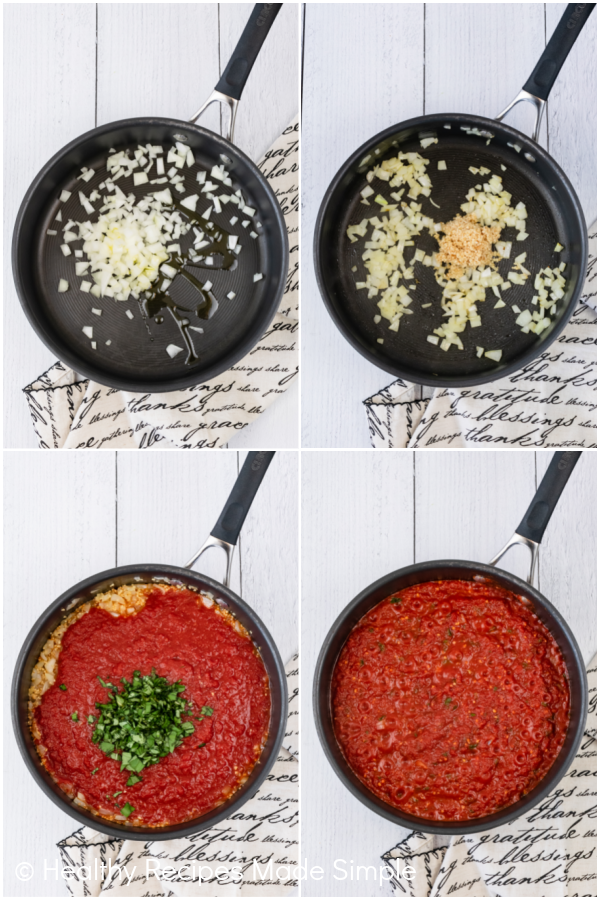 How to Make this Lean and Green Zucchini Recipe
Traditional spaghetti dinners are pretty simple to make. This Italian zoodles recipe is no different. Plus, you can rest assured that all the ingredients you add are healthy and right from your own fridge.
For the Sauce
Saute the onion in a little olive oil.
Add the garlic, tomatoes, and basil and simmer for about 10 minutes until the sauce thickens.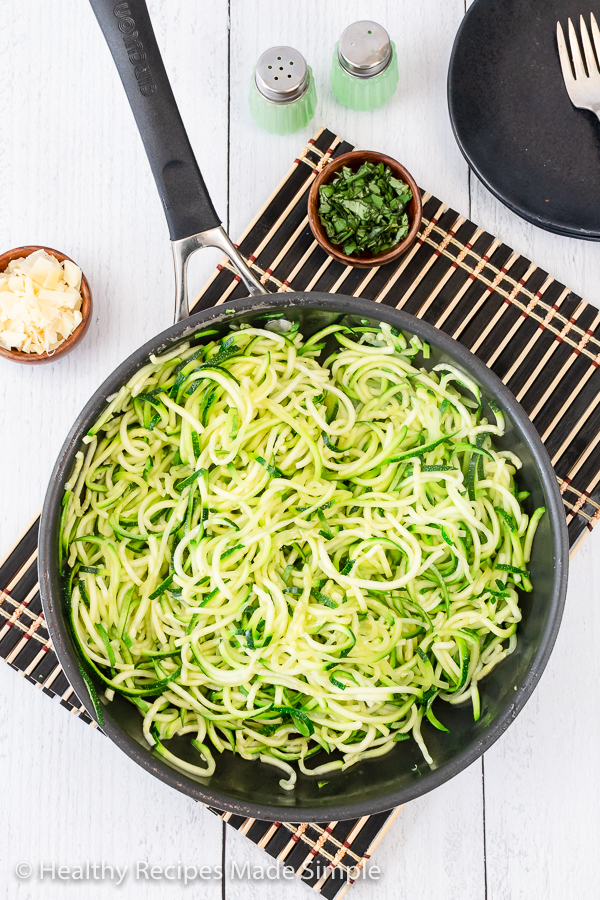 For the Zoodles
Spiralize the zucchini. Spread the zoodles onto a sheet of paper towels.
Sprinkle the zoodles with salt and let sit for 10 minutes. The salt will bring out the moisture from the zucchini and will help keep them from getting soggy.
Pat the zoodles with more paper towels until they are dry.
Saute the zoodles in a pan for 1-2 minutes. The less you cook them, the firmer they will remain.
Put it all together
Place 1 cup of zoodles onto a plate. Top with the sauce and meatballs or other protein as desired.
Garnish with some parsley and fresh parmesan.
This zucchini noodles with tomato sauce recipe is one that our family loves and keeps coming back to. I hope you find it to work well for you as well.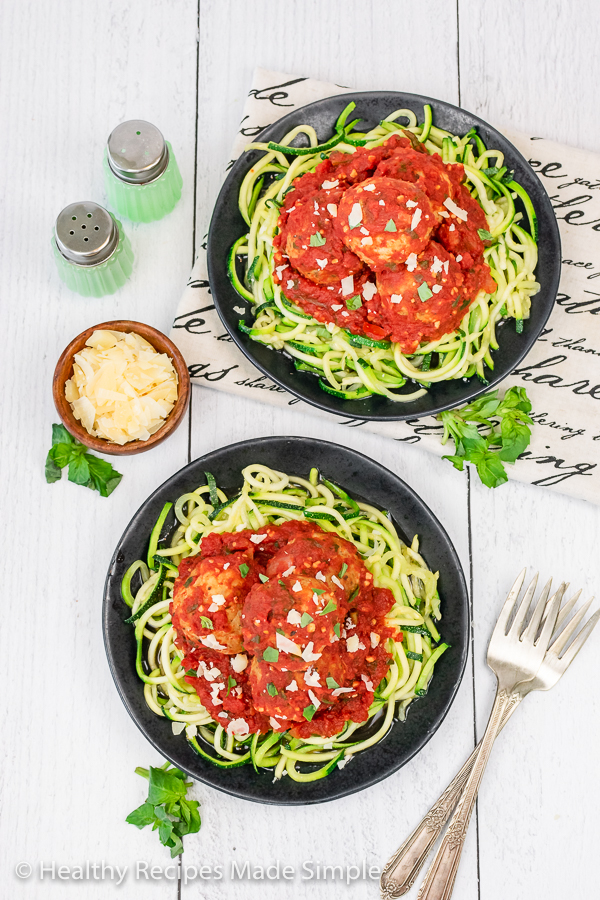 Frequently Asked Questions
What are Zoodles?
Zoodles are simply a zucchini cut to look like noodles. They are a great low carb option for people who want to substitute high carb noodles with low carb vegetable noodles.
Are zucchini noodles healthy?
Zoodles typically are a healthier alternative to traditional noodles made out of wheat or refined flour. They are just a zucchini so they are cholesterol-free, low fat, low sodium, and low calorie. One serving is packed with nutrients like vitamin C, vitamin B6, and potassium.
Why are my zoodles watery?
A zucchini contains a lot of water. Placing the zoodles on a paper towel and sprinkling them with salt will draw out some of the water. Pat them down and you are ready to go.
What if I don't have a spiralizer?
The best method for zoodles is to use a spiralizer. If you do not have one, you could use a cheese grater, a vegetable peeler, or a pairing knife.
How do I store extra zoodles?
You can freeze the uncooked zoodles and use them at another time. You can also store the uncooked zoodles in a ziplock bag for about 3 days. Be sure to fold them into a paper towel in the bag, so that you can draw out more moisture from the zucchini.
More Lean and Green Meals
❤️ THIS RECIPE? If you do, will you consider giving it a 5⭐️ review?
This will help us provide quality recipes for everyone to enjoy!
Recipe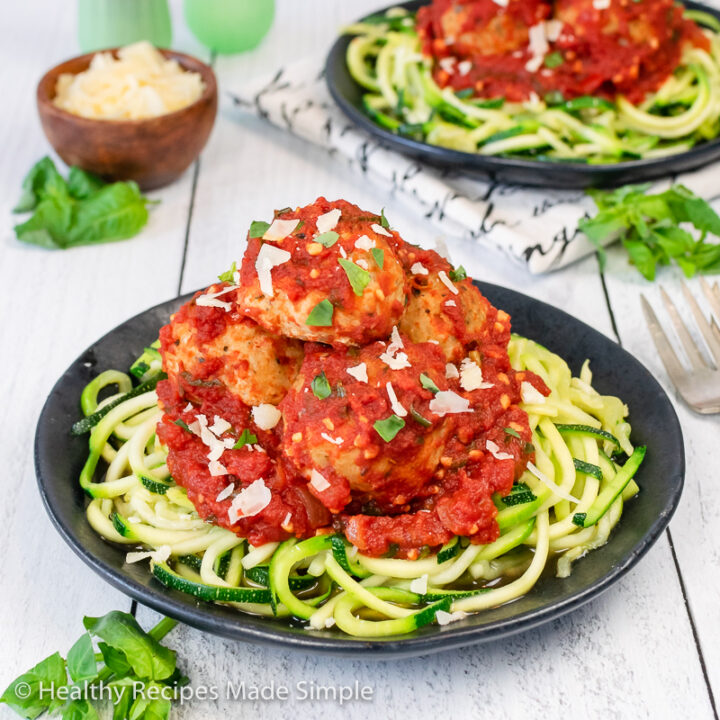 Zucchini Noodles with Tomato Sauce Recipe
A plate full of these zucchini noodles with tomato sauce topped with low carb chicken meatballs is a healthy dinner choice.
Ingredients
8 cups spiraled zucchini (2-3 zucchinis)
1 teaspoon olive oil
½ cup diced onion
2 tablespoons minced garlic
1 - 28 ounce can crushed tomatoes
¼ cup chopped basil (fresh)
Salt and pepper to taste
Instructions
Saute the onion over medium heat with 1 teaspoon of olive oil.
Add garlic, tomatoes, and basil. Simmer until thickened. (about 10 minutes)
Place zoodles on paper towels and sprinkle with salt. Let them sit for 10 minutes and pat dry. Tip - The salt helps remove the moisture from the zucchini noodles.
Saute the zoodles in a pan for 1-2 minutes. The longer you saute them, the softer they will become.
Top with sauce and chicken meatballs. Garnish with parsley and fresh parmesan.
Notes
The salt helps remove the moisture from the zucchini noodles.
The longer you saute the zoodles, the softer they will become. Heat to prefered texture.
Nutrition Information:
Yield:

4
Serving Size:

1
Amount Per Serving:
Calories:

156
Total Fat:

3g
Saturated Fat:

1g
Trans Fat:

0g
Unsaturated Fat:

2g
Cholesterol:

0mg
Sodium:

457mg
Carbohydrates:

30g
Fiber:

9g
Sugar:

17g
Protein:

9g