These Healthy Chicken Meatballs are a must-have for any meal! With their amazing flavor and versatility, you will want them on hand at all times. Not only can this tasty protein be used as an appetizer or main dish, but they can be prepped ahead of time making your life a little simpler.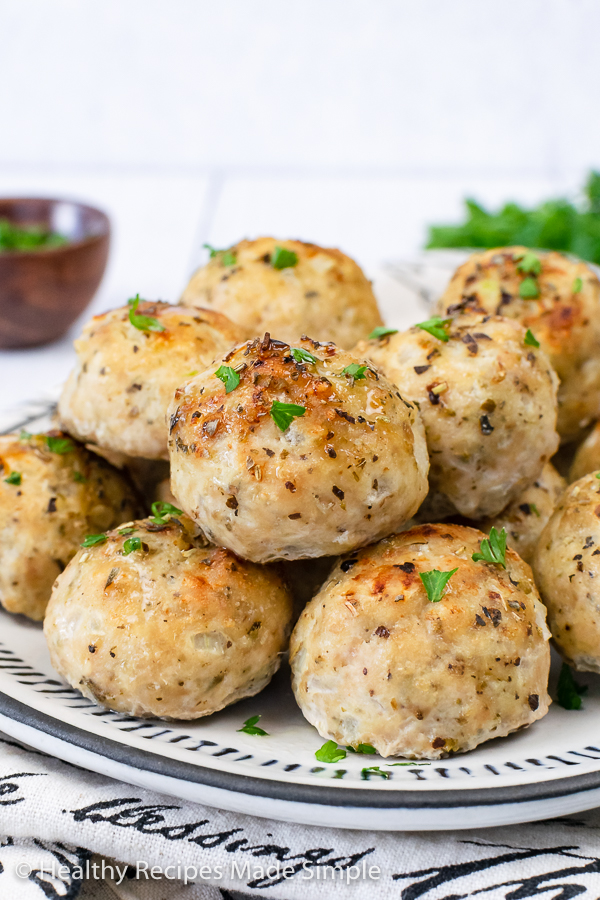 Jump to:
Eating healthy is not without its challenges. In a world where convenience is king, healthy food sometimes takes a back seat.
We all want to be healthier, but most of us don't know how to make that happen on a daily basis. Many recipes take too much time to prepare or are so complicated we never even attempt them! We want to help you change that.
Why You Will Love This Recipe
This meatball recipe is healthy, easy, and delicious. It only takes 20 minutes from start to finish!
Lean and green chicken meatballs are the perfect solution for busy people who want to eat healthier without sacrificing taste or convenience.
These delicious chicken meatballs are made with lean protein and fresh ingredients, so they're healthy and filling. Cook them in a skillet, oven, or air fryer for a quick meal or appetizer.
Serve these easy chicken meatballs with zucchini noodles, cilantro lime cauliflower rice, or stuffed in lettuce wraps for a quick lunch or dinner that won't leave you feeling guilty after eating it!
Ingredients Needed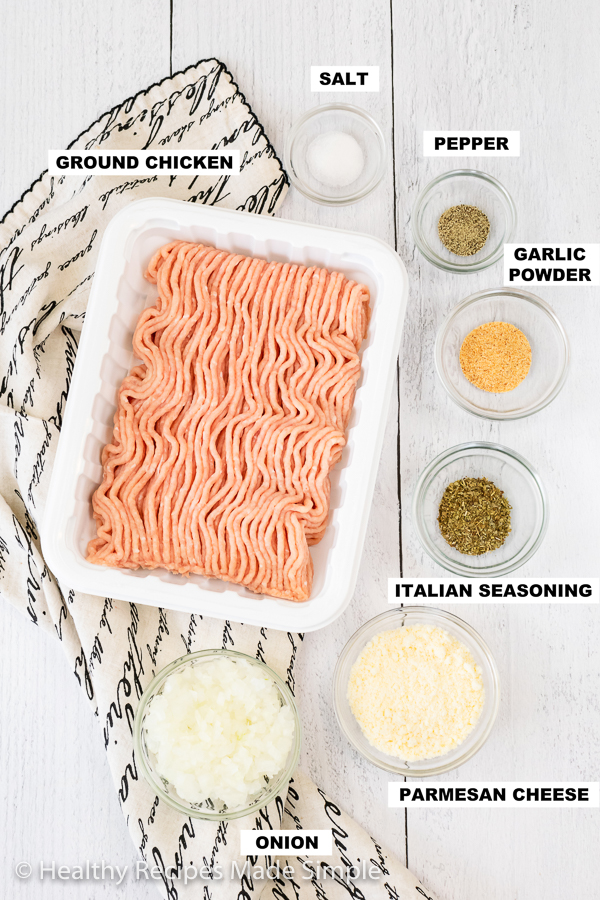 With only 4 main ingredients and some seasoning, you can be on your way to something delicious.
Ground Chicken - This is your main protein source for this recipe. Ground turkey could also be used. Chicken and turkey give you less fat content and are great substitutes for traditional ground beef meatballs.
Seasoning - Simple seasonings like Italian seasoning, garlic powder, and salt and pepper are all you need for great flavor.
Parmesan Cheese - A little grated parmesan cheese give these meatballs a nice texture and helps them stay together. It also keeps the carb count lower than using breadcrumbs.
Onion - Finely diced onion rounds out these chicken meatballs with a nice flavor.
How to Make Chicken Meatballs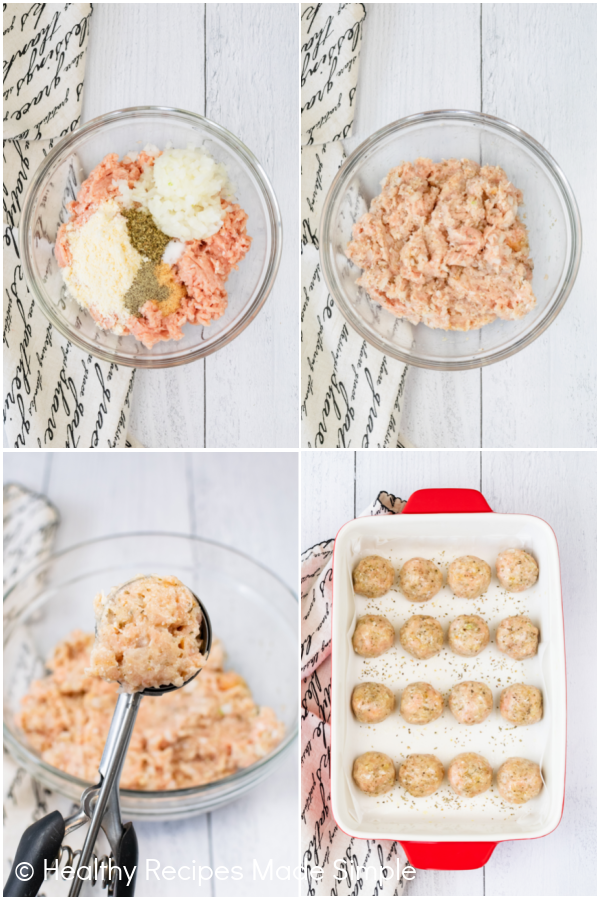 We take the "Made Simple" part of our name seriously. Eating healthy SHOULD be easy. These chicken meatballs without breadcrumbs are as simple as it gets!
Stir together all the ingredients in a large mixing bowl.
Use a cookie scoop and create 16 even meatballs from the mixture.
Bake in a dish or sheet pan.
See how simple and delicious this can be.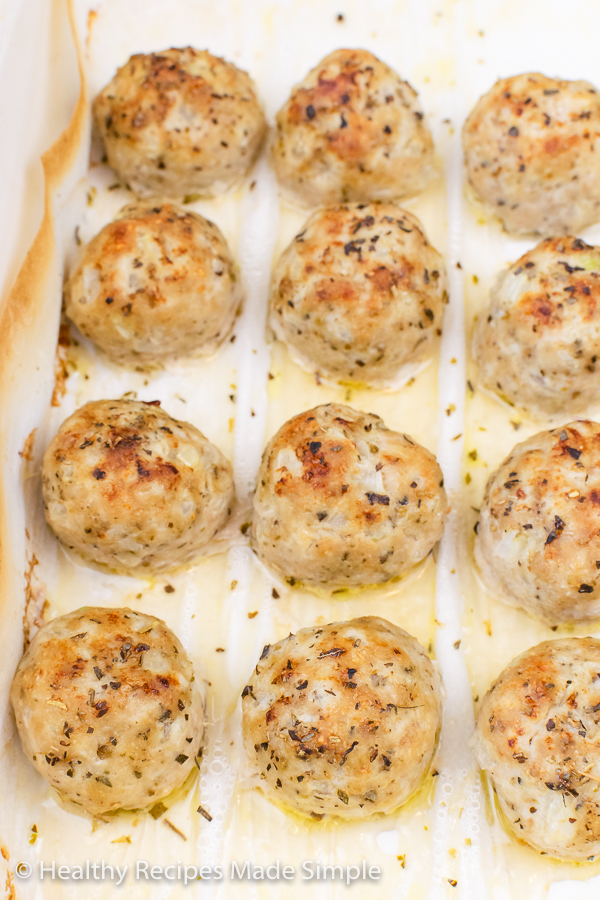 Recipe Tips
Use ground turkey in place of chicken. We have tested both for these healthy meatballs. We have found that ground turkey comes out closer to texture of a ground beef meatball. Just with less fat.
Use different seasonings. Find your perfect flavor combo for any desire. Dill, buffalo, jalapeño, or cayenne pepper are just a few options on how you can make these your favorite healthy meatball.
To make these dairy free chicken meatballs, use nutritional yeast in place of the parmesan cheese.
When rolling these into balls, place a little bit of oil on your hands. This will keep the meat from sticking to you, and it will also allow the outside of the meatball to caramelize as they bake.
FAQs
Can I make these ahead of time?
Yes. One of the best things about these (other than the taste) is that you can make these ahead of time and freeze. Just make sure you cook them completely. The internal temperature should be 165 degrees.
Can you make healthy chicken meatballs in an air fryer?
Absolutely. We love our air fryer. And these easy chicken meatballs cook up in an air fryer in 10 minutes at 375 degrees. Yes, it just keeps getting simpler!
Why are my meatballs tough?
Over mixing the chicken can cause your meatballs to be tough. Mix just enough so that the ingredients are combined together and then begin scooping.
Why are my chicken meatballs falling apart?
If the chicken is too dry, it may fall apart. Add an egg or a splash of liquid (water or chicken broth) to the mixture, if it feels too dry.

Some ground chicken that you buy contains different fat content. This recipe works great with chicken that is 93% lean and 7% fat. You can get a lower fat content but sometimes it makes it too dry.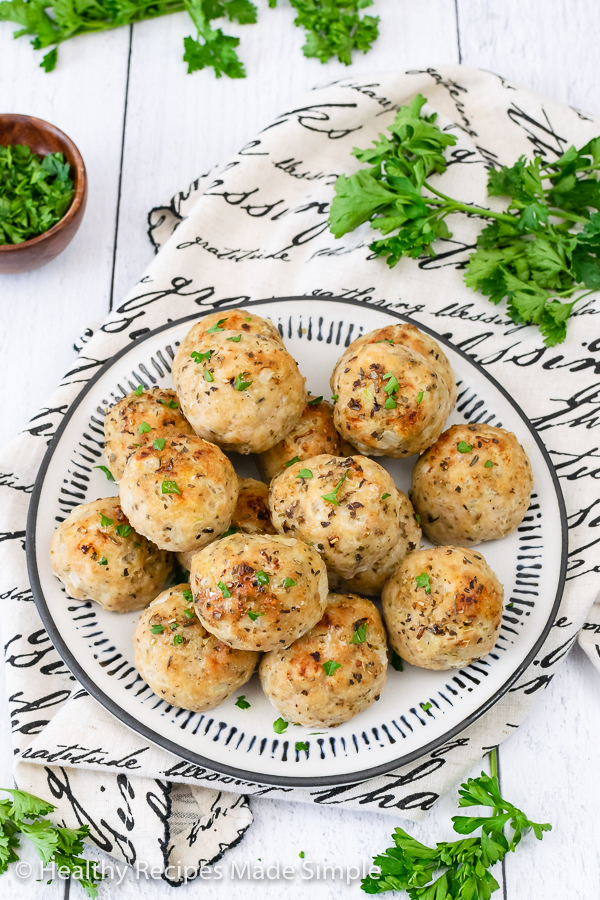 Nutritional Information
Here is an easy nutritional breakdown for those on the Optavia plan or for someone who is counting their macros.
Optavia 5&1
For 6 meatballs
1 Lean
0 Green
½ Healthy Fat
Macros
Per meatball
Protein - 7g
Carbs - 1g
Fats - 3g
Other Lean and Green Meals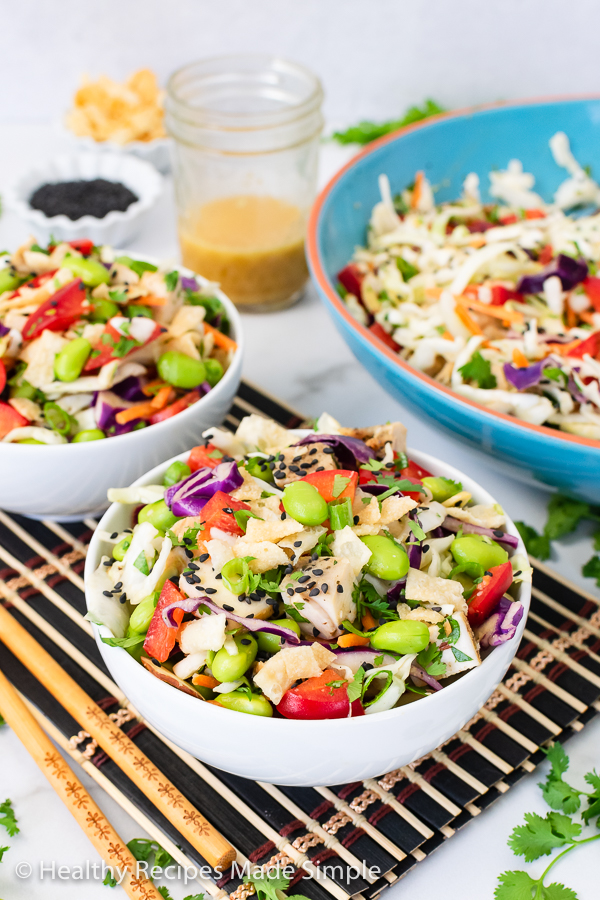 ❤️ THIS RECIPE? If you do, will you consider giving it a 5⭐️ review?
This will help us provide quality recipes for everyone to enjoy!
Recipe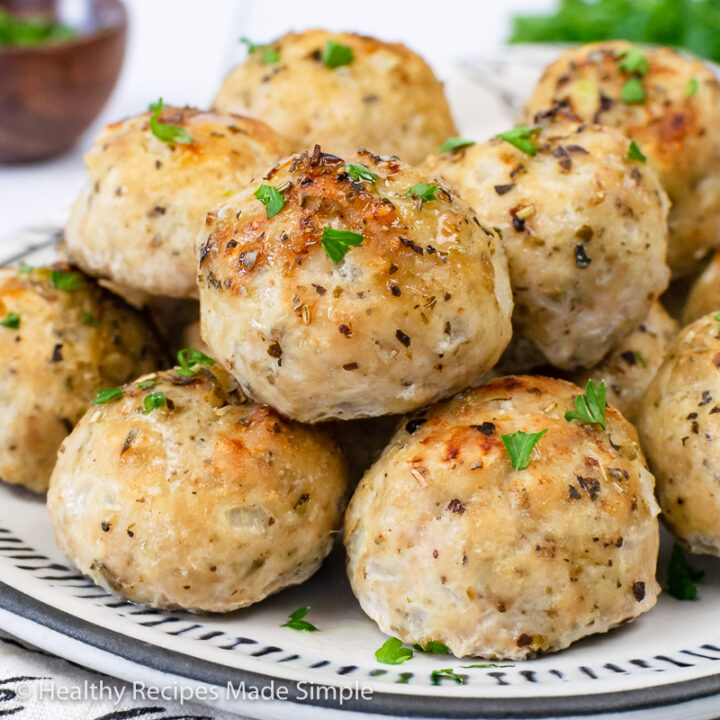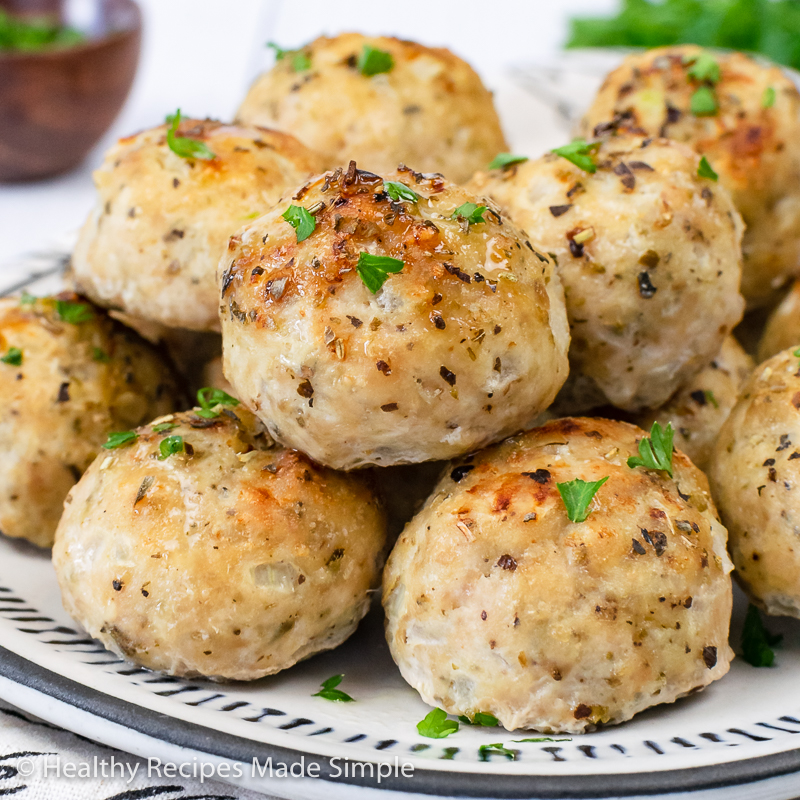 Healthy Chicken Meatballs
Who wants to eat boring old chicken? With these tasty Chicken Meatballs, you can have a healthy meal that will please your taste buds. They're so simple and quick! Plus they make for great leftovers.
Ingredients
1 pound ground chicken
½ cup finely diced onion
¼ cup grated parmesan cheese
1 ½ teaspoon Italian seasoning
1 teaspoon garlic powder
¼ teaspoon salt
½ teaspoon pepper
Instructions
Preheat oven to 400°. Line a sheet pan with parchment paper for easy clean up.
Place all the ingredients in a large mixing bowl and mix just until combined.
Using a 1" cookie scoop, make 16 meatballs. Dip your fingers in olive oil and use your hands to form them into round balls.
Place the meatballs on a baking sheet and sprinkle with a little more seasoning.
Cook in the center of the oven for 20 minutes. Broil on high 1-2 minutes to brown the tops.
Serve and enjoy.
Notes
Olive oil keeps the mixture from sticking to your hands and gives the outside a nice taste.
Need dairy free meatballs, use nutritional yeast in place of the parmesan cheese.
These meatballs can also be pan fried in a skillet for 10 minutes or cooked in an air fryer at 375° for 10 minutes.
Nutrition Information:
Yield:

16
Serving Size:

1
Amount Per Serving:
Calories:

55
Total Fat:

3g
Saturated Fat:

1g
Trans Fat:

0g
Unsaturated Fat:

2g
Cholesterol:

32mg
Sodium:

83mg
Carbohydrates:

1g
Fiber:

0g
Sugar:

0g
Protein:

7g