You are 2 ingredients away from a delicious treat that satisfies that sweet tooth without wrecking the diet! Strawberry Yogurt Bites give you the flavors you love without compromising taste.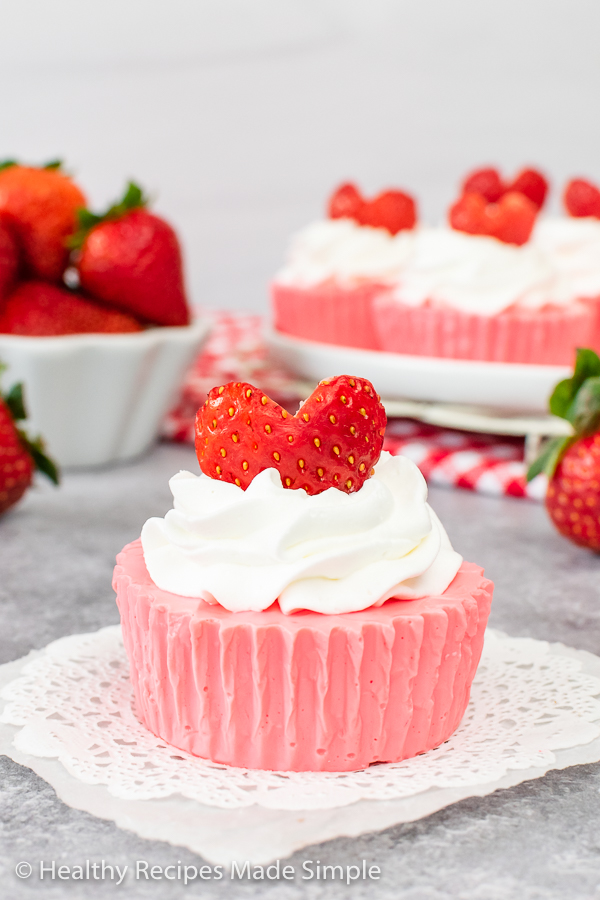 Jump to:
Why We Love This Snack
When we started eating healthier, we thought we needed to avoid sweets altogether. We have found ways to enjoy things we love without the extra calories or crash.
Things like this Chick-fil-a frosted protein lemonade is full of flavor without the carbs. This creamy jello is another treat where you don't need to compromise!
While most Jellos are full of sugars, this Jello yogurt dessert is low carb and full of flavor AND protein.
Typical desserts will drive up your blood sugars and the scale number, this creamy sugar free jello lets you enjoy a sweet treat without derailing your diet.
Adding gelatin to yogurt gives you full on flavor with zero compromise!
Ingredients Needed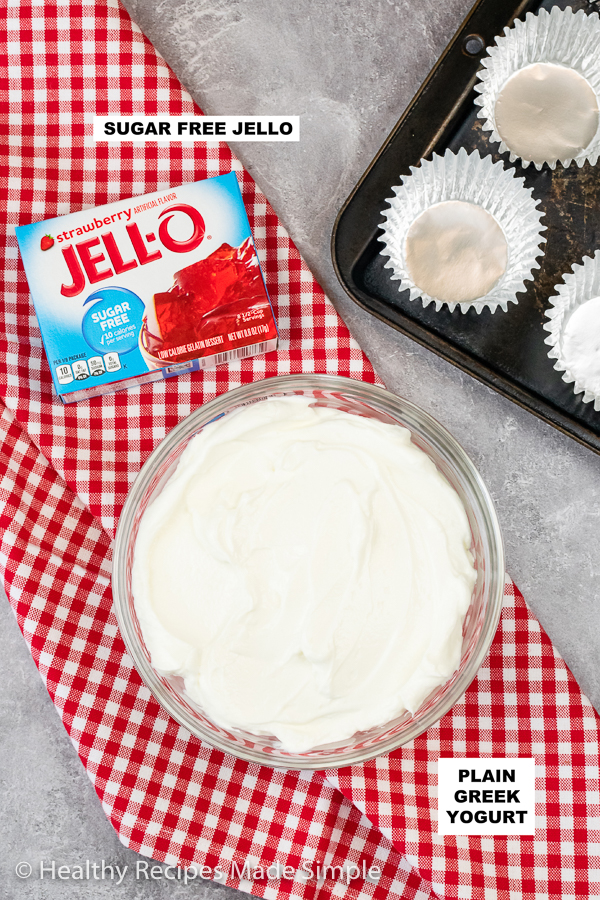 With only 2 basic ingredients you can have a fridge full of an easy jello dessert that is low carb and keto friendly.
Sugar Free Strawberry Jell-O - You can use any flavor that you like.
Greek Yogurt - Feel free to use full fat or a 2% yogurt.
How to Make Jello Bites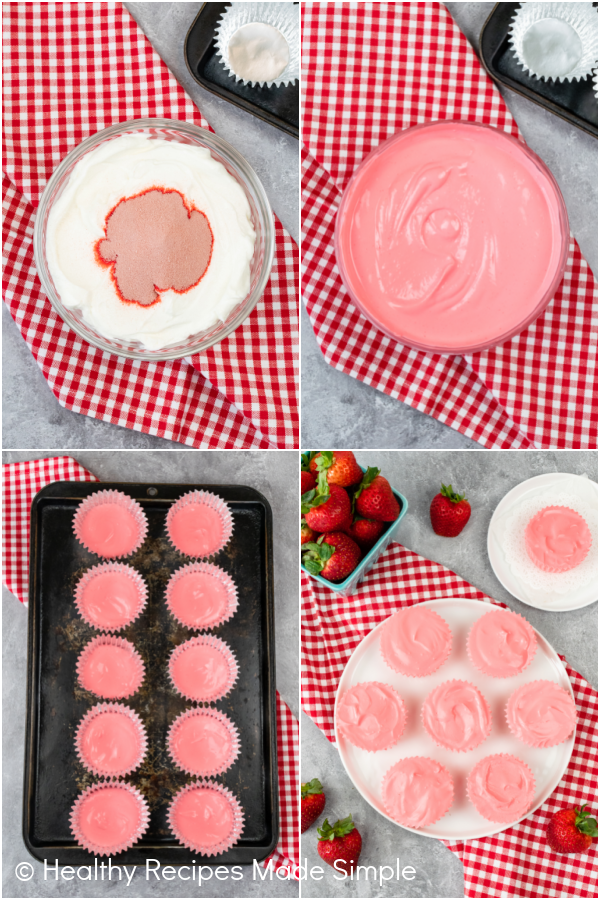 Snacking has never been easier! If you can combine jello and yogurt, then you can crush this recipe!
In a mixing bowl, combine the DRY Jell-O mix and the Greek yogurt.
Microwave and stir until the jello is dissolved.
Pour the mixture into liners and place in the refrigerator to set up.
Variations
There are so many different ways to enjoy this healthy Jello yogurt. Here are a few of our favorites.
Adding gelatin to yogurt gives the jello a nice creamy texture. Don't want strawberry? Try yogurt jello with raspberry, cherry, or any of your favorite sugar free jello.
Use vanilla flavored Greek yogurt for some additional flavor.
Find some fun jello molds to shape the jello yogurt mousse. You can even use muffin tins to keep it simple.
FAQs
Does this fit on the Optavia program?
Consult your coach for specifics to your goals, but this would fall under an Optavia approved snack.
Can I make this protein Jello in a large pan?
You can make this Jello treat in individual cups or in a 8x8 dish. Just pour the mixture into whatever cups or dish you prefer and let set up in the refrigerator.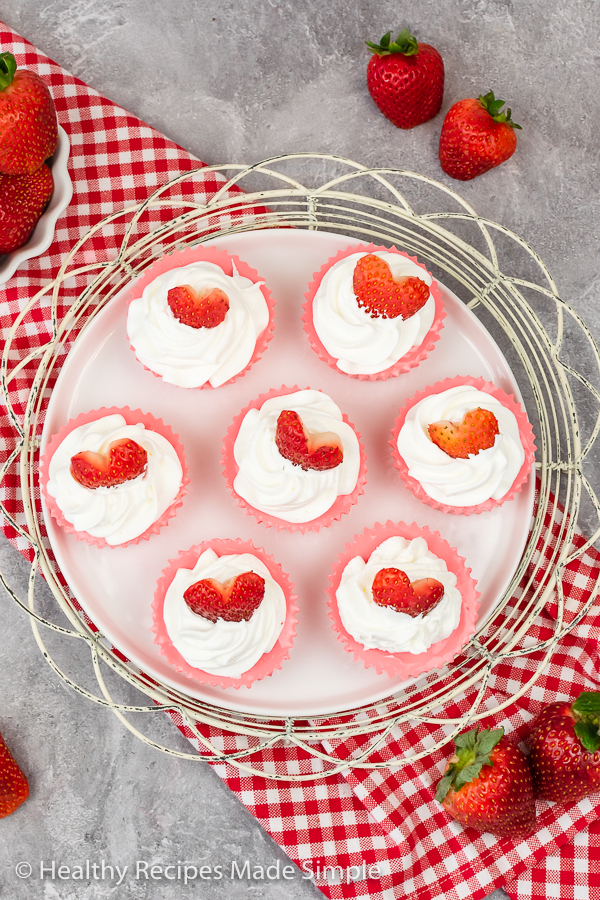 Nutritional Information
These easy yogurt bites will fit nicely into your eating plan. While there are all types of diets that you might be following, here are a few basics that we have found to be popular.
Macros
Protein - 7 grams
Carbs - 3 grams
Fats - 1 gram
Other Jello Yogurt Layered Desserts
❤️ THIS RECIPE? If you do, will you consider giving it a 5⭐️ review?
This will help us provide quality recipes for everyone to enjoy!
Recipe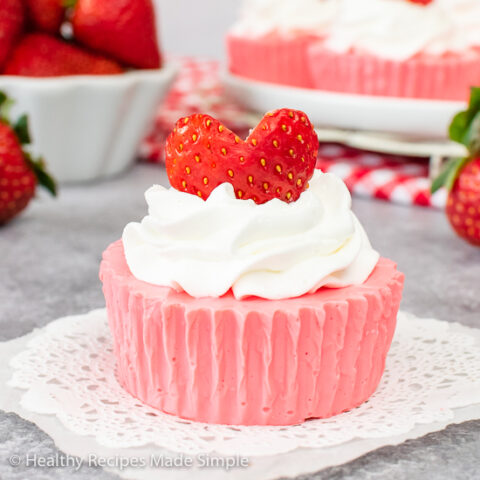 Strawberry Jello Yogurt
Total Time:
1 hour
2 minutes
These delicious and healthy strawberry yogurt bites are the perfect snack for anyone who wants to stay on their diet. They're made with just two ingredients. Easy enough that anyone can make them!
Ingredients
1 .6oz box strawberry sugar free Jell-O
3 cups low fat Greek yogurt
Instructions
Stir yogurt and dry Jell-O together.
Microwave 1 minute. Stir. Microwave another minute. Stir
Microwave 30 seconds and stir and repeat until Jell-O powder is dissolved. (Microwaves may vary)
Spoon evenly into 10 foil cupcake liners or silicone liners.
Chill for 1 hour.
Notes
Use any flavor sugar free Jell-O that you prefer.
Nutrition Information:
Yield:

10
Serving Size:

1 Jello Bite
Amount Per Serving:
Calories:

50
Total Fat:

1g
Saturated Fat:

1g
Trans Fat:

0g
Unsaturated Fat:

0g
Cholesterol:

7mg
Sodium:

24mg
Carbohydrates:

3g
Fiber:

0g
Sugar:

2g
Protein:

7g