This delicious Protein Jello is loaded with the right things to satisfy your sweet tooth AND keep your nutrition on point! With only 3 ingredients, this healthy snack is simple to make. Get ready to taste your new favorite low carb Jello recipe!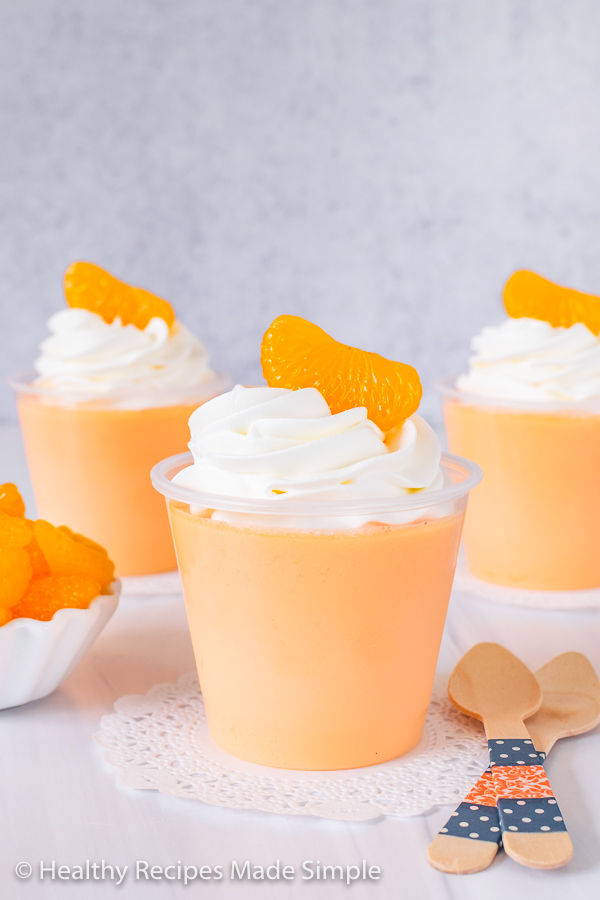 Jump to:
If you're looking for a snack that is low carb and high in protein, then look no further. Our Jello has only 3g of carbs and 11g of protein per serving.
You can enjoy this guilt-free treat any time of day! It's the perfect way to satisfy your sweet tooth while staying on track with your diet.
Why We Love High Protein Jello
We know how hard it is to stay on track when cravings hit, so we created protein Jello as a solution. Now you can have all the deliciousness of Jello without worrying about going over your daily macros or carbs!
One of the most dreaded things about dieting: no more sweets. However, this low carb protein Jello is a great way to get dessert without all the guilt.
Low in sugar, high in protein, and ready to be made with only 3 ingredients. It's like having your "cake" and eating it too! Give this recipe a try for some low calorie sweetness that won't derail your diet plans.
Key Ingredients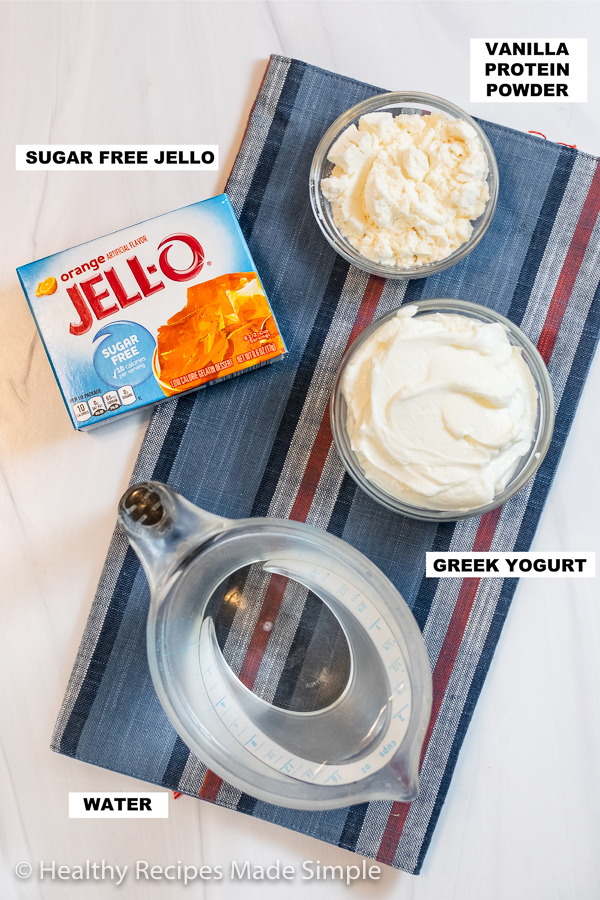 This keto Jello recipe really is so easy to make. Grab your blender and these key ingredients for a nutritious snack.
Sugar Free Jello - Any flavor will do. To keep this a low carb Jello recipe, make sure the it is sugar free. This will allow the dessert to fit into a low carb, keto, or OPTAVIA dessert recipes.
Protein Powder - We prefer using vanilla protein powder. Vanilla flavor gives your Jello a nice creamy flavor that goes well with fruit flavored Jello mixes. You can also use an unflavored protein powder.
Greek Yogurt - Greek yogurt tends to have more protein and less sugar than typical yogurt. This makes it perfect for low carb desserts.
Water - Just some good quality H20!
How to make Protein Jello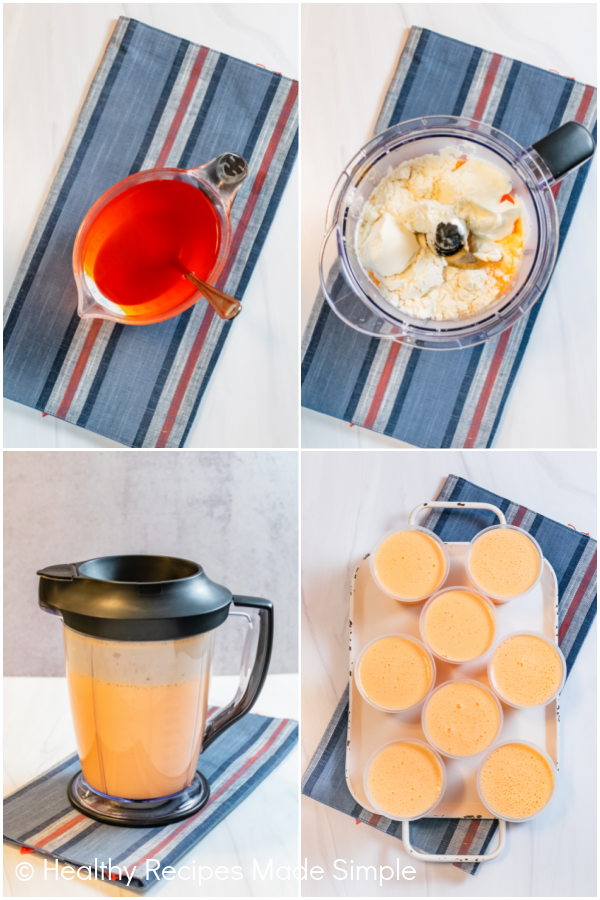 With 3 ingredients and 3 steps, you can create this keto orange creamsicle Jello dessert in less than 5 minutes.
Add the sugar free Jello to warm water and stir until it is completely dissolved.
Pour the Jello into a blender and add the protein powder and yogurt.
Blend and then pour into cups and refrigerate until set.
Is sugar free Jello keto?
Generally speaking, yes it is. Without trying to sound too technical, ketosis is reached when you have depleted your stored glycogen. This usually happens when you lower your daily carbohydrate intake to 5-10% of your total calories.
Sugar free Jello only contains 1 gram of carbs making it a great keto dessert. Adding the protein powder and greek yogurt only bring it up to to around 3 carbs per serving. This recipe is perfect for those who are keeping their blood sugar low or for those on low carb diets.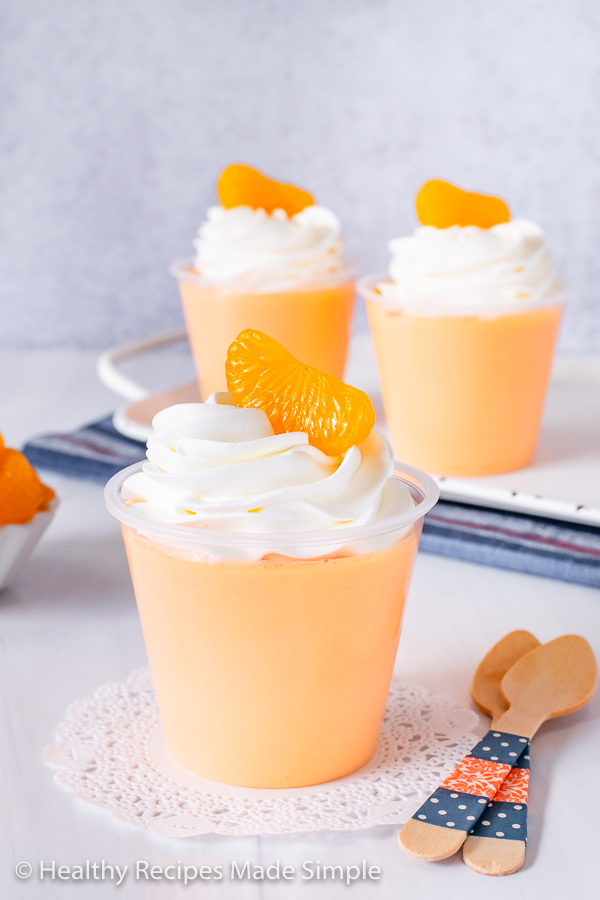 Variations
Top with Whipped Cream - with just 2 extra carbs per serving, this homemade whipped cream adds a finishing touch to this protein Jello. Check out "how do you make homemade whipped cream" and see just how easy it is.
Big Bowl vs. Small Cups - This is great for on the go food. Simply put them into travel cups. You can also pour this into one large dish if you do not need an on the go option.
Use regular Jello - If you are not concerned about low carb Jello but want some extra flavor and protein you can still use a regular Jello packet. The extra sugars do not promote a keto lifestyle but the protein and yogurt will still give this dessert a great flavor.
Pick your Flavor - This is really easy to customize for your favorite flavor. Orange is always one of our favorites. We love the creamsicle flavor the vanilla powder and orange jello gives.
Flavored Yogurt - You can also change this up with different flavors of Greek yogurt. Just be careful to watch the label if you are considering this option. Sometimes flavored Greek yogurt contains extra sugars which could add extra carbs to this dessert.
Simple Tips
Grab and go containers - We find this to be the easiest option. Not only does it keep it simple, it also helps with portion control...unless you eat 3 of them!
A full sized container - You can always bypass the small containers and pour into one large dish.
Big batch at the start of the week - We like to fill our fridge with multiple flavors to start the week. This way there is always a healthy pre or post workout snack.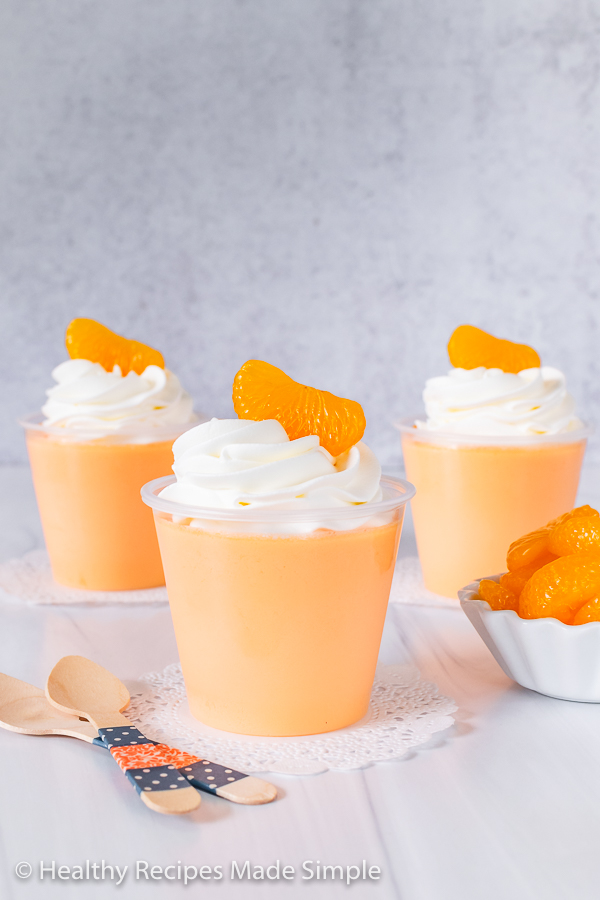 Other Healthy Desserts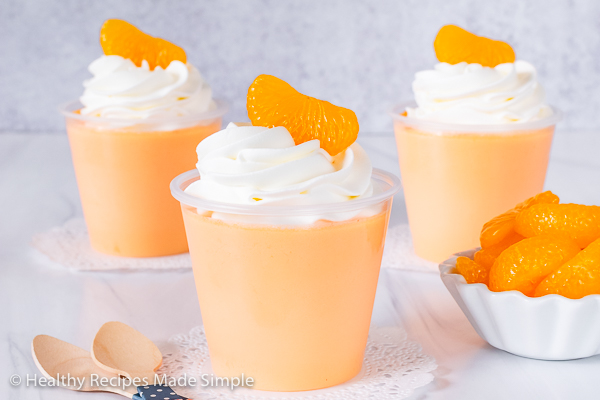 ❤️ THIS RECIPE? If you do, will you consider giving it a 5⭐️ review? This will help us provide quality recipes for everyone to enjoy!
Recipe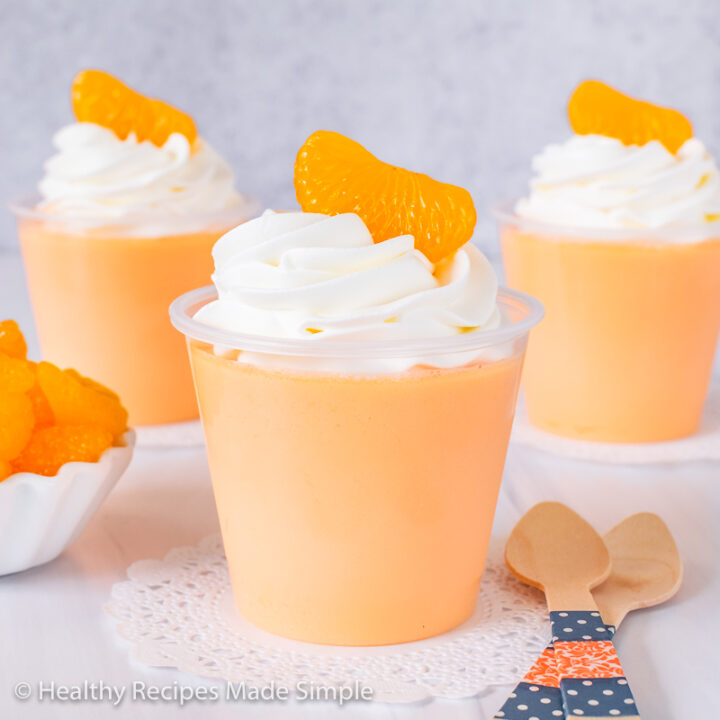 Keto Orange Creamsicle Jello
This delicious Protein Jello is loaded with the right things to satisfy that sweet tooth AND keep your nutrition on point!
Ingredients
1 box (0.6 oz) sugar free jello
2 cups hot water
2 scoops (60 grams total) vanilla protein powder
2 cups full fat plain Greek yogurt
Instructions
In a bowl, completely dissolve the sugar free Jello in warm water. Pour the Jello and water mixture into a blender.
Add protein powder and yogurt to the blender. Blend until smooth.
Pour into eight 5.5 oz cups and refrigerate for 1 hour or until set.
Notes
I used Dymatize vanilla protein powder from Sam's Club. Their scoops are 30grams and contain 21 grams of protein each. The macros may vary a little depending on the brand you choose.
Nutrition Information:
Yield:

8
Serving Size:

1
Amount Per Serving:
Calories:

85
Total Fat:

3g
Saturated Fat:

1g
Trans Fat:

0g
Unsaturated Fat:

2g
Cholesterol:

4mg
Sodium:

35mg
Carbohydrates:

3g
Fiber:

0g
Sugar:

2g
Protein:

11g