Chocolate Chia Pudding is the healthy way to indulge your sweet tooth! This low carb pudding gives you that great chocolate taste without the extra sugar.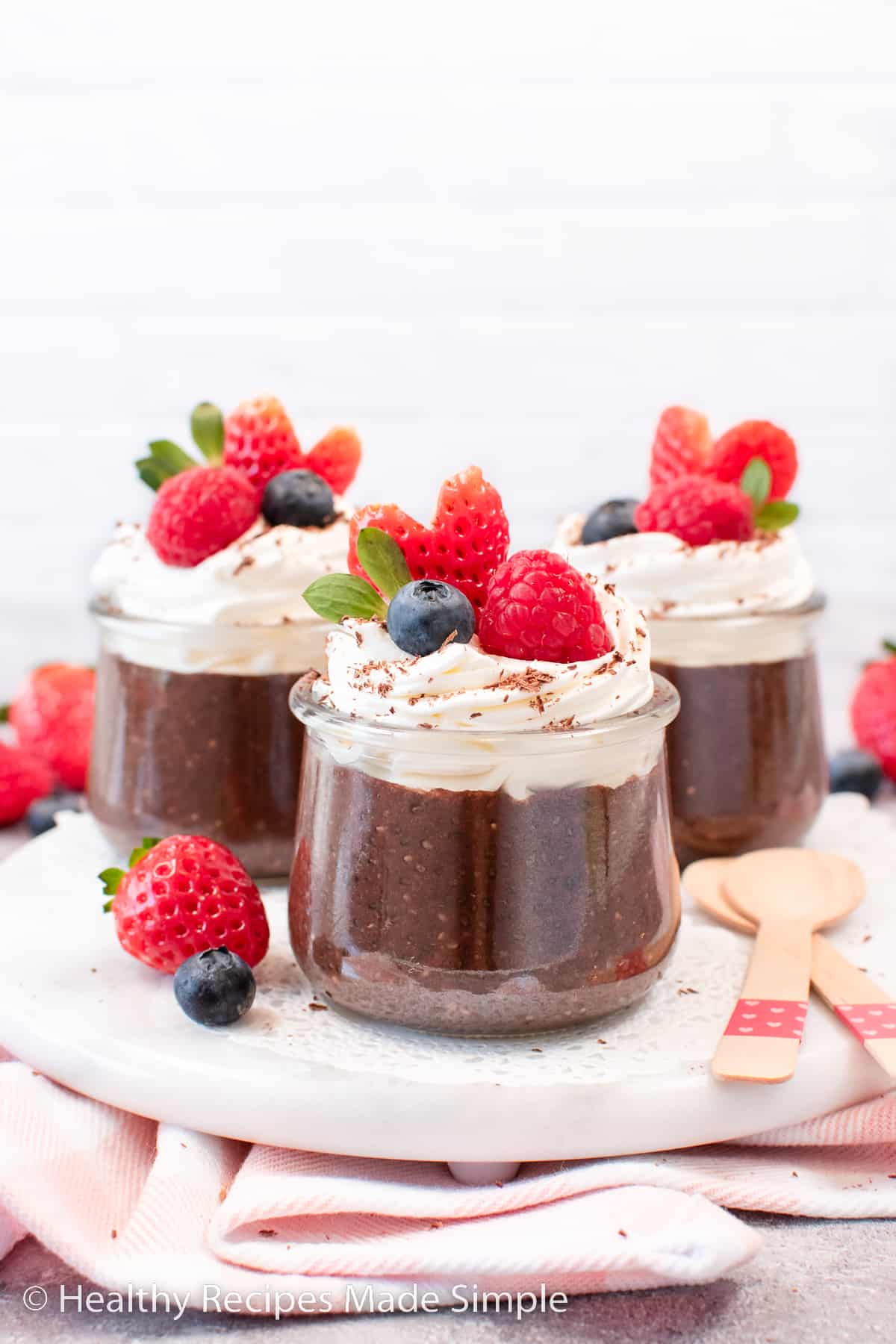 Jump to:
Let's be honest, when you start pursuing a healthy lifestyle there are some things that you start to miss. While you won't miss the extra weight, inflammation, or high blood pressure, sometimes you miss the sweets.
I must admit, my sweet tooth still craves sweet snacks from time to time even though I'm eating healthier. Finding healthy sweets like low carb protein jello, strawberry yogurt bites, and chia pudding is important to staying on track.
Have you tried chia pudding yet? This healthy pudding has been around for a while and is quite popular. Chia seeds and a sweetener can be added to a liquid to make a pudding substitute that tastes great.
Why This is Great
The best thing about chocolate chia pudding is how easy it is to make. Whisk or blend all the ingredients together, then refrigerate the mixture until it thickens.
I love that chia pudding is not super sweet. It has just enough sweetness to trick my sweet tooth into thinking I'm having an indulgent dessert. Adding fresh fruit and whipped cream also makes this chocolate pudding little bit sweeter.
Easy to make with four simple ingredients.
Dairy and gluten free.
Low in calories making it perfect for a healthy snack or breakfast.
Chia seeds add healthy omega fats, fiber, and antioxidants.
Smooth and creamy with a tapioca pudding texture.
Ingredients Needed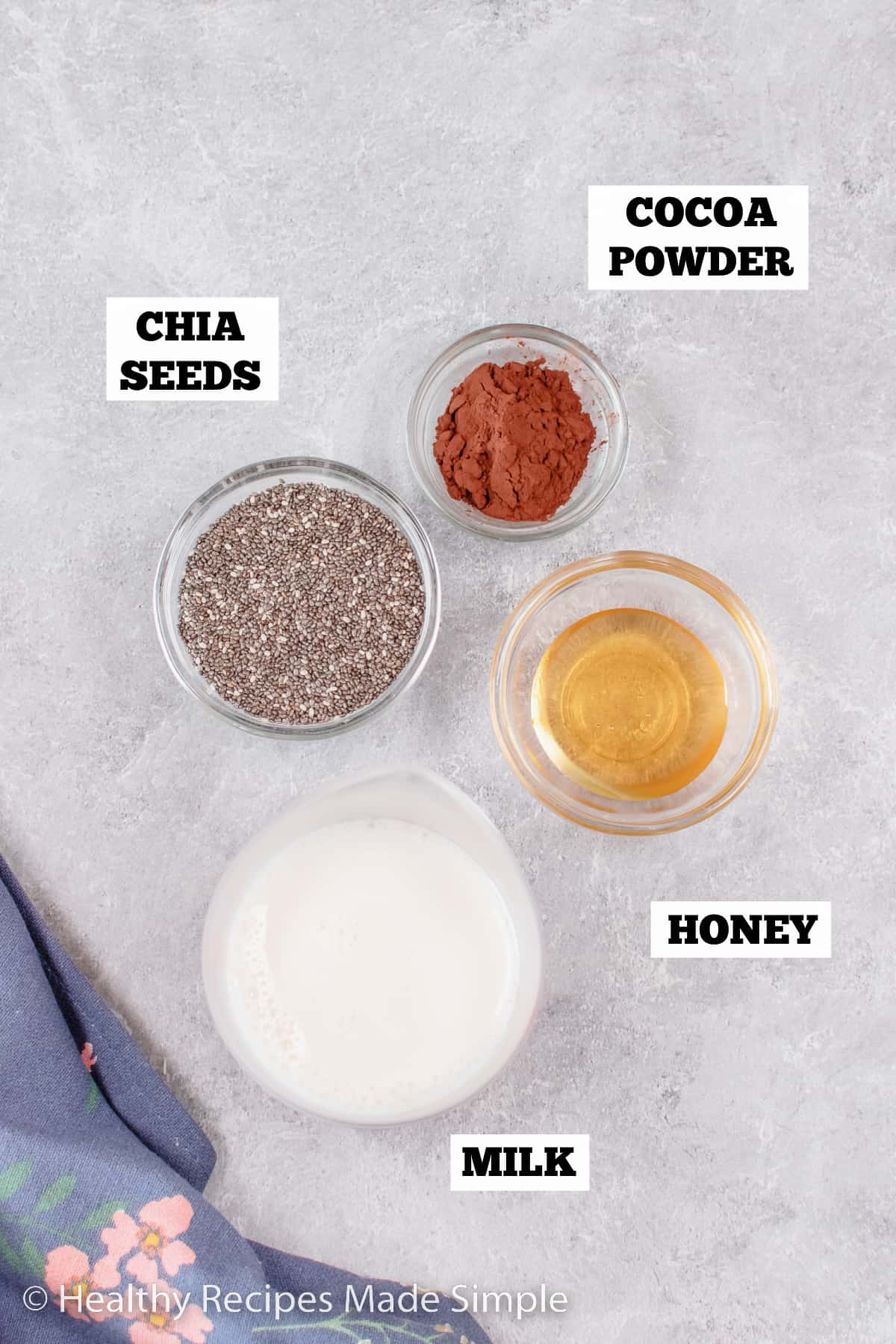 This low carb pudding is made with chia seeds, unsweetened almond milk, and cocoa powder making it a great source of antioxidants. You can top it with whatever you like such as fresh fruit or whipped cream.
Chia Seeds - This super food is very absorbent and develops a gel-like texture when soaked in liquid. Make sure you keep your seeds in the fridge or a cool pantry, so they last longer.
Milk - I use the unsweetened almond milk found in the refrigerated section, but you can use regular milk, coconut milk, or cashew milk. Canned milk will give you a much thicker texture.
Dark Cocoa Powder - Dark chocolate powder gives you the chocolate flavor you love.
Raw Honey - Adds a little sweetness to the dark chocolate powder. You can also use agave syrup ,maple syrup, or any low calorie sweetener you prefer.
Optional - Adding a pinch of cinnamon and a splash of vanilla extract can enhance and boost the flavor profile of the chia pudding with almond milk.
How to Make Chocolate Chia Pudding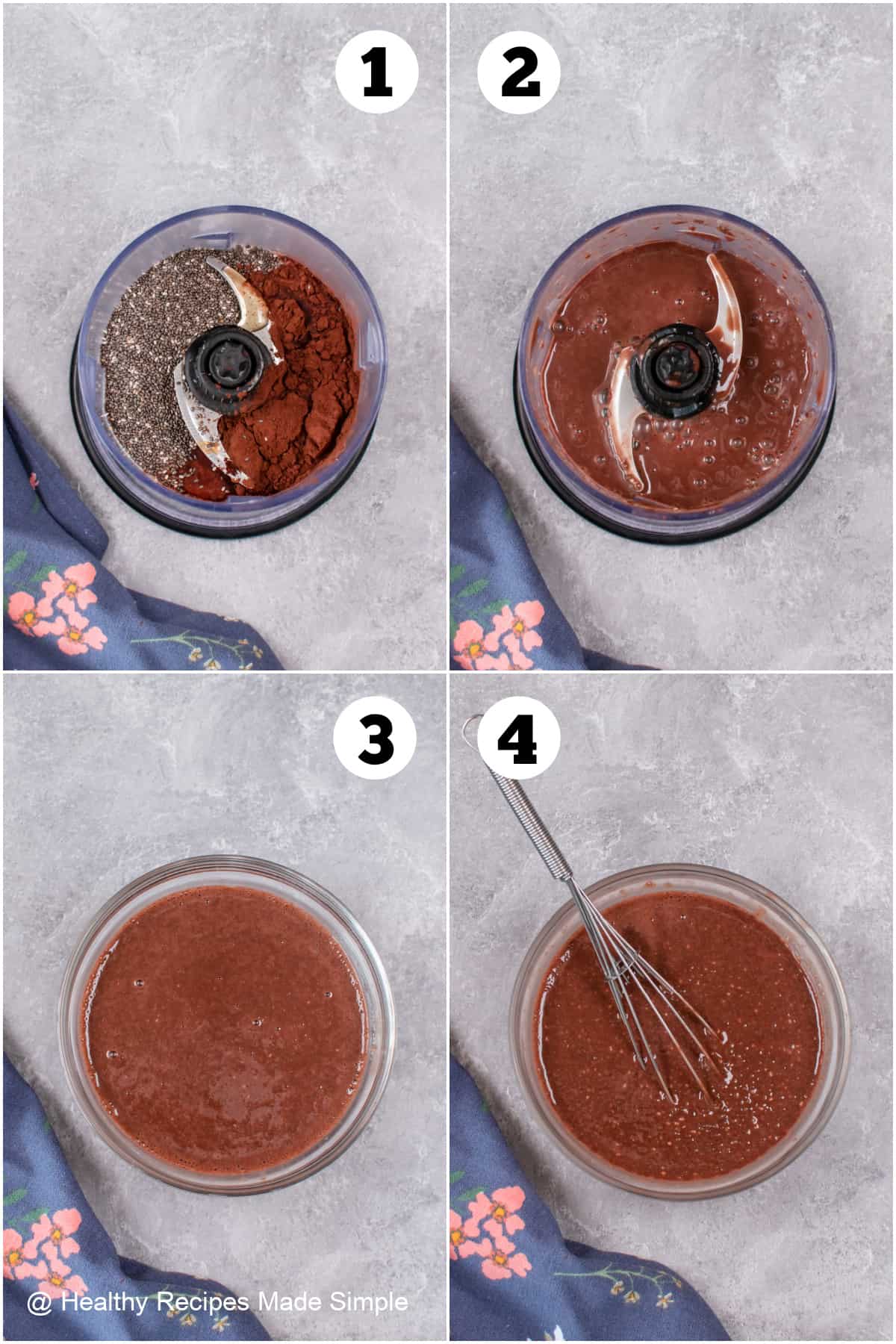 Grab your ingredients and a blender and whip up this healthy chia pudding in seconds. Just make sure you give it enough time to chill before diving in.
Add the all the ingredients to a blender. Make sure you add the liquid ingredients first, so the dry ingredients don't stick to the bottom.
Blend for 30 seconds or until everything is mixed. You may need to scrape the sides of the blender/food processor with a spatula and pulse again.
Place the bowl in the fridge for 10 minutes, then whisk really well to break apart the clumps.
Pour into 3 small containers and chill in the refrigerator for at least 1-2 hours, so it has time to thicken to a pudding consistency.
Serve the chocolate pudding with chia seeds by itself, or garnish the cups with low calorie whipped cream and fresh fruit before digging in.
Storage
Store your healthy chia pudding cups in the refrigerator for up to 3 days. Make sure to cover them tightly with plastic wrap, so they do not dry out.
Chia pudding can be frozen, but I do not recommend it. But since it is so easy to make, there is no need to freeze it.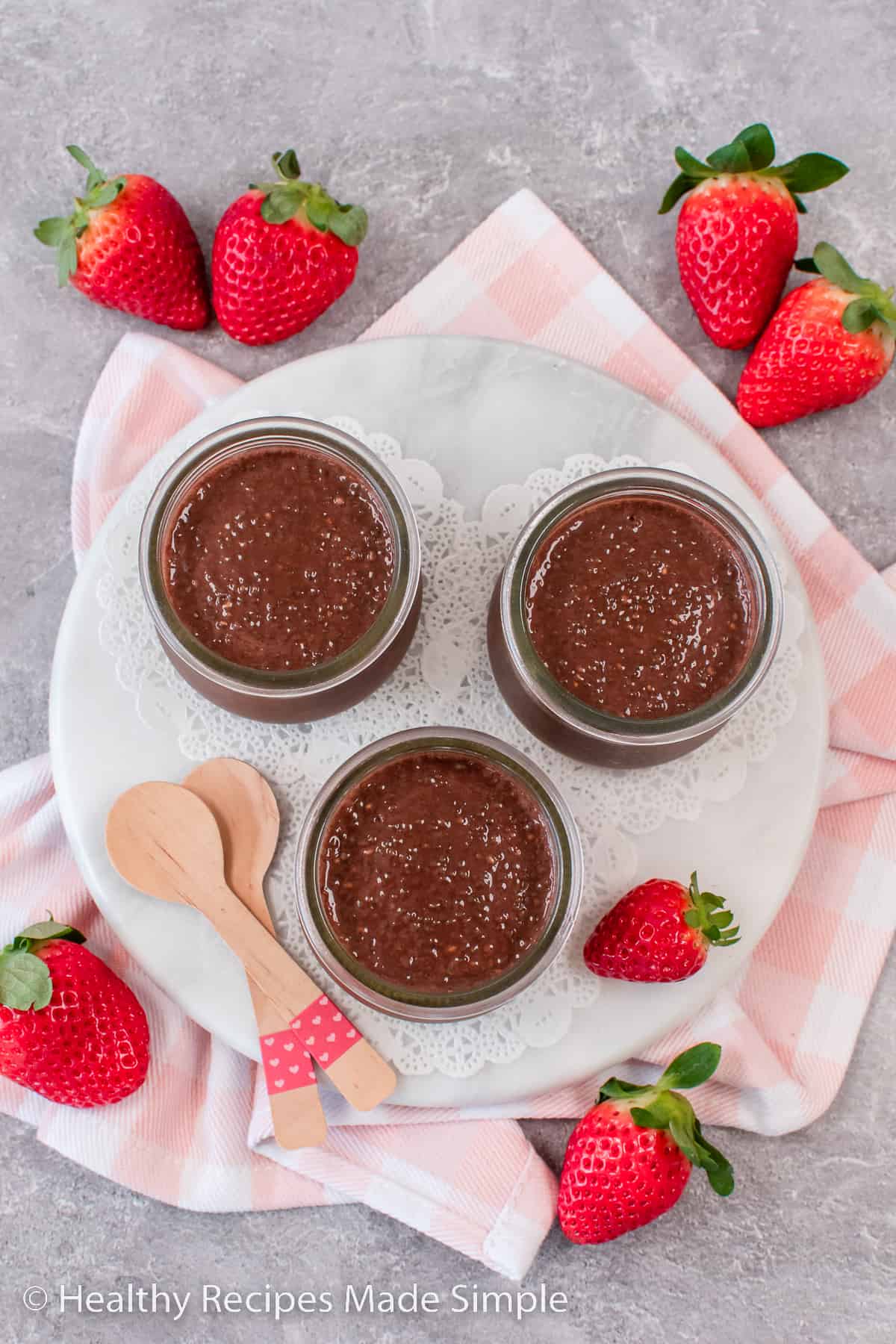 Simple Tips
Use any dairy free milk such as coconut, cashew, or oat milk.
Make sure you whisk the ingredients a second time to break up any clumps. The clumps will not absorb liquid as well, so your pudding won't thicken right.
Adjust your pudding thickness by using more or less milk. This is a personal preference that you can achieve by experimenting. I have found that 1 cup of milk to ¼ cup of seeds is what we like.
Make the chia pudding the night before, so it has time to thicken.
Double the ingredients, so you always have enough low calorie chia pudding on hand.
You don't have to separate it into small containers. You could pour it all into one large bowl if you prefer.
Serve it up with a low carb turkey wrap or a BLT chicken salad for a full meal.
FAQs
Are chia seeds healthy?
Chia seeds are super beneficial for your health! Packed with omega 3s, protein and fiber, this snack can help keep you full longer. Plus, the soluble fiber in chia seeds can promote weight loss and prevent constipation.
Why is my chia pudding runny?
If your chocolate chia pudding is not setting up properly you can stir in some additional chia seeds to the mixture. Make sure you let it chill for an hour before doing so.

Also, if your chia seeds are old they may not absorb the almond milk properly. Make sure your chia seeds are fresh.
Can I make chia pudding without a blender?
Yes. You can just mix all the ingredients together with a whisk. Using a blender will create a slightly smoother consistency in the pudding.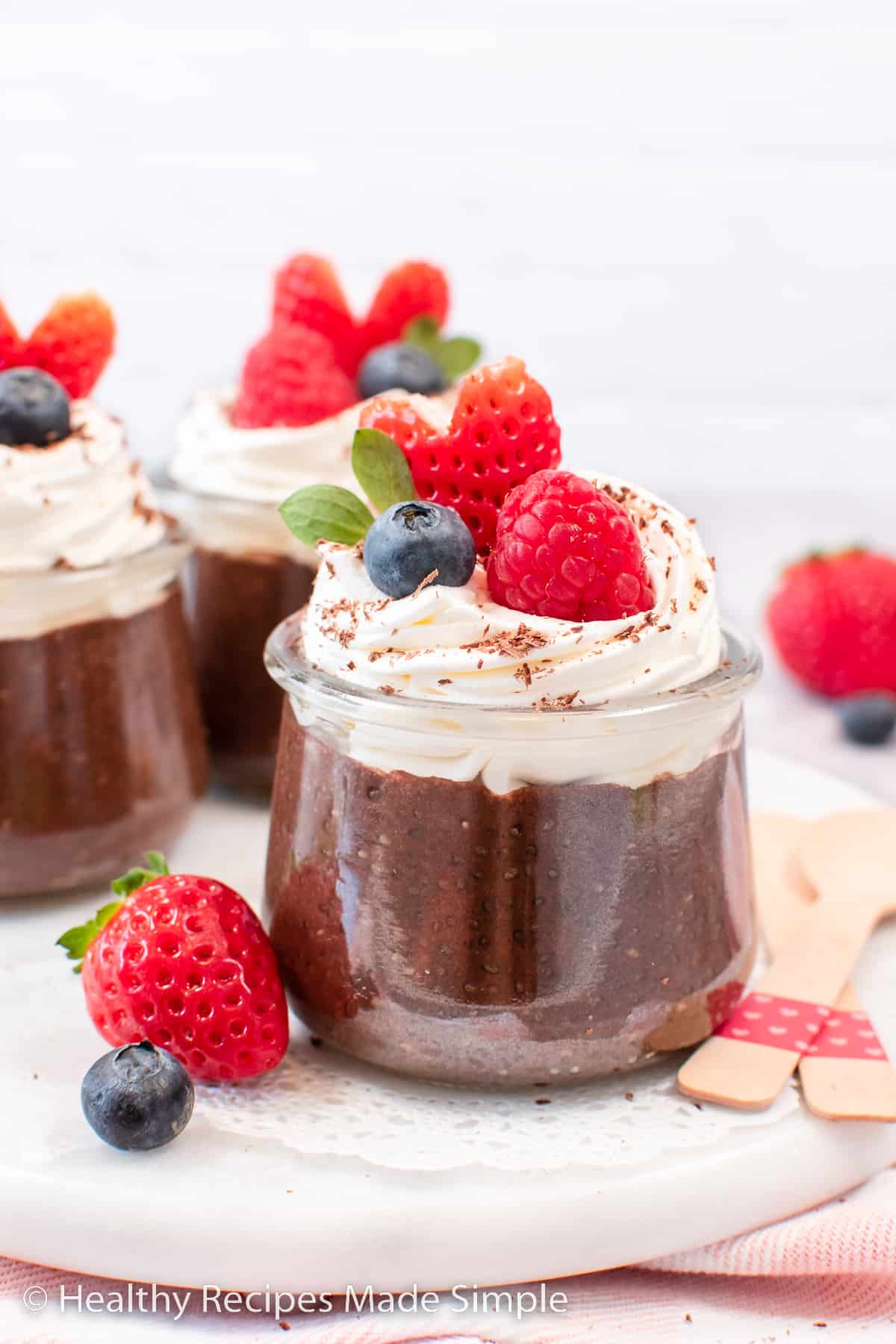 Nutritional Information
This low carb chocolate pudding can work with many diets. Whether you are counting macros, vegetarian, or on the Optimal 5&1 plan, this pudding will work for you.
Optavia
Could be used as an additional healthy snack.
Macros
Protein - 3 grams
Carbs - 8 net grams
Fats - 6 grams
Other Healthy Snacks
❤️ THIS RECIPE? If you do, will you consider giving it a 5⭐️ review?
This will help us provide quality recipes for everyone to enjoy!
Recipe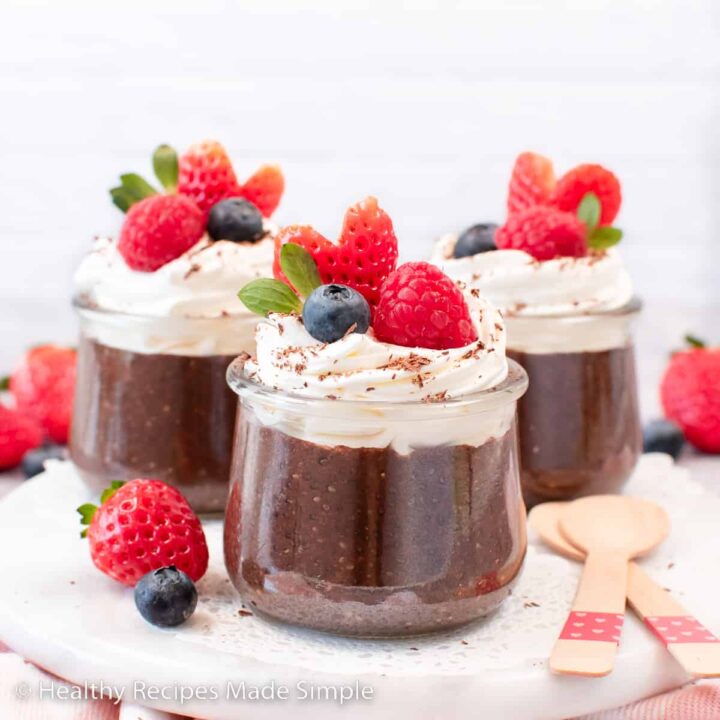 Chocolate Chia Pudding
This delicious Chocolate Chia Pudding is low in carbs and tastes amazing. Perfect snack when eating healthier!
Ingredients
1 tablespoon raw honey
1 cup unsweetened almond milk
¼ cup chia seeds
1 tablespoon dark cocoa powder
Instructions
Starting with the liquids, add the ingredients to a blender or food processor.
Blend or pulse for 30 seconds. Pour into a bowl and refrigerate 10 minutes.
Use a whisk to break apart any clumps, then pour into 3 small parfait cups. Refrigerate for 1-2 hours or overnight.
Top with whipped cream, chocolate chips, or fruit before serving.
Notes
You could also add ½ teaspoon of vanilla extract and a pinch of cinnamon for additional flavor.
Feel free to use agave syrup, maple syrup, or your favorite low calorie sweetener instead of honey.
You can use any type of milk or dairy free milk in this recipe.
Want to give this pudding a boost of protein? Whisk in a scoop of your favorite chocolate protein powder instead of the cocoa powder.
Top with your choice of whipped topping and fruit or enjoy by itself.
Blending the chia seeds give it a creamier texture vs just mixing by hand.
Nutrition Information:
Yield:

3
Serving Size:

1
Amount Per Serving:
Calories:

116
Total Fat:

6g
Saturated Fat:

1g
Trans Fat:

0g
Unsaturated Fat:

5g
Cholesterol:

0mg
Sodium:

4mg
Carbohydrates:

14g
Fiber:

6g
Sugar:

6g
Protein:

3g