This Dill Yogurt Cucumber Salad is coated with a lightened up dressing and has a refreshing flavor. It only takes 10 minutes to prepare this creamy cucumber salad, and it's the perfect side for grilled chicken, steak, or fish.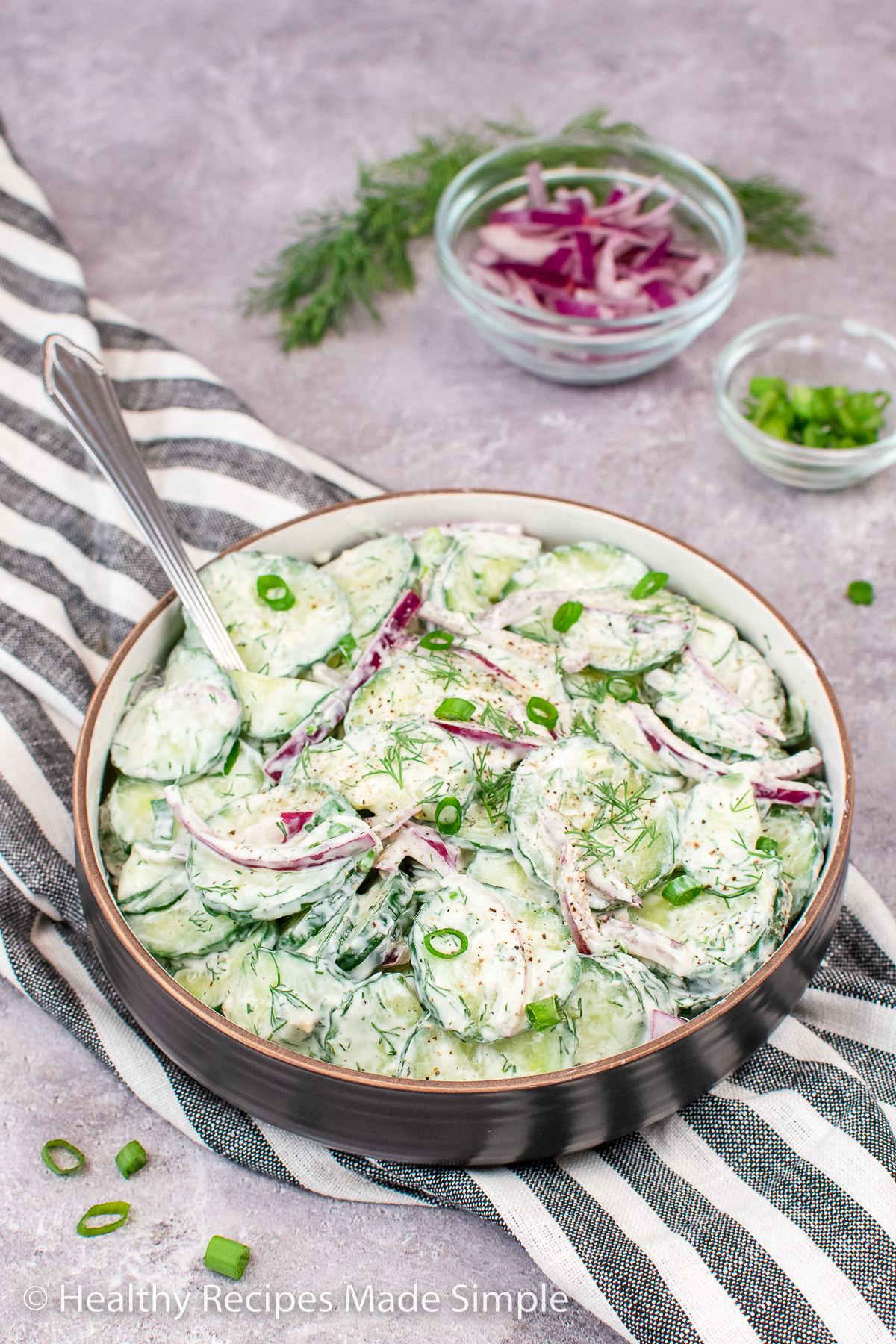 Jump to:
Why You Want This
Eating healthy can have its challenges. Sometimes vegetables can get a little boring on their own.
Did you know you can jazz up simple vegetables and turn them into an amazing side dish? This cucumber salad with dill yogurt dressing turns boring into epic. You are going to love how much flavor these cucumbers have.
Easy to make in minutes with a few ingredients.
Light and refreshing summer salad.
Great alternative to traditional lettuce salads.
Delicious and healthy!
If you love tzatziki flavors, this simple salad is for you. It has all the same flavors and pairs well with grilled chicken, pork, steak, or even tuna salad. No matter what you serve it with, you will enjoy it.
Ingredients Needed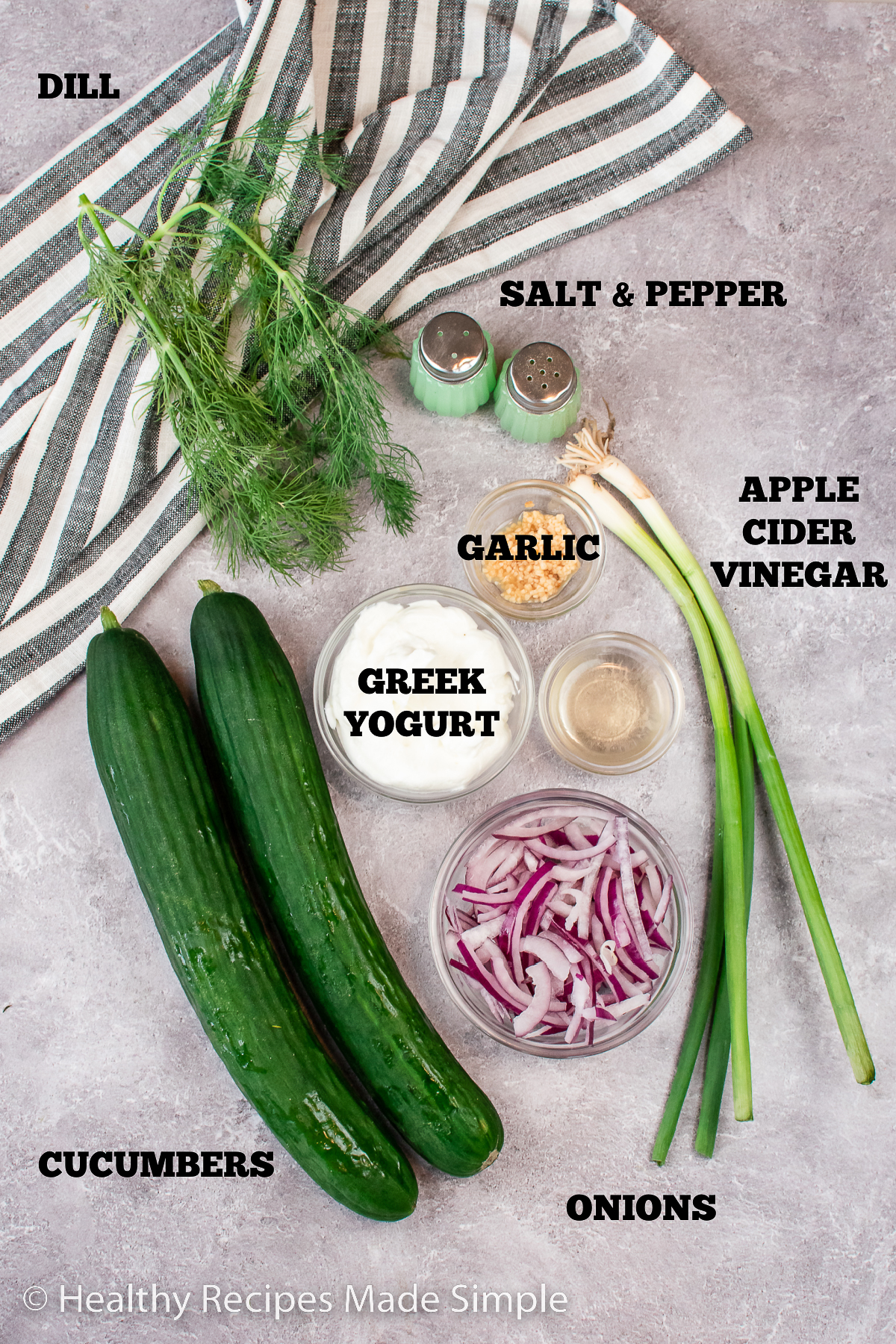 This cucumber salad comes together in less than 10 minutes with no cooking required.
English Cucumbers - We like using these cucumbers because they are seedless. Regular ones are perfectly fine to use too.
Onions - A mix of red onions and green onions adds the perfect flavor and crunch. Make sure to thinly slice the red onion, so it does not overpower each bite.
Greek Yogurt - Using fat free plain Greek yogurt lightens up the dressing. It also adds probiotics and protein and keeps the dish lighter and healthier. Feel free to use full fat or 2% depending on your dietary goals.
Apple Cider Vinegar - Adds a tangy flavor and thins out the yogurt.
Dill - Freshly chopped dill gives it such a refreshing flavor. Dried dill can be used sparingly if fresh is not available, although the taste is not quite the same.
Garlic - Use fresh or minced garlic for this dish.
How To Make Cucumber Salad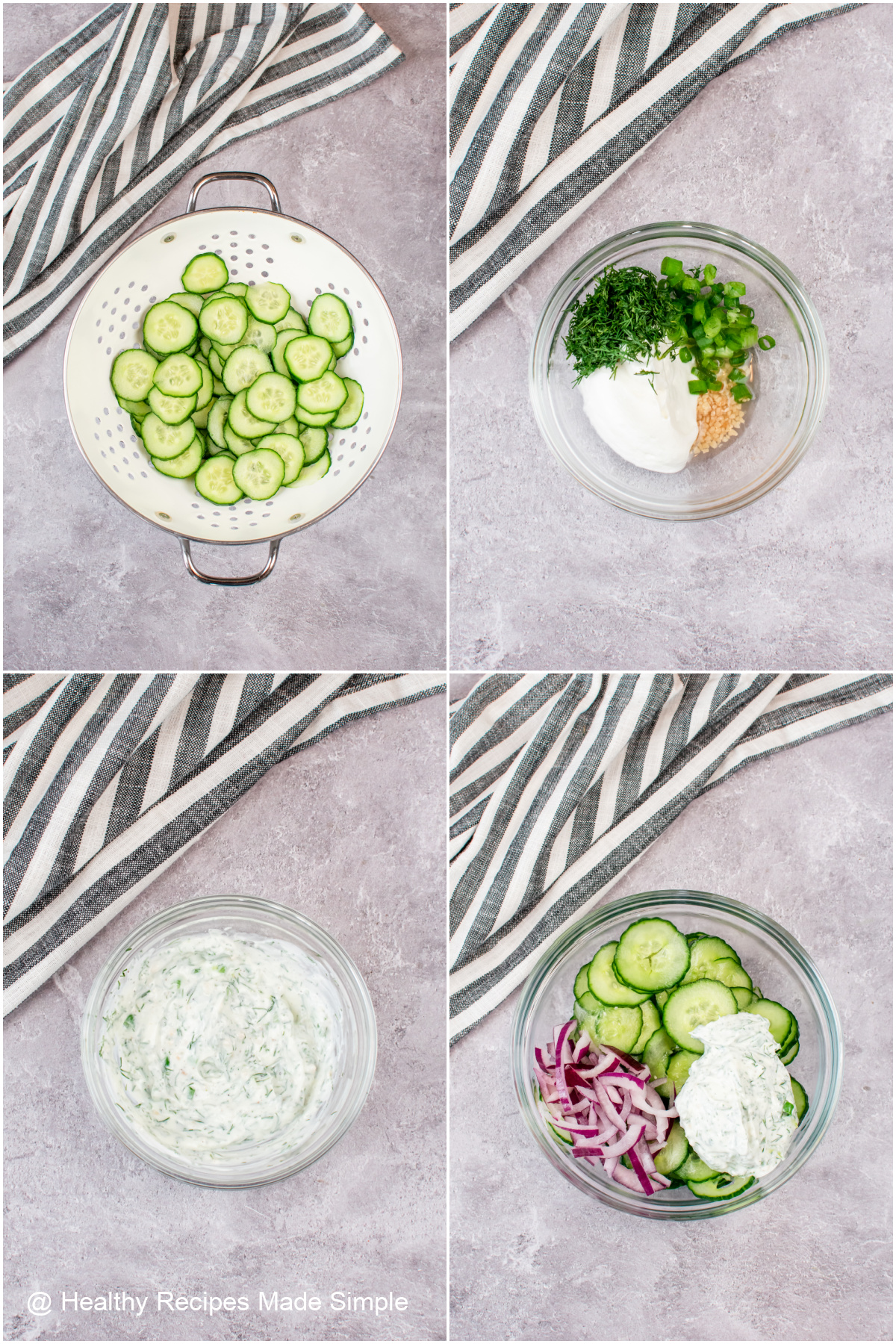 This easy cucumber salad with dill dressing needs very little prep time. Just slice and stir. It is best prepared fresh instead of the day before.
Prepare the veggies. Use a sharp knife to cut the cucumbers and red onion into thin, uniform slices. Sprinkle the cucumbers with salt and let rest 30 minutes. Drain the excess moisture and pat dry.
Make the healthy tzatziki dressing. In a large bowl, stir together the Greek yogurt, vinegar, chopped dill, green onions, and garlic. For better flavor, let it rest for 15 minutes. This lets the veggies soften and the flavors to meld.
Assemble the salad. Pour the dressing over the cucumbers and red onions and stir to coat. Season to taste with salt and pepper.
Serve or chill. Serve the salad immediately with dinner or refrigerate for 30 minutes to let the flavors come together more.
Storage Recommendations
This salad is best served right after making it. The longer it sits, the more water the cucumbers will release making the salad watery and less appealing.
You could keep the salad in a covered container in the refrigerator for up to 24 hours. Just know that the salad will be more watery. Make sure to stir the salad well before serving.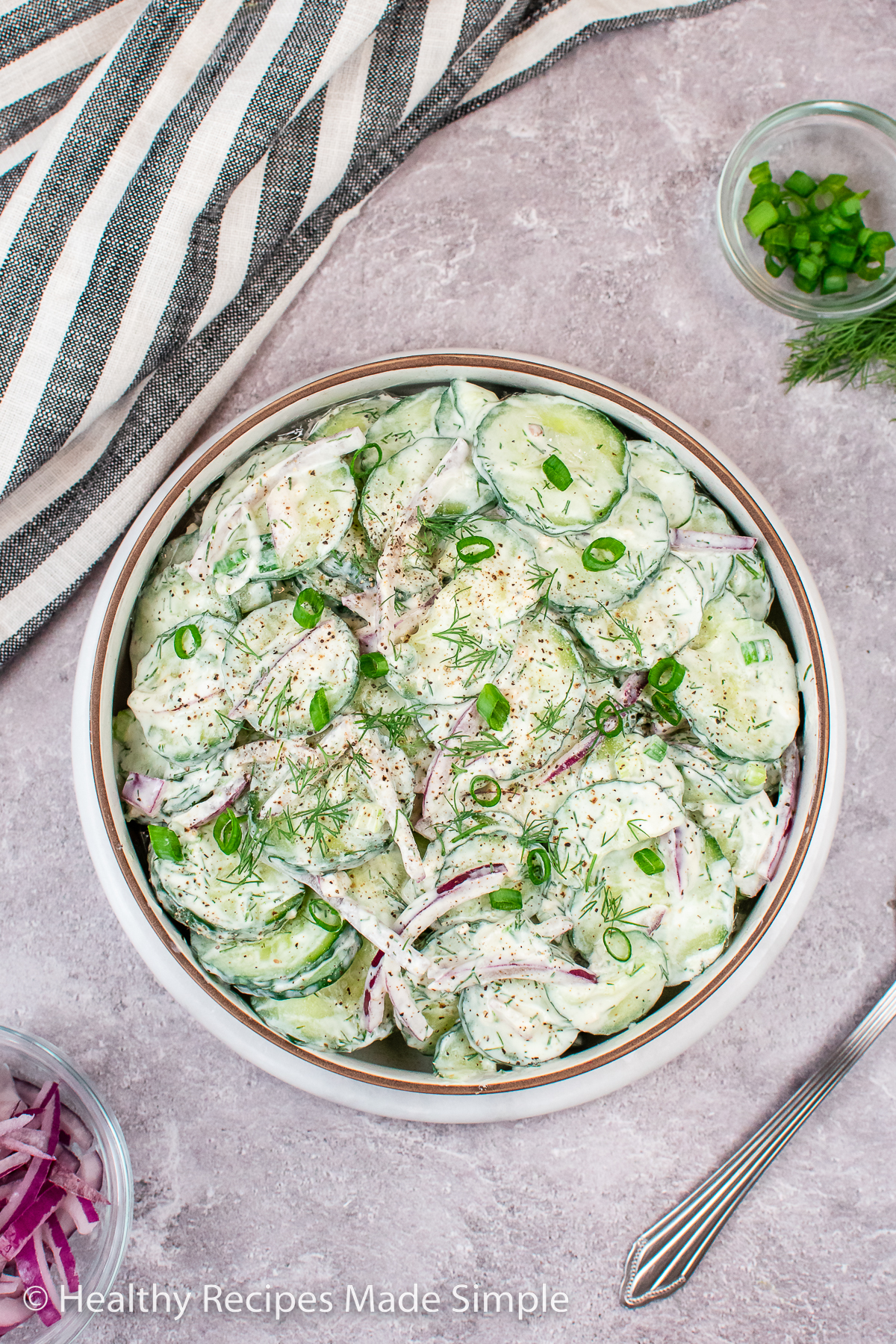 Simple Tips
Buy cucumbers that are firm and free from any spots or bruises. Dark green cucumbers are best.
Feel free to use any other variety of cucumber. Although, you may want to peel the skins and scoop out the seeds.
Slice the cucumbers ahead of time and sprinkle with salt to help release the extra water. This way they will stay crisp and appealing in your salad.
Stir in the dressing right before serving to keep the cucumber salad from becoming watery. If you stir it together too soon, the cucumbers will start to release excess water and become soggy.
Add chili flakes to add some heat to the dish.
Change up the salad with different herbs. Basil, chives, or parsley would all be delicious.
Try adding tomatoes, olives, and feta cheese for a full Greek salad.
Recipe FAQs
Can this salad be made ahead of time?
Cucumbers tend to become watery when mixed with dressing, so we recommend making this dish right before serving.

If you need to make it ahead of time, mix together the dressing and store it in a separate jar from the sliced cucumbers. Then stir it all together right before serving it.
Should I peel the cucumbers?
This all depends on your preference. English cucumbers have a very thin skin, so we leave them on. Other varieties have a thicker, tougher skin, so you may want to peel those ones.
Nutritional Information
This dill yogurt cucumber salad is great lean and green side dish for many diets. Here are some nutrition numbers for if you are on the Optavia plan or if you are counting macros.
Optavia
Lean - 0
Green - 3
Healthy Fat - 0
Macros
Protein - 4 grams
Carbs - 10 net grams
Fats - 1 grams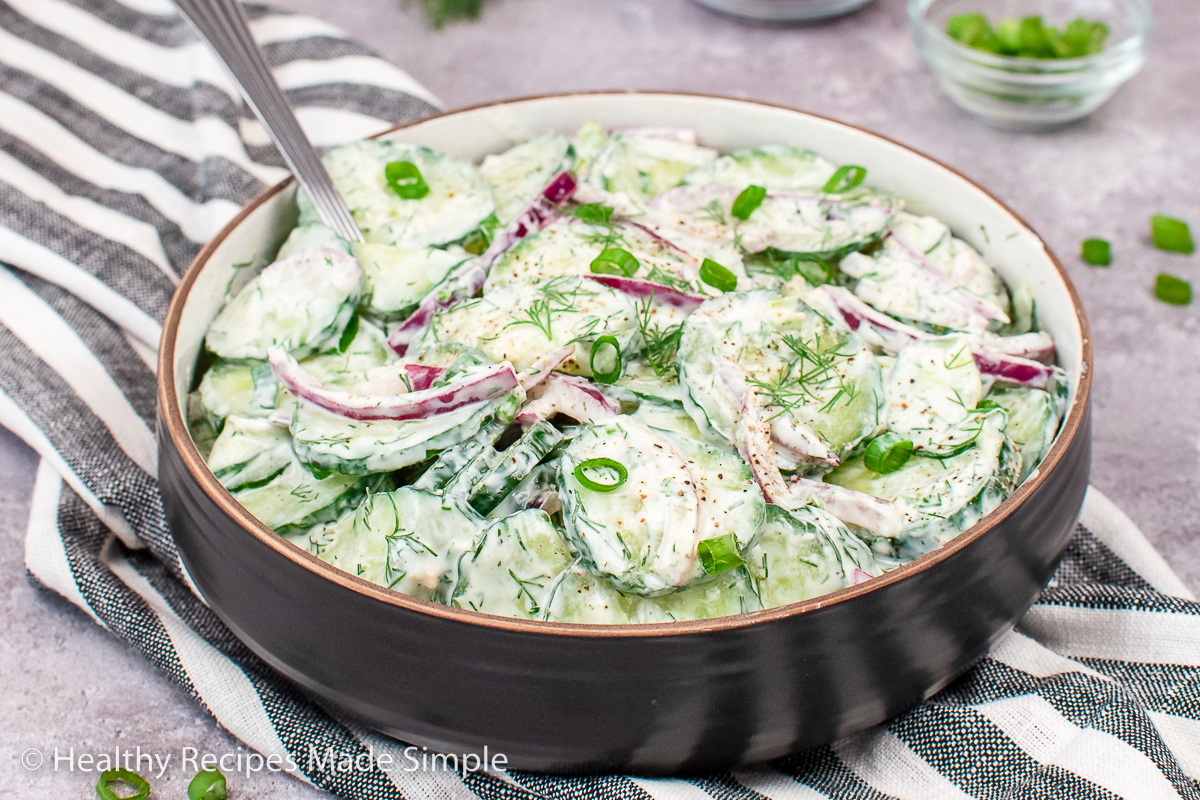 More Lean and Green Side Dishes
Do you love eating lean and green? Here are a few other side dishes that you will enjoy.
❤️ THIS RECIPE? If you do, will you consider giving it a 5⭐️ review?
This will help us provide quality recipes for everyone to enjoy!
Recipe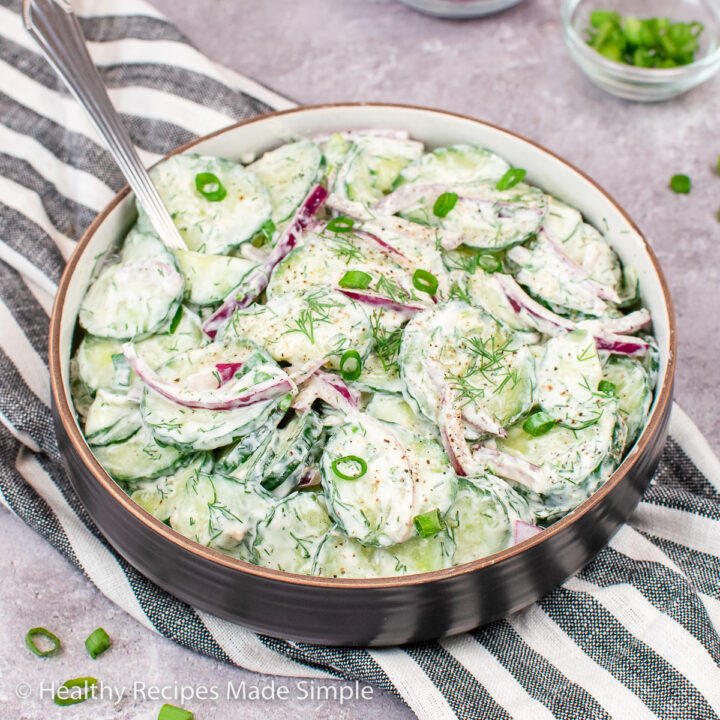 Dill Yogurt Cucumber Salad Recipe
This fresh and delicious Cucumber Salad with Creamy Dill Dressing is the perfect side for your steak, chicken, or favorite fish.
Ingredients
2 large English cucumbers, thinly sliced
1 teaspoon table salt
½ red onion, peeled and thinly sliced
1 teaspoon minced garlic
½ cup fat free Greek yogurt
1 tablespoon apple cider vinegar
2 tablespoons fresh dill, chopped
2 green onions, diced
Salt and pepper, to taste
Instructions
Use a sharp knife to cut the cucumbers in thin even slices. Sprinkle with salt and let them rest for 30 minutes. Drain any excess moisture and pat dry with paper towels.
In a large bowl combine the garlic, yogurt, vinegar, dill, and green onions.
Add the sliced onions and cucumber to the dressing.
Mix it all together and serve immediately or within 30 minutes.
Notes
This is best served immediately. If you leave in the refrigerator over night the vegetables will become soggy.
Salting of the cucumber is not required but the salad will contain more moisture and be more runny.
Nutrition Information:
Yield:

4
Serving Size:

1
Amount Per Serving:
Calories:

54
Total Fat:

0g
Saturated Fat:

0g
Trans Fat:

0g
Unsaturated Fat:

0g
Cholesterol:

1mg
Sodium:

88mg
Carbohydrates:

11g
Fiber:

1g
Sugar:

6g
Protein:

4g