These low carb, lean and green Taco Stuffed Zucchini Boats are a great way to enjoy taco night without any guilt. Get ready to make a healthy low carb dinner recipe that tastes amazing!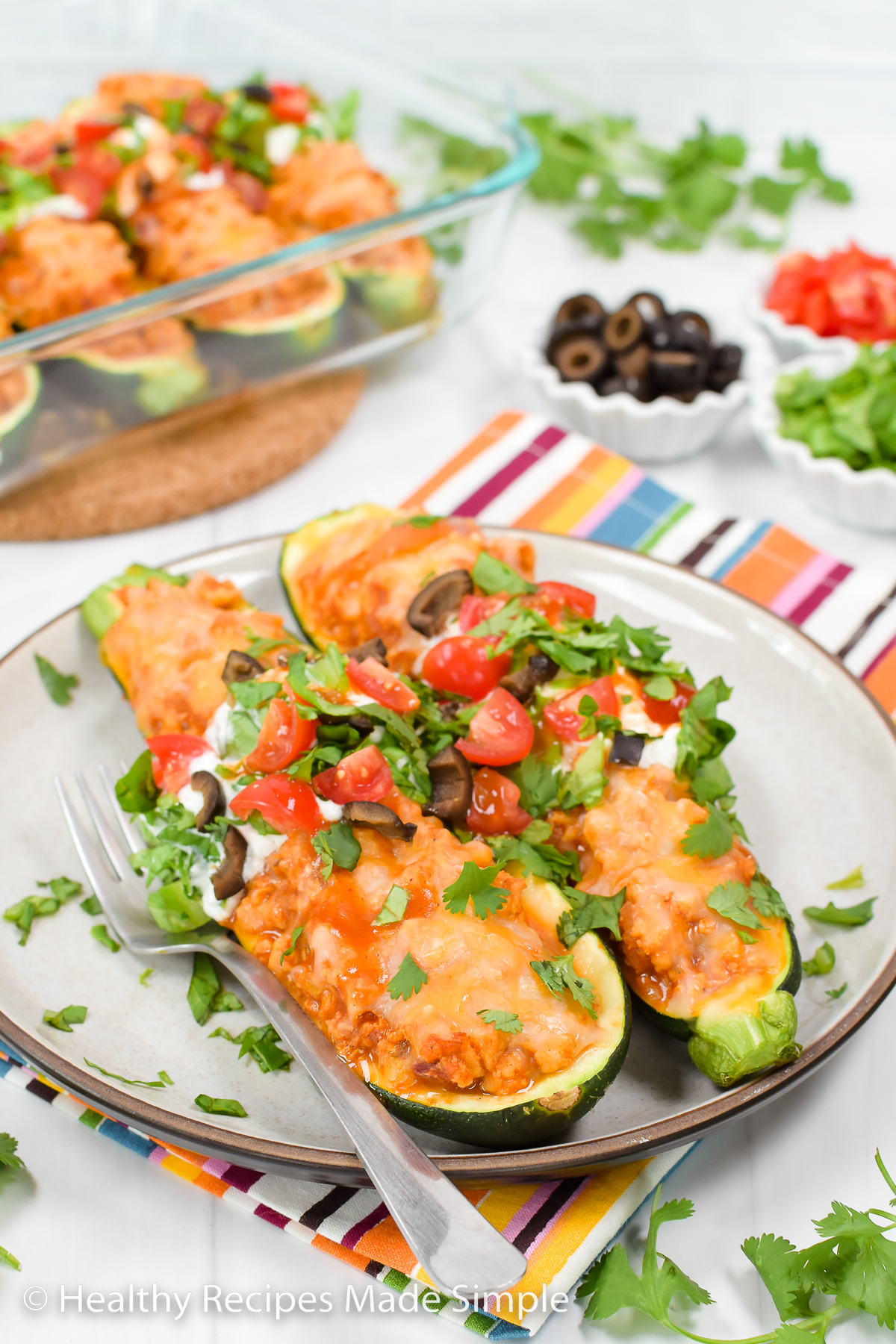 Zucchini really is a versatile vegetable. You can dice it for soups and skillets, shred it for breads and baked goods, and also spiralize it into noodles for this zucchini Alfredo with chicken sausage.
But did you know that zucchinis can also double as a taco shell? I know, mind blown right?
Over the years my nutritional goals have changed. Eating too many carbs from things like tortilla shells can slow me down from reaching my personal health goals.
That's why I am so excited that I can still enjoy my favorite taco flavors in a low carb zucchini shell.
Why this Recipe Works
Taco zucchini boats are the perfect recipe when you are counting macros. They are lower in carbs, loaded with nutrients, and taste amazing.
They are easy to make. All you need are a few ingredients, one skillet, and a baking dish.
Full of nutrients. It's basically a meal made from veggies and protein. Perfect for when you are eating low carb or eating more meats.
Great use for all those extra veggies from your garden.
Fun way to enjoy your favorite taco flavors in a healthy way.
This Optavia approved lean and green meal is so delicious, you won't even miss the tortilla shell!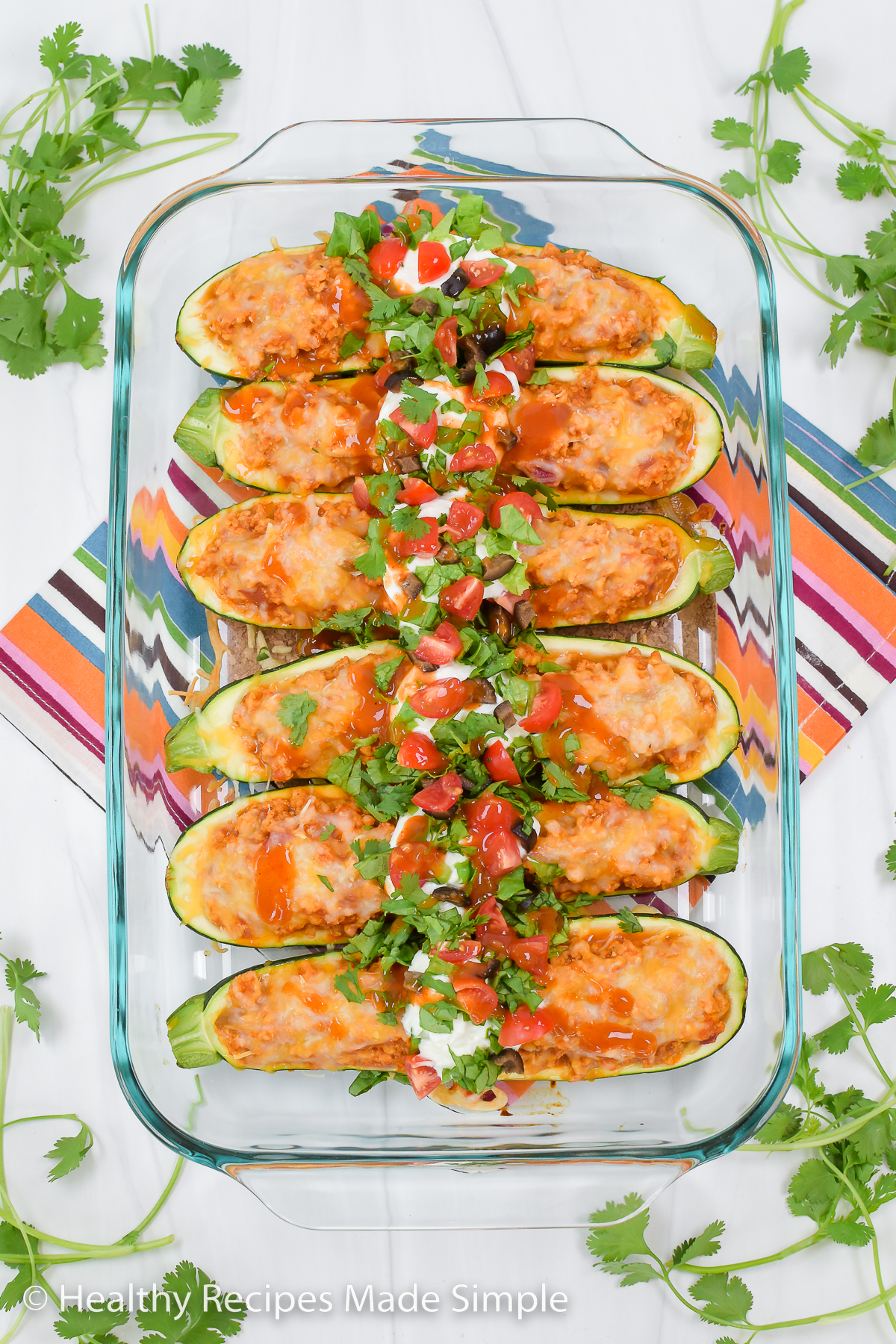 Main Ingredients Used
Just like traditional tacos, these zucchini taco boats can be jazzed up however you would like. Here are the basic ingredients for this delicious recipe.
Ground Turkey - This is a great low fat protein for this dish. You could use ground chicken or ground beef as well.
Zucchini - Look for 3 medium sized zucchinis with softer skins.
Seasoning - Taco seasoning and salsa adds flavor to the turkey mixture.
Cheese - Using a low fat cheese keeps those calories and fat numbers down but still gives you the taste you enjoy.
Garnishes - Lettuce, tomato, cilantro, olives, and greek yogurt are all used to top off these taco boats. Feel free to add others, if you prefer. Just remember that adding toppings does change the macros.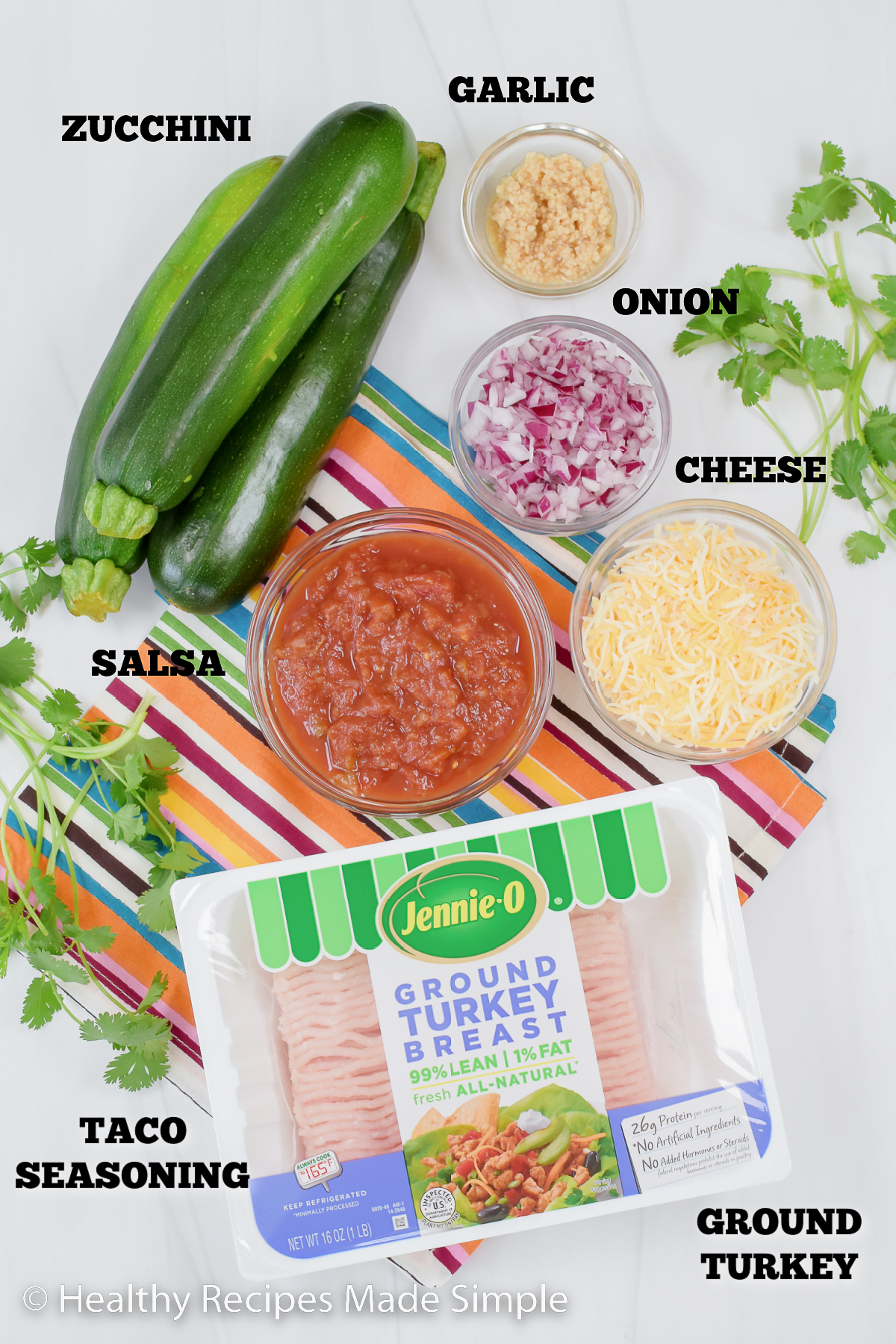 How to Make Taco Stuffed Zucchini
Taco zucchini boats are really simple to make and are a fun twist for taco night. If you can brown some meat and hollow a zucchini, then you can easily make this nutritious dinner.
For the Zucchini
Cut each zucchini in half longways like a boat. Use a spoon and scoop out the centers. Save the center of the zucchini to add to the meat filling.
Place the zucchini hollow side up in a 9x13 pan. Cook them in the oven while you prepare the meat.
For the Meat
Saute onions, garlic, and turkey in a pan over medium heat.
Once the meat is browned and cooked, stir in 1 taco packet and ¼ cup of water. Let this simmer for a few minutes.
Stir in salsa and some of the zucchini that you scooped out earlier. Make sure you dice up the zucchini centers into small pieces because it will be part of the taco meat.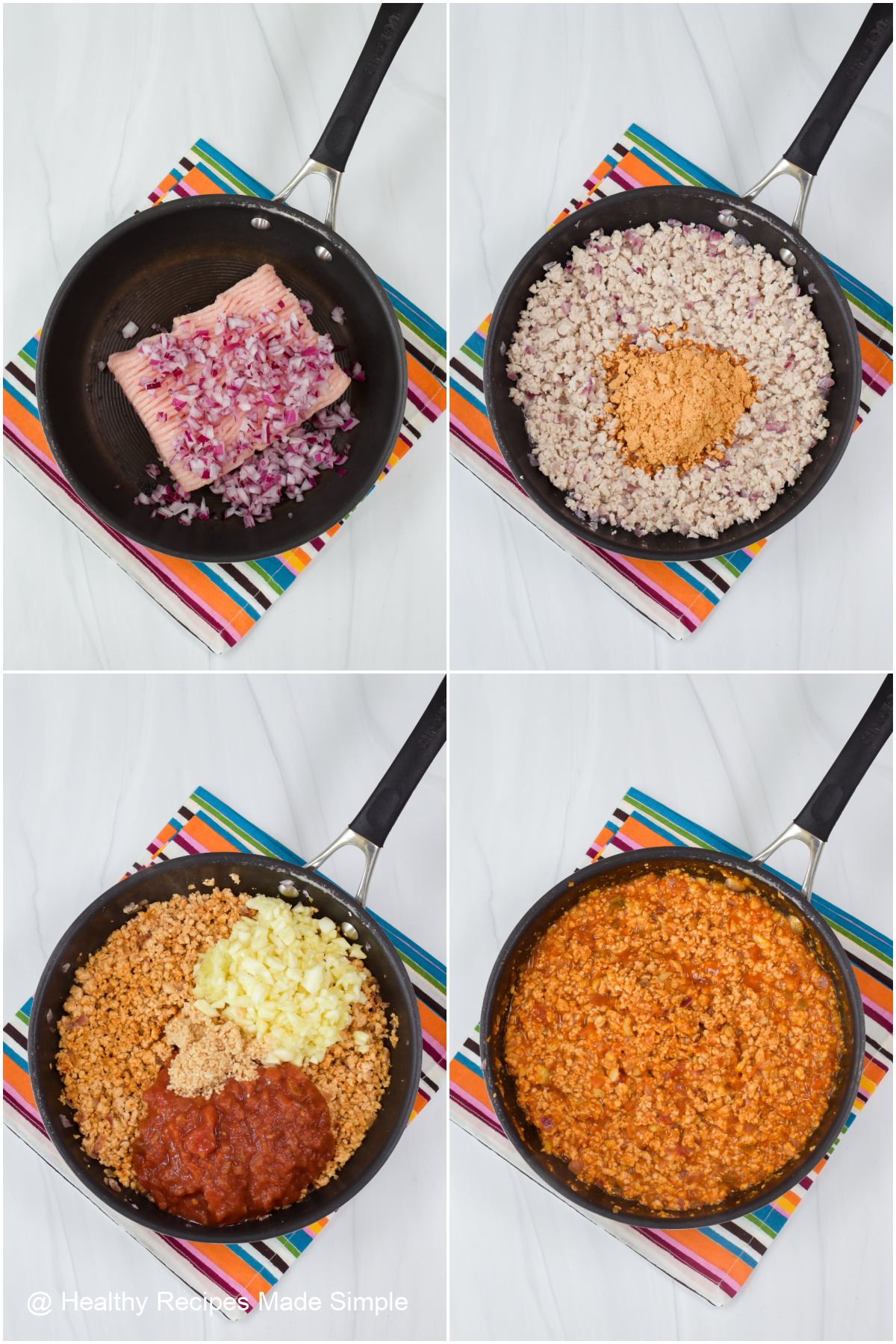 Putting It All Together
Spoon the warm taco filling evenly into the cooked zucchini shells.
Top with cheese and return to the oven to finish cooking the zucchini and to melt the cheese.
Top these healthy zucchini boats with your favorite taco toppings and serve immediately.
Storage Recommendations
Keep the leftover taco boats without toppings in an airtight container in the fridge for 4-5 days. Reheat in the microwave for 1-2 minutes or reheat them in a 400° degree oven for 8-10 minutes. Add fresh toppings before serving.
Simple Tips
The baking time on this recipe can vary depending on the size of the zucchinis and how thin you hollow them out. Just keep on eye on them and cook them to your preferred tenderness.
Make the meat filling ahead of time and refrigerate it for 3-4 days to save time on dinner prep. Just make sure to warm the meat before filling the zucchinis.
Double the meat filling and freeze ½ of it for a future meal. Spoon half the cooled filling into a freezer safe bag and freeze 1-2 months. Thaw overnight in the fridge before using.
Topping Ideas - Some of my favorite toppings are low fat plain Greek yogurt, cilantro, tomatoes, taco sauce, and black olives. Other toppings that would be good are avocados, lettuce, and salsa.
Serve these healthy tacos with a side of cilantro lime cauliflower rice.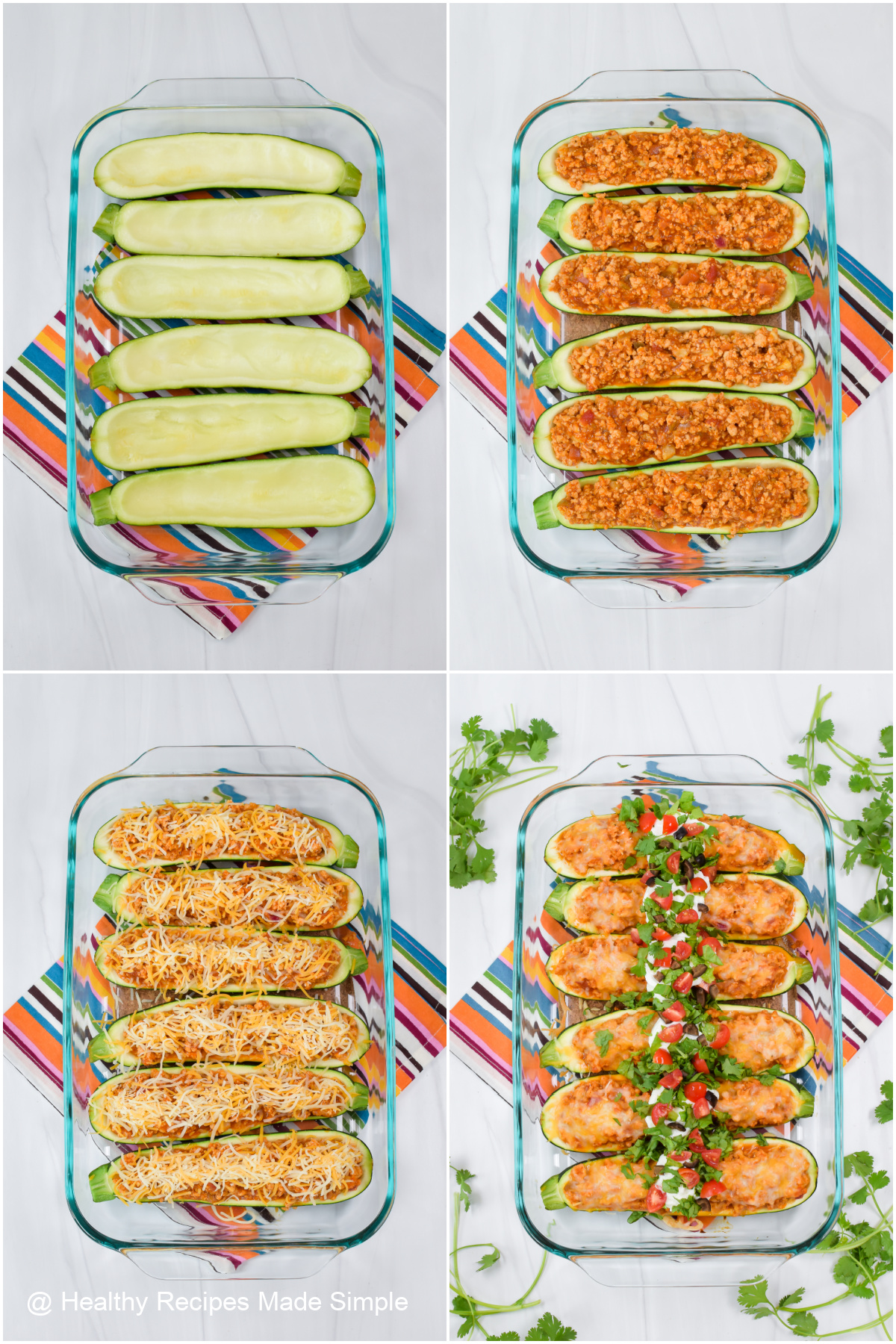 Nutritional Information
These taco boats fit well in the Optavia 5&1 program. But they work for all types of nutrition plans. At just over 300 calories, they may just find their way into your weekly meal list.
Optavia
Lean - 1
Green - 2
Healthy Fat - 1
Macros
Protein - 49 grams
Carbs - 10 net grams
Fats - 5 grams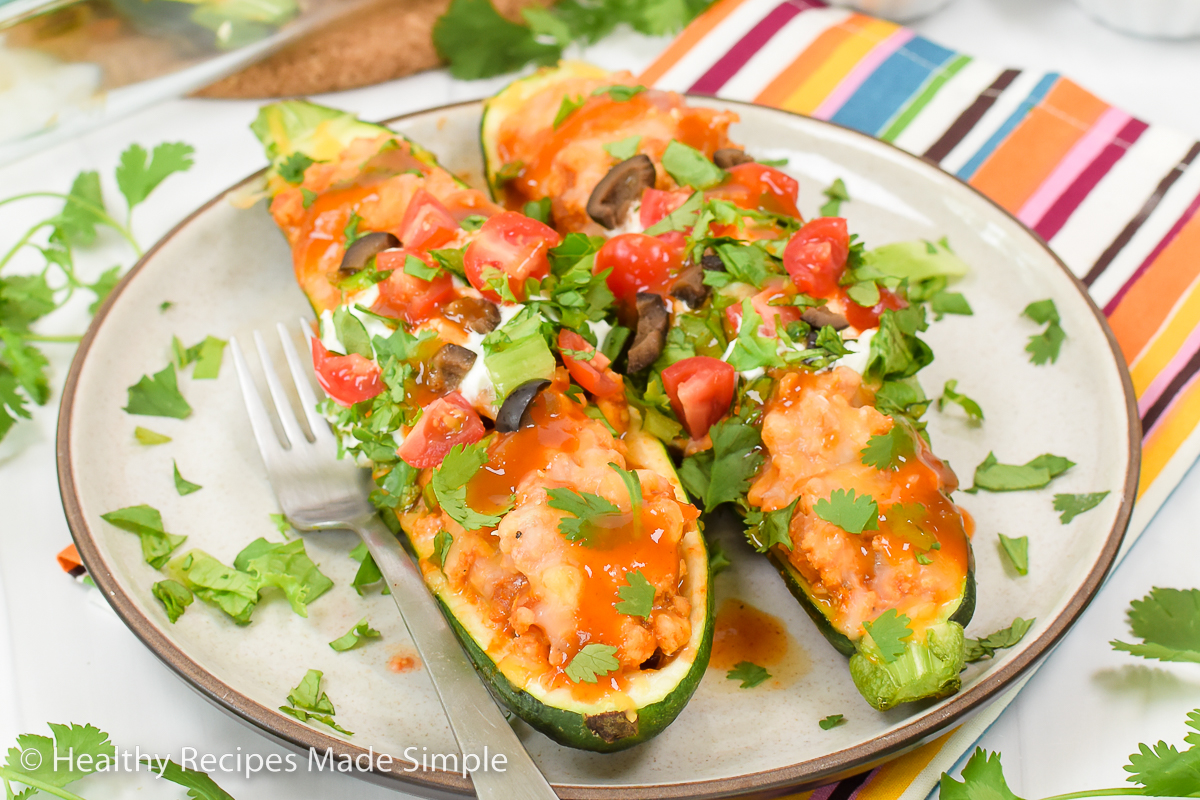 Frequently Asked Questions
Do I have to prebake my zucchini?
The reason you prebake the zucchini is so it can tenderize the vegetable. If you prefer a harder crunch in the zucchini you do not need to heat them ahead of time.
How do I hollow out a zucchini?
Slice the zucchini down the middle lengthwise. Take a small spoon and scoop out the seeds. Be carefully not to go too deep into the zucchini or it will be too thin.
Do I have to peel the zucchini?
No, zucchini skin is perfectly fine to eat. In fact, there are a lot of nutrients in the skins. The peel will also help keep the taco boat together.
Can I use different protein in my zucchini boat?
The type of protein you use in the taco zucchini boat is completely up to you. This recipe uses ground turkey that was only 1% fat. You could use something that has more fat or a ground beef. Make sure you drain any grease from the meat, if you use a higher fat meat.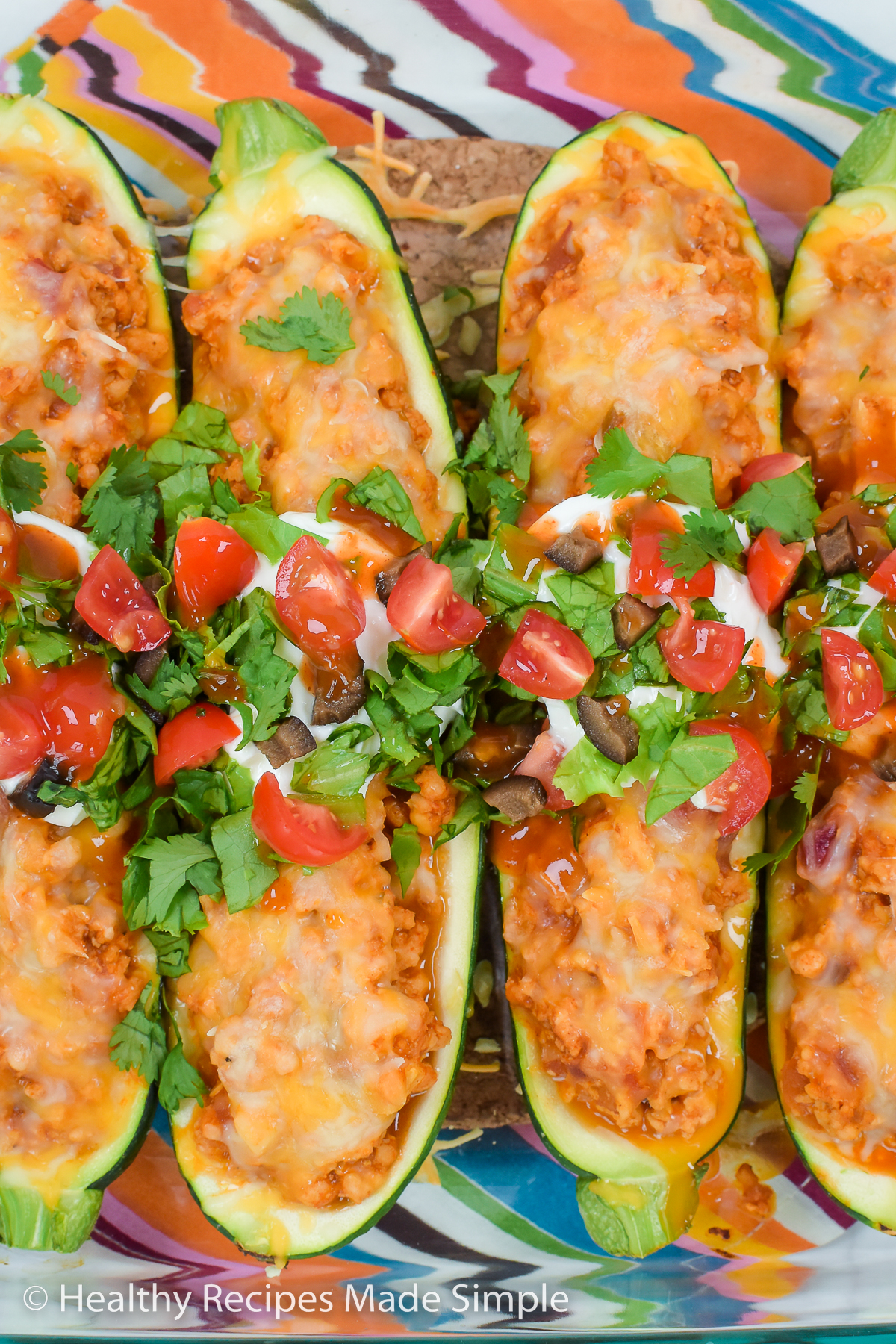 Other Lean and Green Recipes
❤️ THIS RECIPE? If you do, will you consider giving it a 5⭐️ review?
This will help us provide quality recipes for everyone to enjoy!
Recipe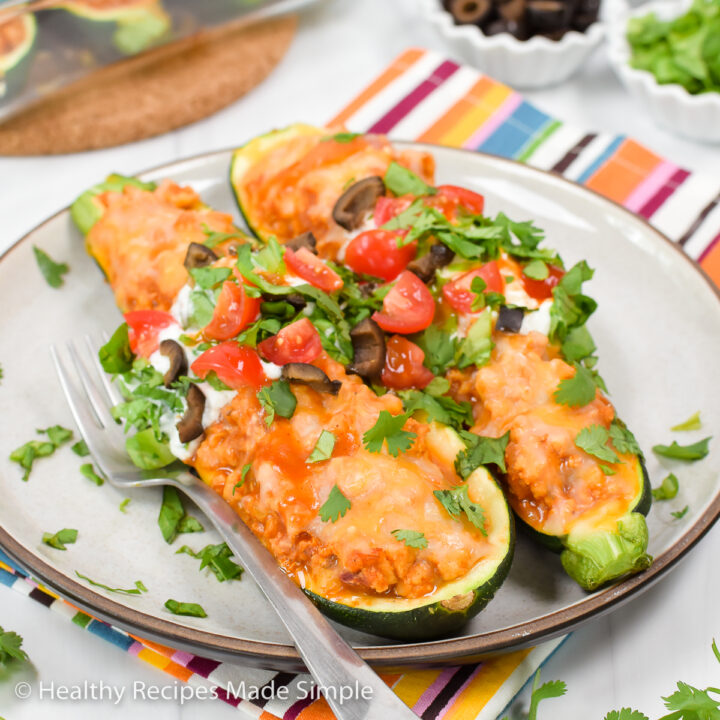 Taco Stuffed Zucchini Boats Recipe
These Taco Stuffed Zucchini Boats are the next best thing to tacos without all the extra carbs. Loaded with flavor, this lean and green meal is sure to please.
Ingredients
3 medium zucchinis
1 pound 99% lean ground turkey
½ cup diced red onion
2 tablespoons minced garlic
1 packet taco seasoning
¼ cup water
1 cup salsa
¾ cup low fat shredded Mexican cheese
Instructions
Preheat oven to 400°.
Cut each zucchini in half longways. Hollow out the centers, so you can add taco filling later. Dice 1 cup of the center of the zucchini that you scooped out for later. Bake the hollowed zucchinis for 12 minutes.
While the zucchini is cooking, saute onions, garlic, and turkey meat in a large skillet. Once the meat is cooked through, stir in salsa, 1 cup of the diced zucchini centers, taco seasoning, and water. Simmer for 10 minutes or until the excess liquids are evaporated.
Spoon filling evenly in cooked zucchini shells and top evenly with cheese. Bake for another 10-12 minutes.
Serve with Greek yogurt, lettuce, cilantro, tomatoes, or any other taco topping you enjoy.
Notes
Additional toppings may include: Lettuce, tomato, black olives, sour cream, Greek yogurt, jalapenos, taco sauce, avocado...
Keep in mind, any additional toppings will be extra calories and macros. The information provided is on the base recipe.
Nutrition Information:
Yield:

3
Serving Size:

1
Amount Per Serving:
Calories:

309
Total Fat:

4.8g
Saturated Fat:

1.6g
Trans Fat:

0g
Unsaturated Fat:

0.9g
Cholesterol:

100.3mg
Sodium:

586mg
Carbohydrates:

13.9g
Net Carbohydrates:

10g
Fiber:

3.1g
Sugar:

7g
Protein:

49g