Packed with protein and veggies, this low carb turkey wrap is a delicious option for lunch or dinner. This lean and green wrap will satisfy your craving for a turkey sandwich and keep you low carb.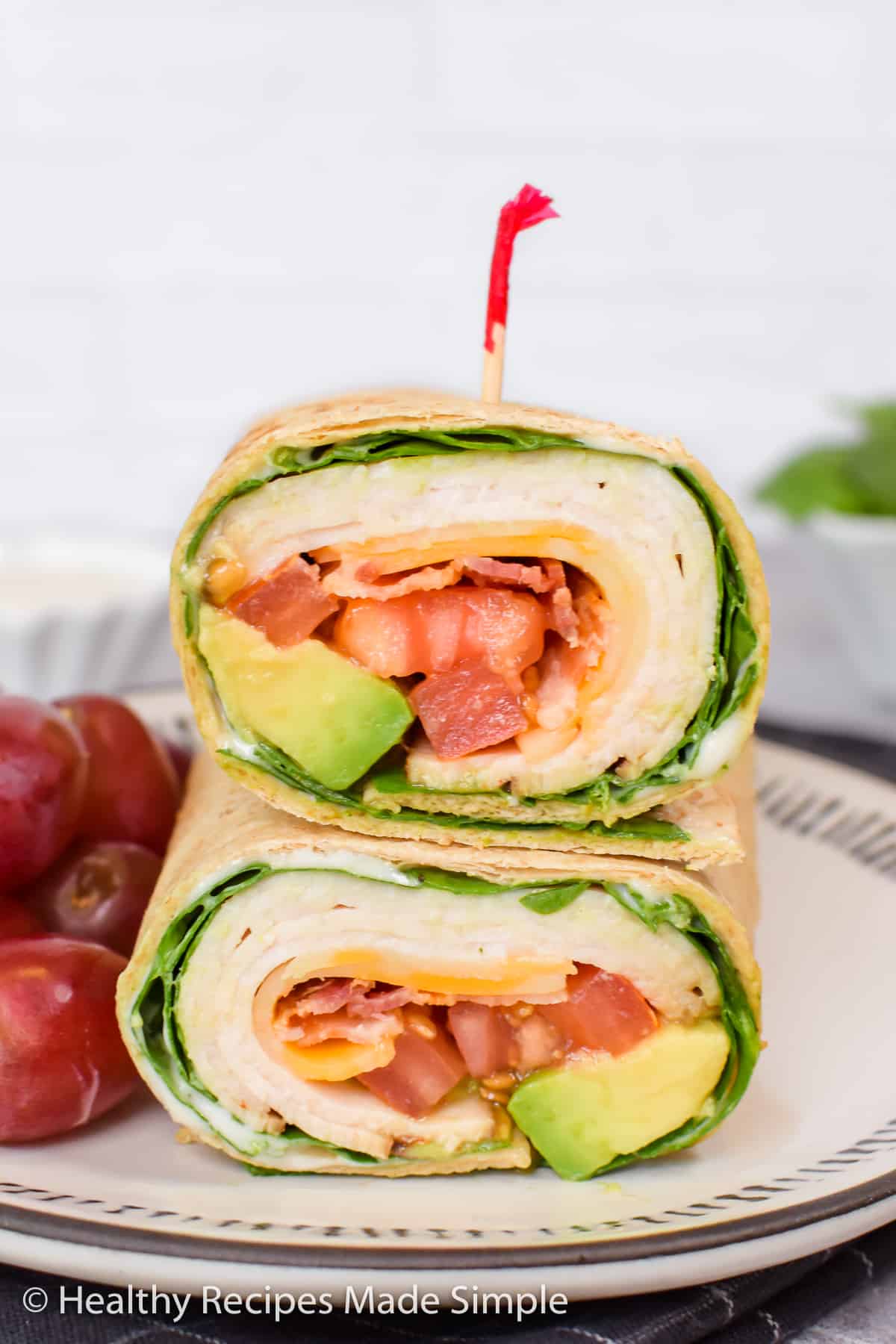 Jump to:
Eating lean and green has never been easier. Previously, if you were avoiding bread, your only hope for a sandwich-like fix was to use lettuce or pickles. Today, there are quite a few low carb tortillas options in stores.
Over the years we have found several ways to enjoy those low carb wraps. These chicken enchiladas, low carb shrimp tacos, and buffalo chicken wraps are a few of our favorite meals.
Why Make this Low Carb Wrap
These low carb turkey wraps have also become a staple in our house for lunch. They are so easy to make, taste delicious, and are great for a quick grab and go meal. Plus, they are a great way to pack in meat and veggies.
Low Carb - Using low carb tortillas keeps the carb count much lower in this wrap. Use lettuce to reduce that number even further.
Lean and Green - If you are following the Optavia program, these wraps are a delicious lean and green meal. This recipe also works for any low carb or keto diet.
Grab and Go - Make a few of these wraps at the start of the week. Roll them tightly in plastic wrap and have them ready to grab for busy days, ball games, or picnics.
Simple and Enjoyable - Making this wrap is a breeze so you can enjoy it anytime! Don't worry about getting tired of the same old flavor - switch up the meats and veggies to keep things exciting.
Main Ingredients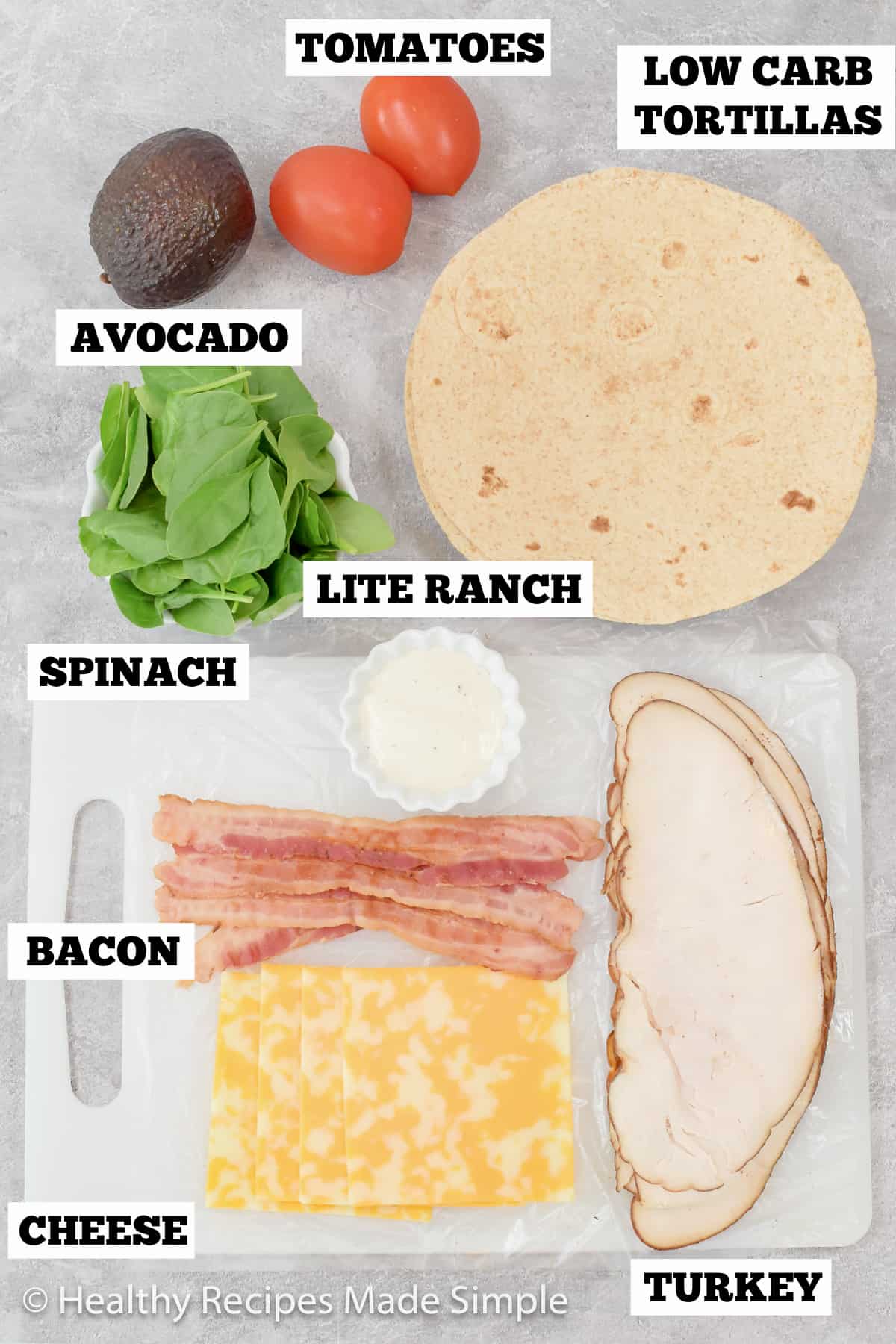 It's easy to make this low carb turkey wrap recipe using a few healthy ingredients.
Low Carb Tortillas - For this recipe, we used Mission Carb Balance whole wheat tortillas. Each one only has 60 calories and 3g net carbs.
Deli Turkey - Boar's Head turkey is our favorite because there are no preservatives or additives.
Sliced Cheese - Thin-sliced Monterey Jack tastes great on this wrap. Feel free to use your favorite.
Bacon - Use precooked sliced bacon to save some time in the kitchen.
Baby Spinach - We use spinach instead of lettuce or romaine to get extra nutrients.
Roma Tomatoes - There is nothing like a fresh and juicy tomato in any sandwich.
Avocado - Adds a creamy taste and texture as well as giving you a great healthy fat.
Lite Ranch - Optional, but it has a little more flavor and creaminess.
How to Make a Turkey Club Wrap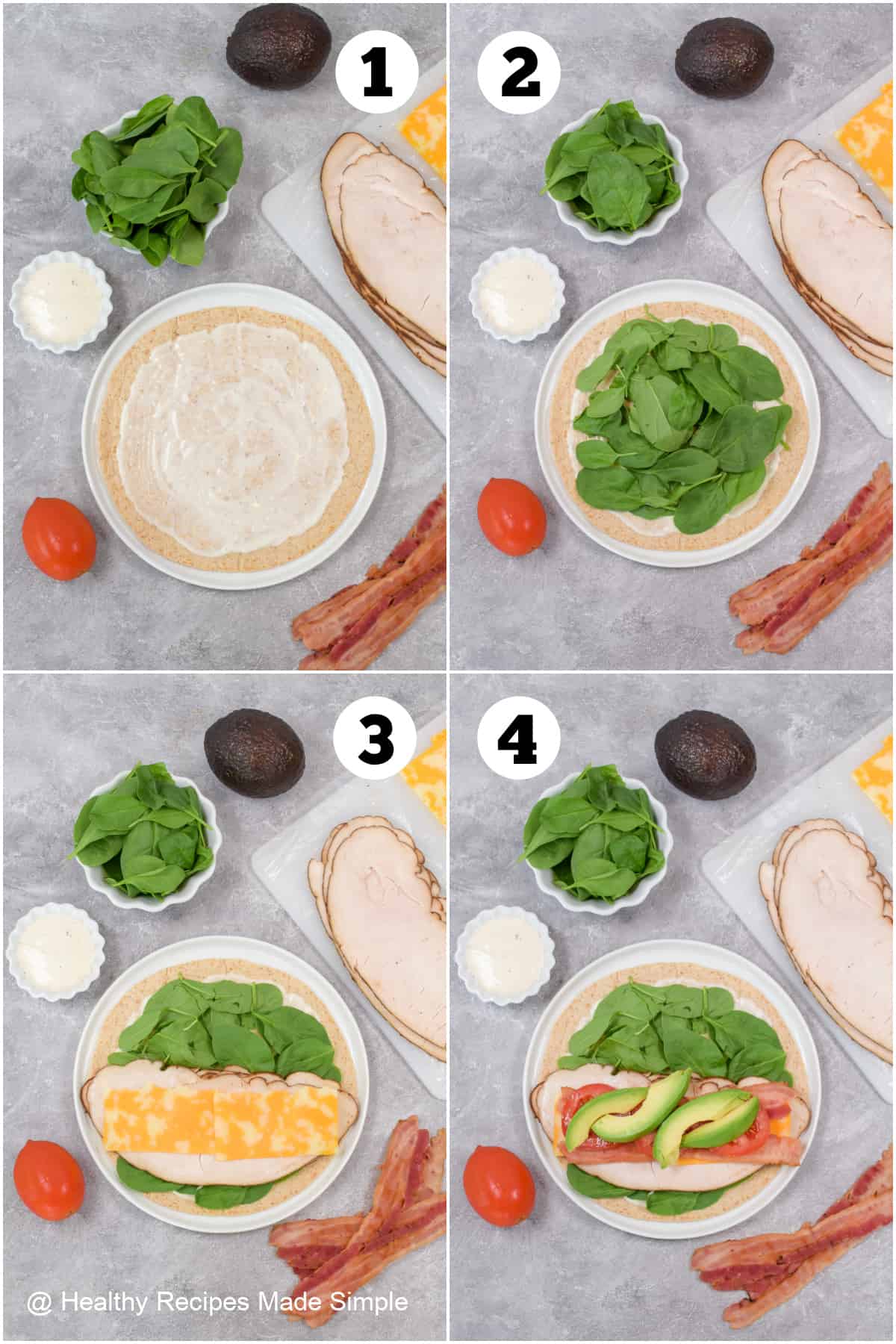 These California turkey wraps can be made in just a few easy steps. Set everything out on the table and start rolling.
Spread the ranch dressing over the tortilla within ½ inch to the edge.
Place a handful of baby spinach leaves covering the ranch.
Add the sliced turkey and cheese to the bottom half of the wrap. Top with the bacon, tomato, and avocado slices.
Tightly roll the tortilla from the bottom to the top. If any ingredients try to escape, simply push them back into the roll. Cut in half and enjoy!
Storage Recommendations
Tightly wrap any of the leftovers in plastic wrap and place them in the refrigerator. These are good for about three days.
Bonus Tip: If you want them to last a little longer in the refrigerator skip the tomato and avocado. These will cause the wrap to get soggy as they sit in the fridge. Add them to the wrap when you are ready to eat it.
Make it a Meal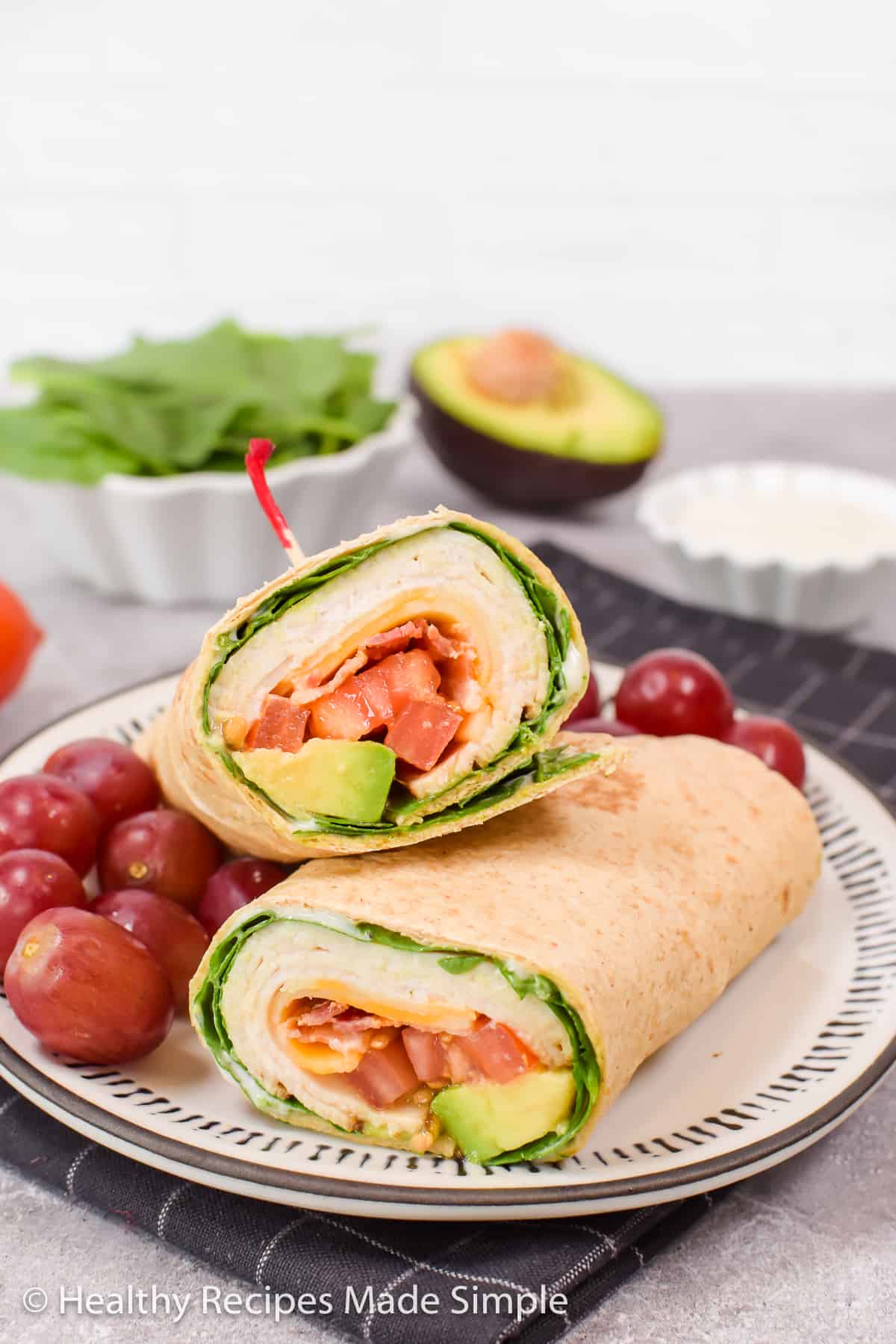 Simple Tips
Use a different meat. Replace the deli turkey with fresh turkey or your preferred lunch meat.
Try other cheese. Some great options are Swiss, cheddar, gouda, and provolone.
Add extra veggies. A few that are good are pickles, cucumbers, bean sprouts, and carrots.
Look for extra sugar. If you are following a low carb eating plan, make sure you check all your ingredients for any hidden sugars.
Serve as appetizers. Cut each wrap into small pinwheels and hold them together with a toothpick.
FAQs
What are some low-carb or keto-friendly options for turkey wraps?
Most turkey wraps use tortillas that are full of carbs. These turkey wraps use low carb wraps. You could also wrap them in lettuce to keep the carb count even lower.
How do I keep my turkey wraps from getting soggy?
If you are eating the turkey wraps over the next couple of days, leave the tomato off of them. Place the tomatoes on them when you are ready to eat them. This will keep them from getting soggy.
Nutritional Information
Optavia
Lean - 1
Green - 2
Healthy Fat - 1
Macros
Protein - 34 grams
Carbs - 6 net grams
Fats - 23 grams
More Low Carb Meals
❤️ THIS RECIPE? If you do, will you consider giving it a 5⭐️ review?
This will help us provide quality recipes for everyone to enjoy!
Recipe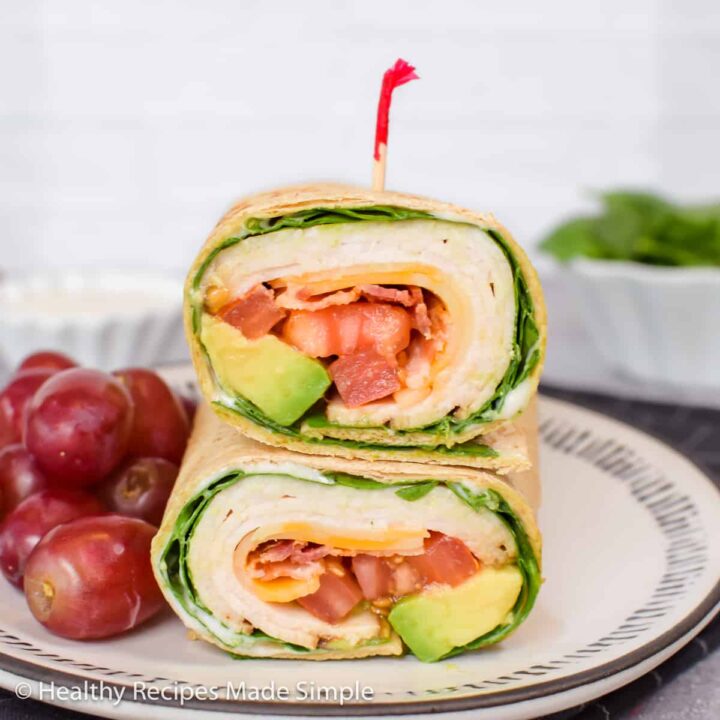 Low Carb Turkey Wrap
Our Low Carb Turkey Wrap has everything you love about a turkey sandwich without all the extra carbs. Packed with flavor and only the good stuff, this lean and green wrap is the perfect option for lunch or dinner.
Ingredients
1 low carb wheat tortilla
1 tablespoon lite ranch dressing
¼ cup baby spinach leaves
3 ounces deli turkey
1 slice Colby Jack cheese
2 slices cooked turkey bacon
2 small tomato slices
¼ avocado, sliced
Instructions
Lay the tortilla on a flat surface. Spread the dressing over the whole thing.
Place the spinach evenly on the torilla.
Top with turkey, cheese, bacon, tomato, and avocado.
Gently roll up and enjoy.
Nutrition Information:
Yield:

1
Serving Size:

1
Amount Per Serving:
Calories:

424
Total Fat:

23g
Saturated Fat:

6g
Trans Fat:

0g
Unsaturated Fat:

8g
Cholesterol:

58mg
Sodium:

1351mg
Carbohydrates:

27g
Net Carbohydrates:

6g
Fiber:

21g
Sugar:

3g
Protein:

34g