Get ready for an incredible No Bean Chili recipe that will have you coming back for seconds. This low carb chili is a great way to enjoy a comfort food while maintaining your lean and green meal plan.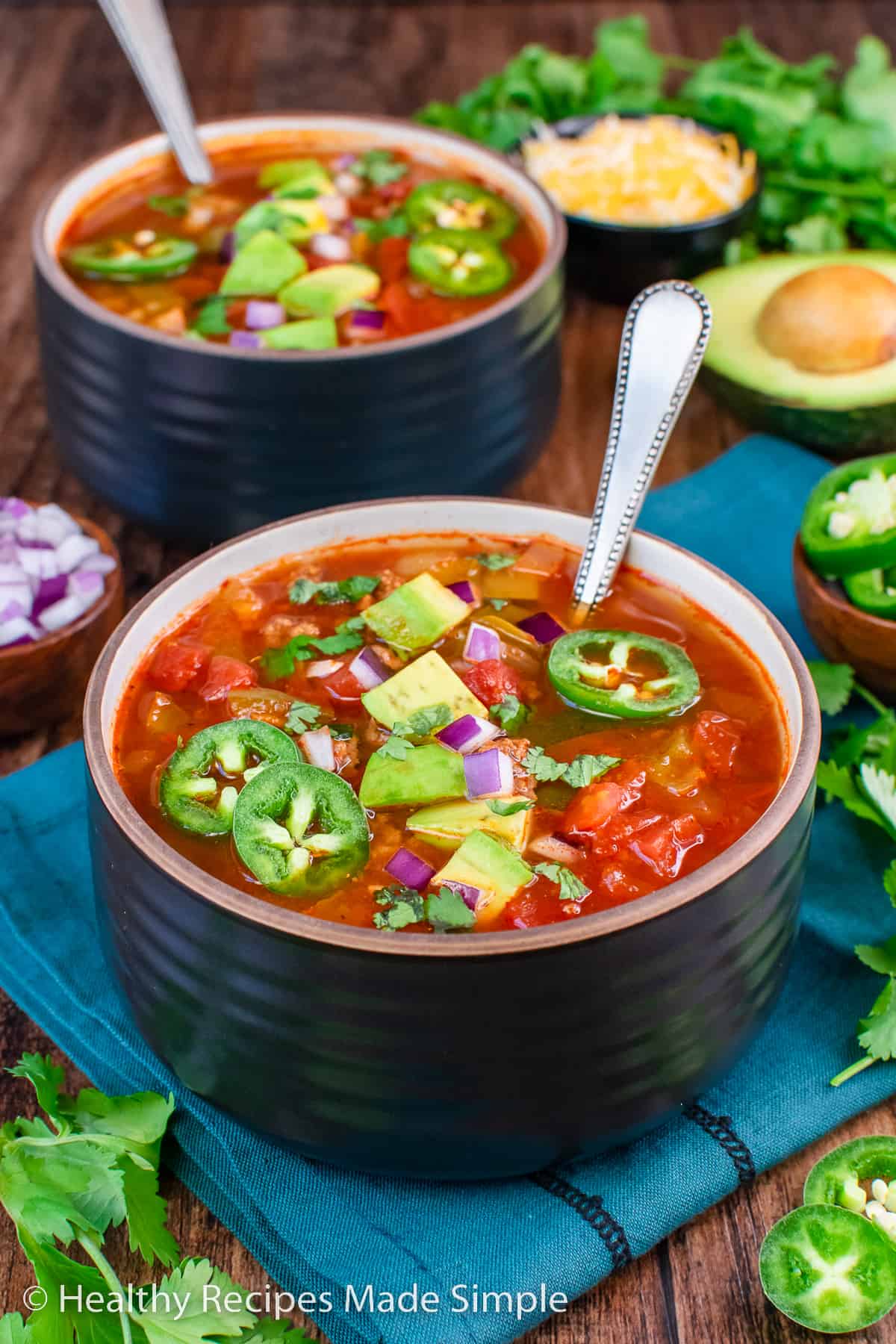 Are you like me? I tend to thrive when eating lower in carbs. My weight stays down and my mental clarity stays up. But sometimes I struggle to find delicious meals that are low in carbohydrates.
That's why we have created some amazing recipes like low carb Zuppa Toscana soup and avocado tuna salad. They keep us on track with our eating and fitness goals.
When cold weather rolls around, I crave chili. That is why we set out to make the perfect chili without beans! This hearty dish is packed with veggies and protein, making it a delicious and nutritious addition to your meal plan.
Jump to:
Why Make No Bean Chili
Not only does this chili offer all of the wonderful benefits of a healthy meal, but it also comes together in a very short amount of time. This chili recipe is ideal for busy weeknights when you need something quick and tasty.
Low in carbs and perfect for counting macros, points, or following the Optavia plan.
Made in one pot in less than 30 minutes.
High in fiber and protein.
All the chili flavor you love without messing up your nutrition goals.
Primary Ingredients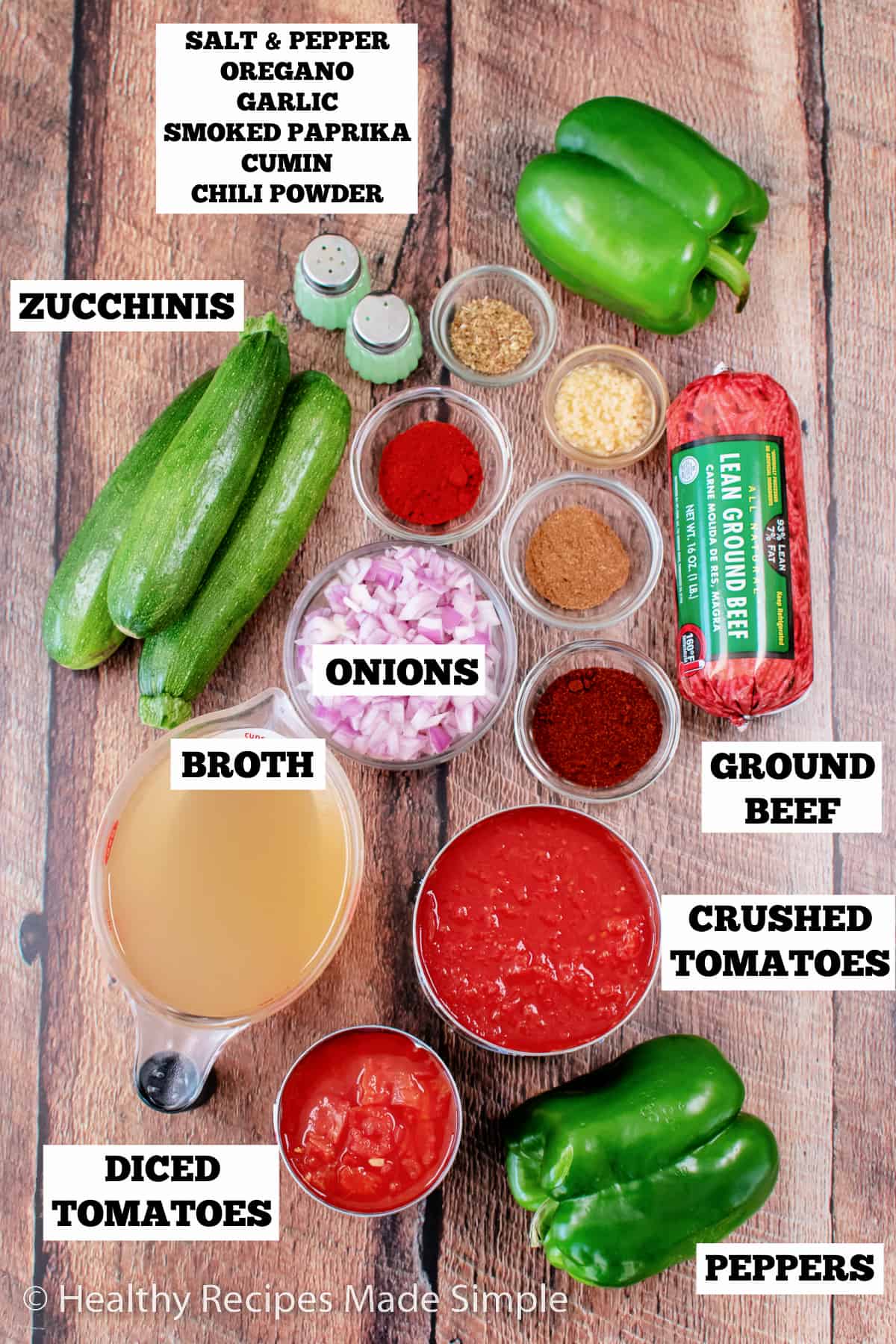 Grab your pot and some simple ingredients because this lean and green chili can be on the table before you know it.
Ground Beef - Use a low fat ground beef for this recipe to minimize the amount of grease as it cooks.
Tomatoes - 1 large can of crushed tomatoes and 1 small can of diced tomatoes adds the tomato base to the chili.
Broth - Adds liquid to the soup mixture. Feel free to use chicken broth or beef broth.
Vegetables - Green peppers and zucchini are great option to use instead of beans.
Seasonings - A mixture of cumin, chili pepper, smoked paprika, oregano, and garlic really give the soup a great flavor.
How to Make Low Carb Chili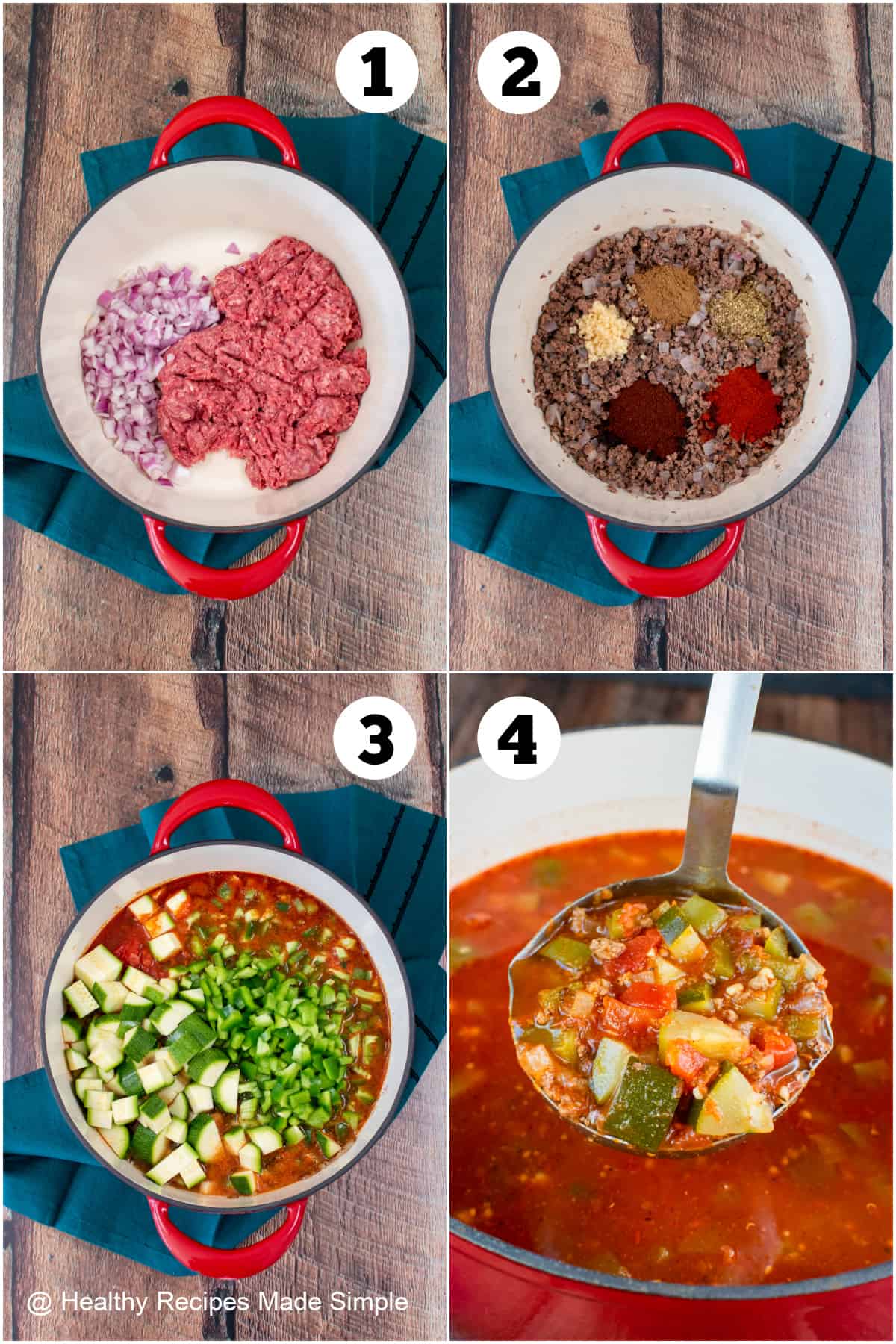 This chili with no beans can be made in as little as 30 minutes with just 4 easy steps.
Cook the ground beef and onions in a large pot. Once it is almost finished cooking, stir in some garlic.
When the hamburger is ground up and finished cooking add the spices and stir together.
Stir in the tomatoes, chopped veggies, and broth.
Bring to a boil and then reduce the heat and simmer for about 10 minutes or until the vegetables are softened to your liking. Serve with a variety of toppings.
Storage
In The Refrigerator - Store in a sealed container for up to 5 days. Reheat portions in the microwave or stovetop until desired temperature.
In the Freezer - Place the cooled chili in a freezer container or a freezer ziplock bag for up to 2 months. Thaw overnight in the refrigerator.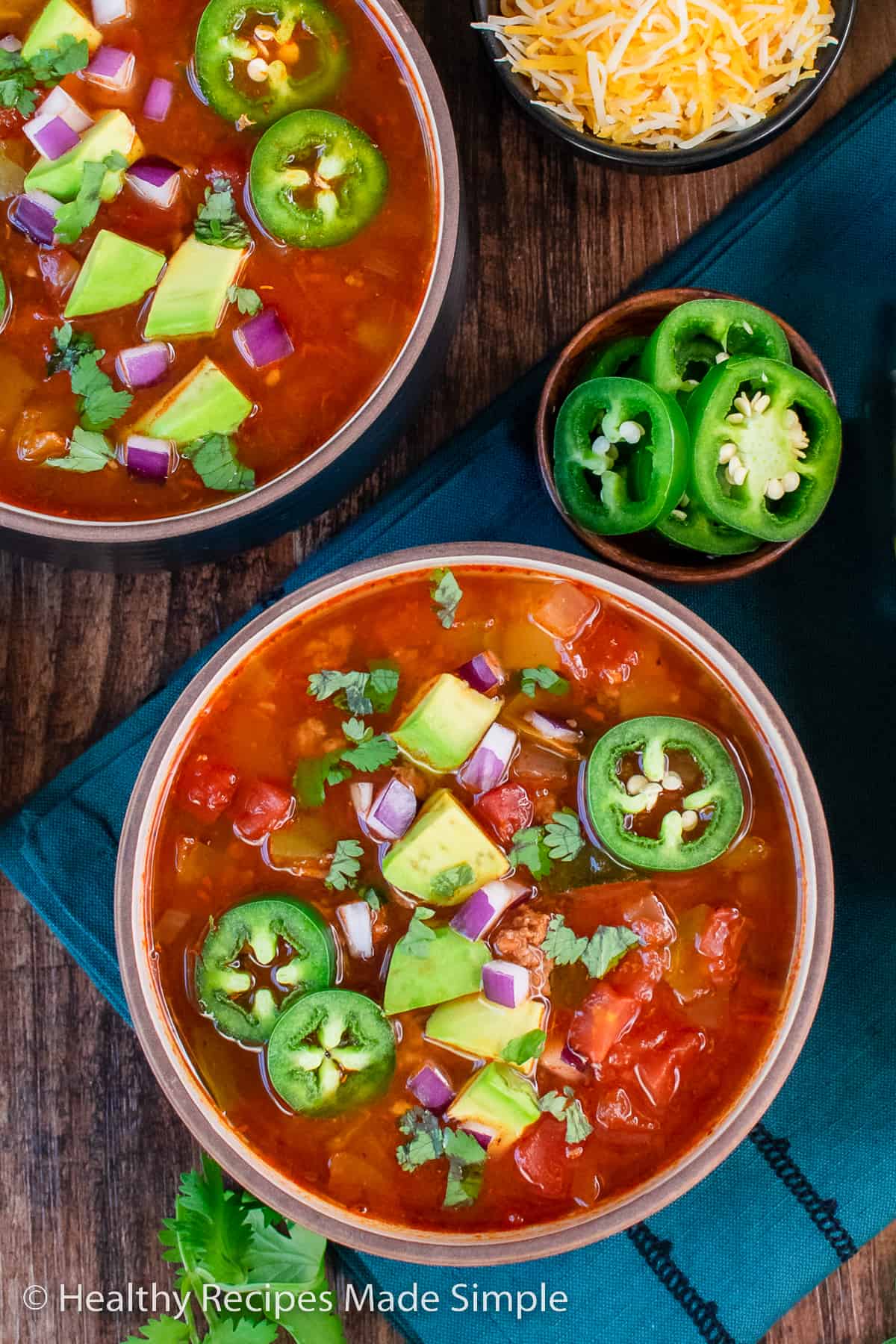 Simple Tips
Here are some things we found to make your cooking even simpler and your food even tastier!
While all you need is 1 pound of ground beef, I like to cook up a large five pound package and divide it up into 1 pound bags for fast meal prep on busy nights.
Don't like ground beef or want something different? Use ground chicken, turkey, or even shredded chicken for a different taste.
To save time in the kitchen, chop the veggies while your meat is cooking.
Top your low carb chili with great toppings like sliced jalapeños, cilantro, fresh onions, low fat cheese, avocado slices, or some low fat sour cream.
Use your preferred broth for this chili. Some great options include veggie broth, beef broth, chicken broth, and bone broth. Adjust the amount to your desired chili thickness.
If you prefer a thick chili either add less broth or add a can of tomato paste.
Enjoy a protein jello, sugar free hot chocolate, or a frosted protein lemonade (just like Chic-fil-a) for dessert.
FAQs
Can I freeze this no bean chili?
Yes! This meal works great to freeze to be ready for later in the week. Simply prepare the chili as directed and then cool and transfer to a freezer bag or bowl. Freeze for up to 2 months. Thaw overnight in the refrigerator.
Why do I want chili without beans?
For some, beans cause many digestion issues. For others who are following a keto or low carb diet, beans are too high in carbs and need to be eliminated.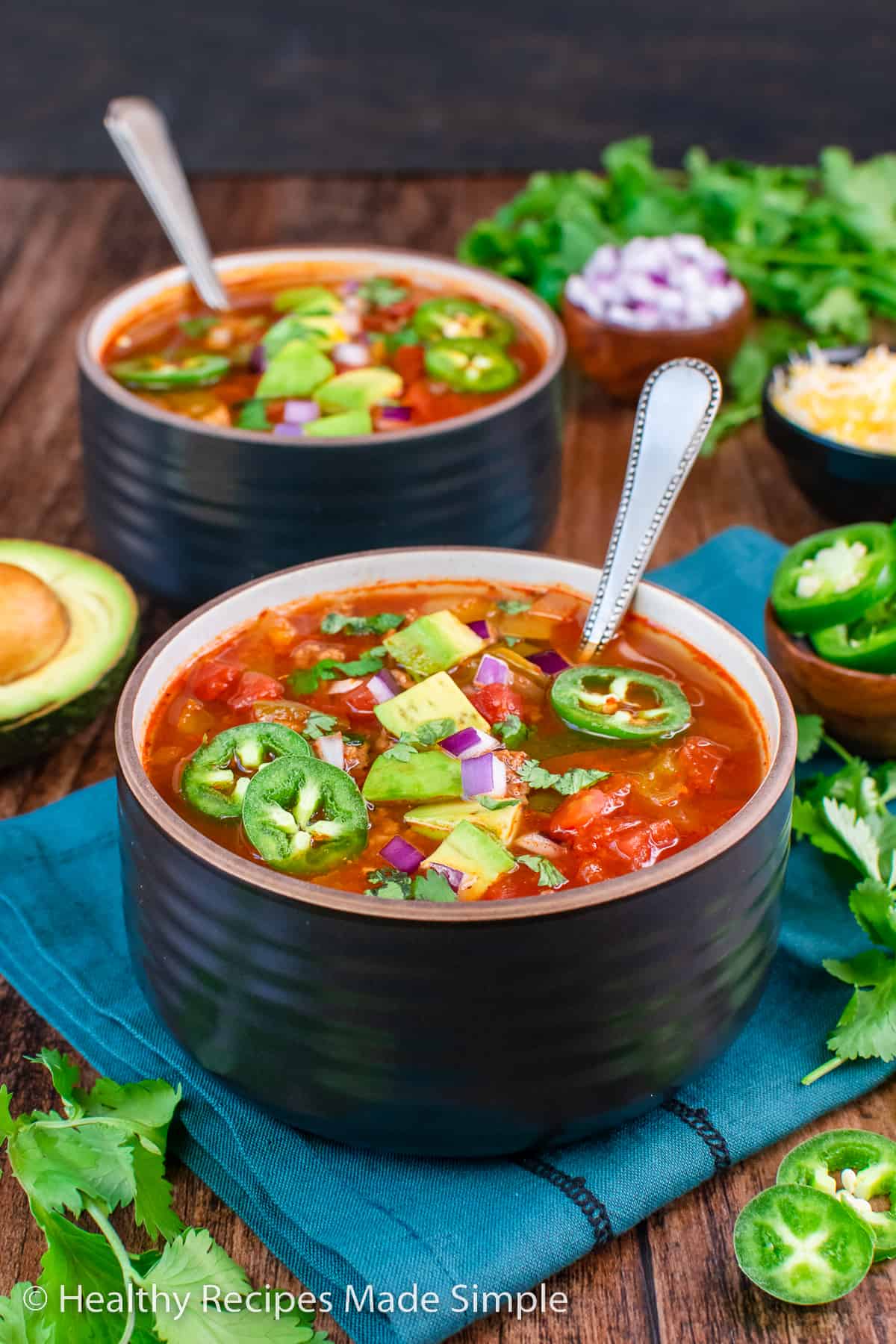 Nutritional Information
Whether you are just counting macros or following the Optavia plan, this lean and green chili will keep you on track for your nutrition goals.
Optavia
Lean - 1
Green - 3
Healthy Fat - 0
Macros
Protein - 18 grams
Carbs - 12 net grams
Fats - 7 grams
Other Lean and Green Meals
Find other great low carb and Optavia approved meals here.
❤️ THIS RECIPE? If you do, will you consider giving it a 5⭐️ review?
This will help us provide quality recipes for everyone to enjoy!
Recipe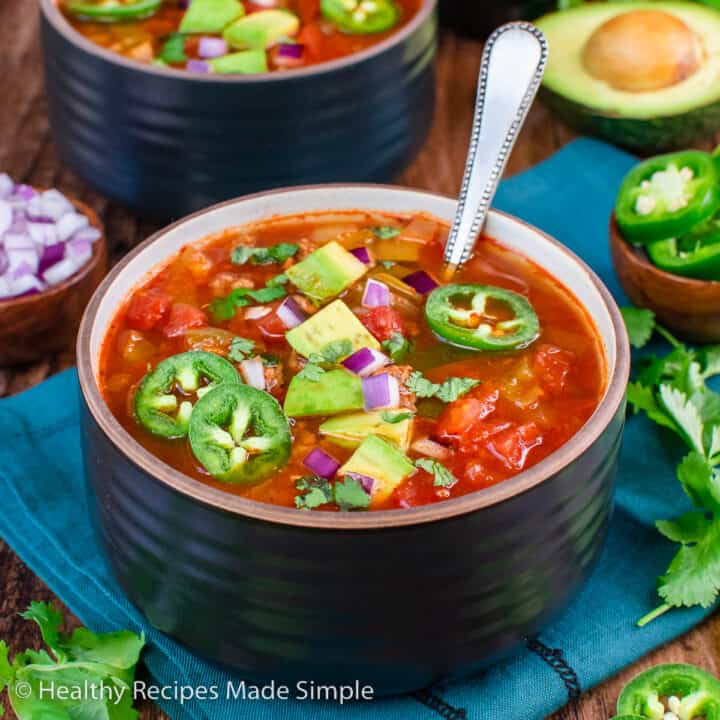 No Bean Chili
This low carb chili is full of flavor without the beans. See how easy it is to make this no bean chili in less than 30 minutes.
Ingredients
1 pound lean ground beef*
1 cup diced onion + extra for garnish
1 heaping tablespoon minced garlic
1 tablespoon cumin
2 tablespoons chili powder
1 tablespoon smoked paprika
1 ½ teaspoons oregano
1 - 28 ounce can crushed tomatoes
1 - 14 ounce can diced tomatoes, drained
2 medium zucchinis, cut into bite sized pieces
2 green bell peppers, chopped
2-3 cups chicken broth* (see note below)
½ teaspoon table salt
½ teaspoon pepper
Instructions
Saute the ground beef and onions in a large pot until cooked. Drain the grease, if needed.

Stir in the seasonings and garlic.
Add the crushed tomatoes, diced tomatoes, zucchini, peppers, and chicken broth. Bring the mixture to a boil.
Reduce the heat and simmer about 10 minutes, just until the vegetables are soft. Season to taste with salt and pepper.

Serve immediately. Feel free to add avocado chunks, green onions, cilantro, jalapeño, cheese, or low fat sour cream as a garnish.
Notes
Use a very lean ground beef or ground chicken depending on your liking.
Don't like ground beef or want something different? Use ground chicken, turkey, or even shredded chicken for a different taste.
If you like your chili to be thicker, only use 2 cups broth. For a chili that is a little thinner, use 3 cups broth.
Nutrition Information:
Yield:

10
Serving Size:

1 cup
Amount Per Serving:
Calories:

183
Total Fat:

7g
Saturated Fat:

2g
Trans Fat:

0g
Unsaturated Fat:

3g
Cholesterol:

46mg
Sodium:

1693mg
Carbohydrates:

15g
Fiber:

3g
Sugar:

7g
Protein:

18g