Strawberry Pineapple Salsa is a delicious and easy to make fruit salsa. It is great with regular tortilla chips or cinnamon dessert chips. You can also use it to top grilled fish or chicken tacos for an incredibly fresh flavor.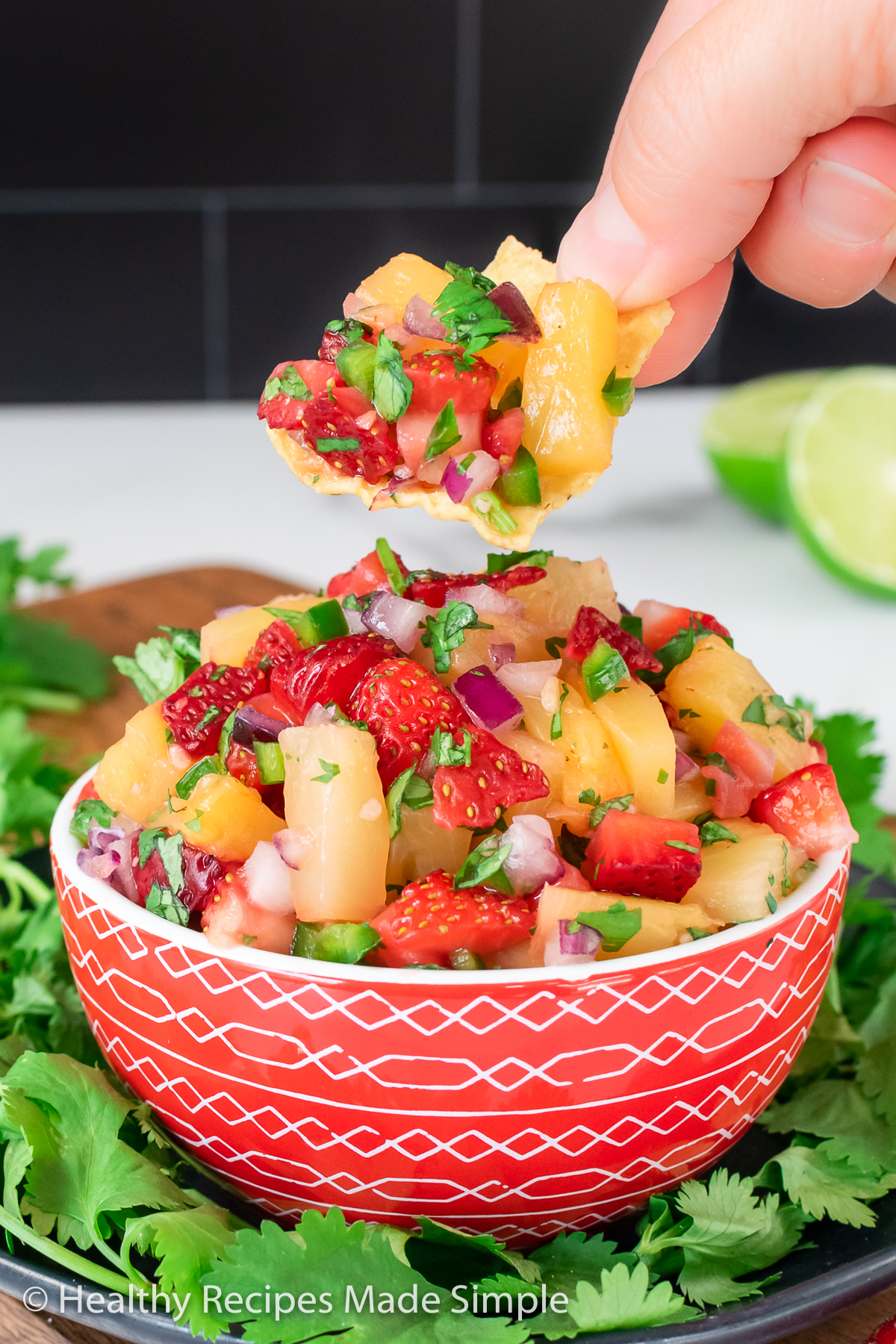 Jump to:
When you think of salsa, you probably think of tomatoes, jalapeños, onion, etc. Salsa may even be a staple in your home like this easy salsa recipe is in ours. As George Costanza said, "Salsa is the number one condiment in America." I am not sure if that is true, but it is delicious.
However, sometimes regular tomato base salsa can overwhelm the flavor of the food you are putting in on. Substitute the tomato salsa with a fresh, light, fruit salsa instead.
Why You Will Love It
The fresh citrus flavors go so well with chicken or fish. The citrus flavors don't overwhelm the proteins like a typical salsa might.
Add this as a condiment to your next cookout and see why fruit salsa might just be the NEW number one condiment in your home!
Once you find how delicious strawberries and pineapple can be in a salsa, you might want to try other fruits like a pineapple peach salsa or a pineapple mango salsa.
Ingredients Needed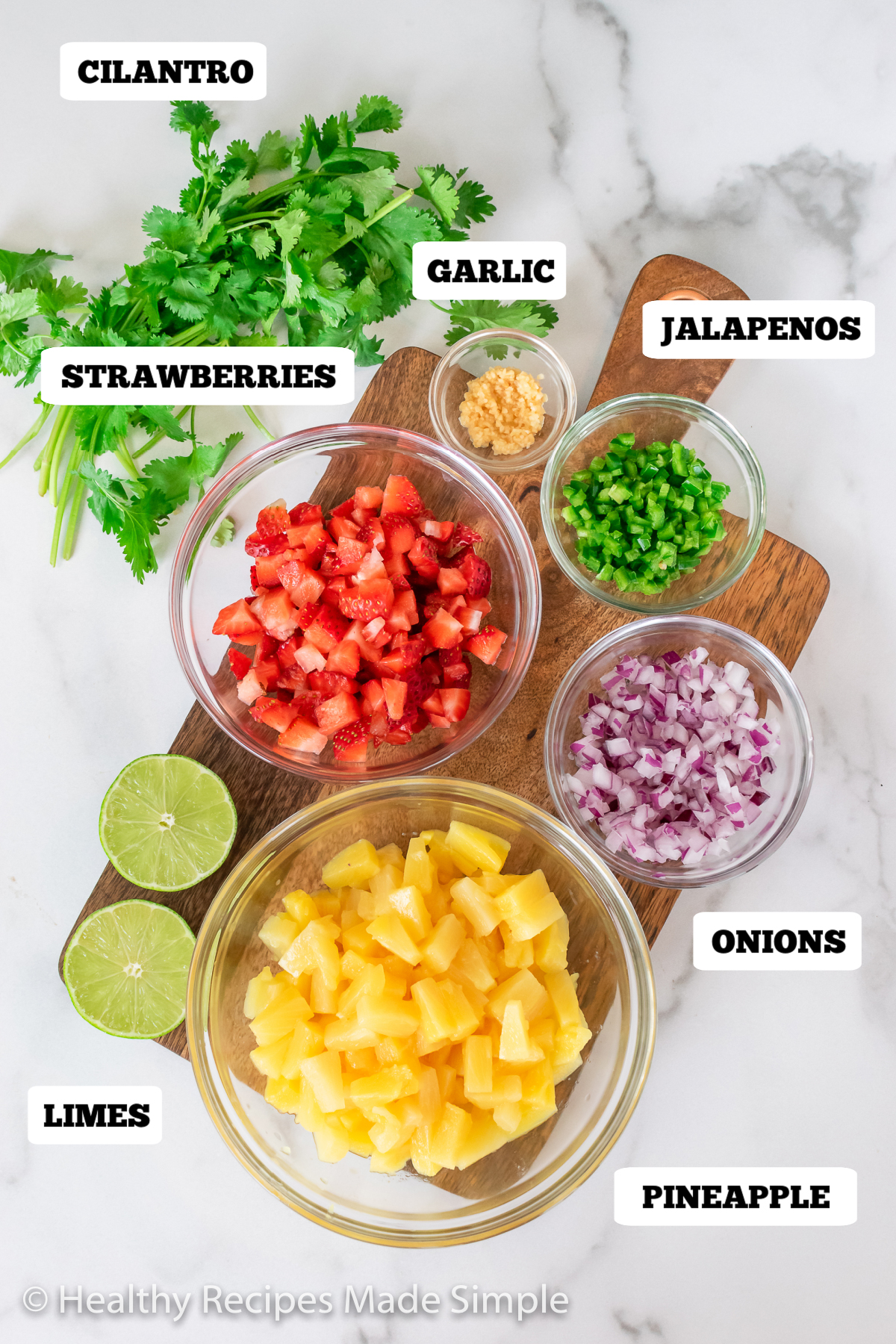 The amazing thing about this strawberry pineapple salsa is that most of the ingredients are fresh. You can rest assured knowing that this easy side dish is not loaded with preservatives or processed ingredients.
Pineapple - Canned pineapple makes an easy base to this fruit salsa. You can also core and dice a fresh pineapple, if you prefer.
Strawberries - This gives a pretty color and the sweetness is a great contrast to the tart pineapple.
Jalapeño - A little bit of spice from the jalapeño is cooled off quickly by the fresh fruit.
Red Onion - This adds a nice texture and flavor with the fruit.
Garlic - Just a little garlic goes a long way to add a great contrast to the fruits in this dish.
Lime Juice - The acidity in the lime juice helps to preserve the salsa as well as give a great citrusy taste.
Cilantro - This adds a great tangy citrus flavor to the salsa.
Honey - This is optional and can be added or deleted based on how sweet you like things.
How to Make Fruit Salsa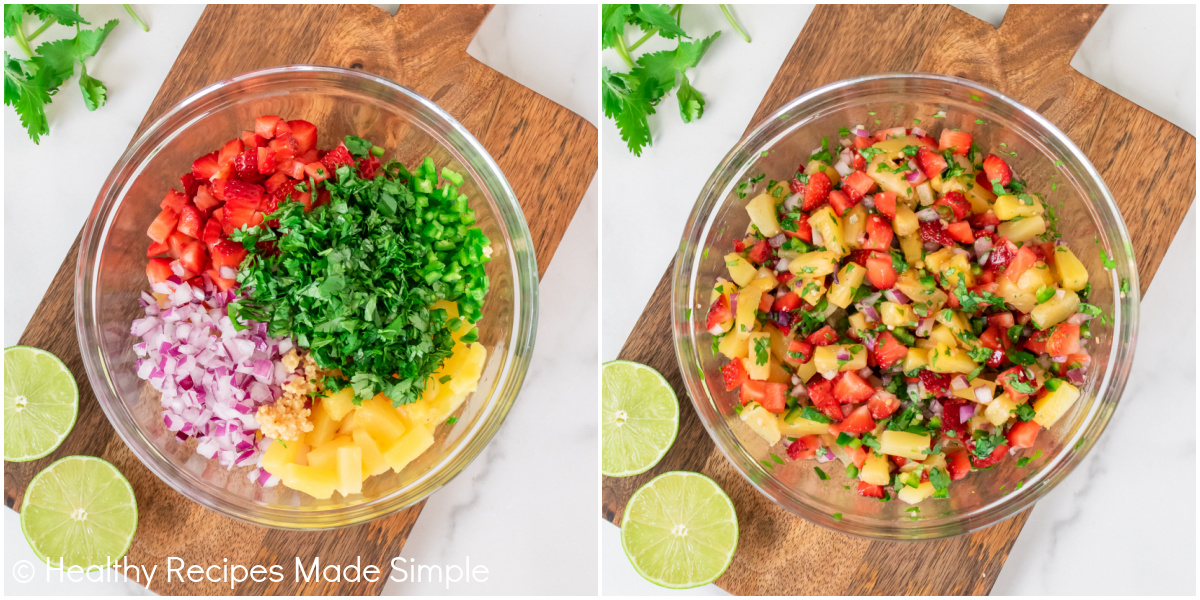 If you can chop a few ingredients, then you can put this fruit salsa together in no time at all. This side dish literally comes together in minutes.
Drain the pineapple. Dice the strawberries, onions, jalapeño, and cilantro into small pieces.
Combine all the ingredients together in a bowl.
Cover and refrigerate until ready to be served.
Storage Recommendations
This fresh fruit salsa with strawberries will last in the refrigerator for about 3 days. Any longer and the fruit will start to get very soggy. Keep it covered in an air tight container.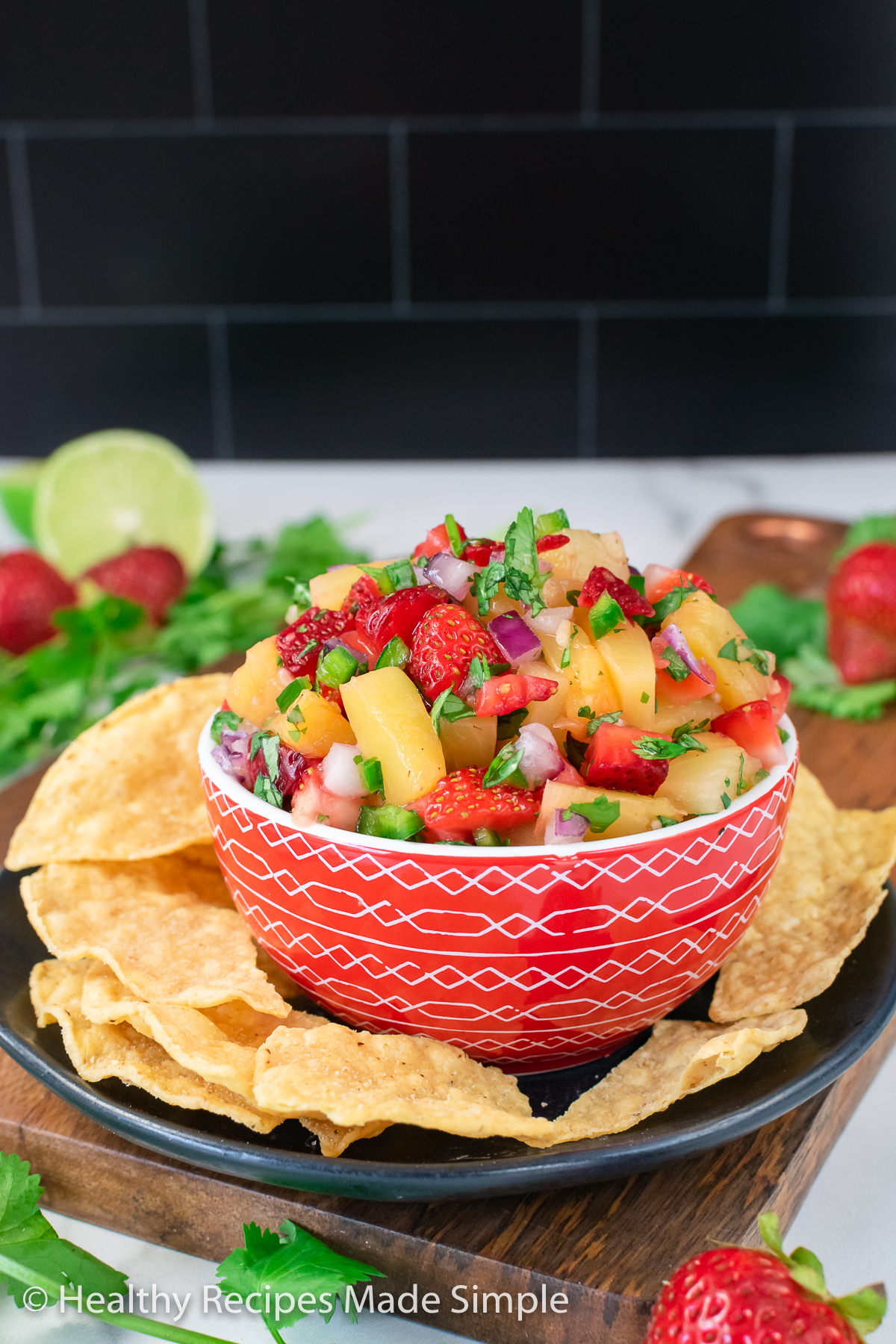 Recipe FAQs
Can I use frozen fruit?
You would not want to use frozen fruit in this recipe. Frozen fruit is great in smoothies but tends to get very mushy when thawed out. The best type of fruit to use in this salsa is fresh. You can use a fresh pineapple instead of the canned pineapple tidbits if you would like.
What if I don't like cilantro?
For some people, cilantro has a dish soap taste. Let's be honest, that flavor does not pair well with...well...anything! If you are one of those people who has an adverse reaction to cilantro you could leave it out.

Mint leaves or some parsley may be a good alternative to still give you some additional flavor and that pretty green color.
Is this spicy?
The jalapeño add just a little spicy heat to the fruit salsa. The heat is cooled quickly by the citrus flavors of the fruit. You can add more or less jalapeños depending on how spicy you prefer. Just be sure to use fresh and not canned.
What would I serve this with?
You could serve this salsa as a side with regular tortilla chips or some cinnamon chips. It also makes an excellent topping on fresh fish, chicken, or in grilled fish or chicken tacos.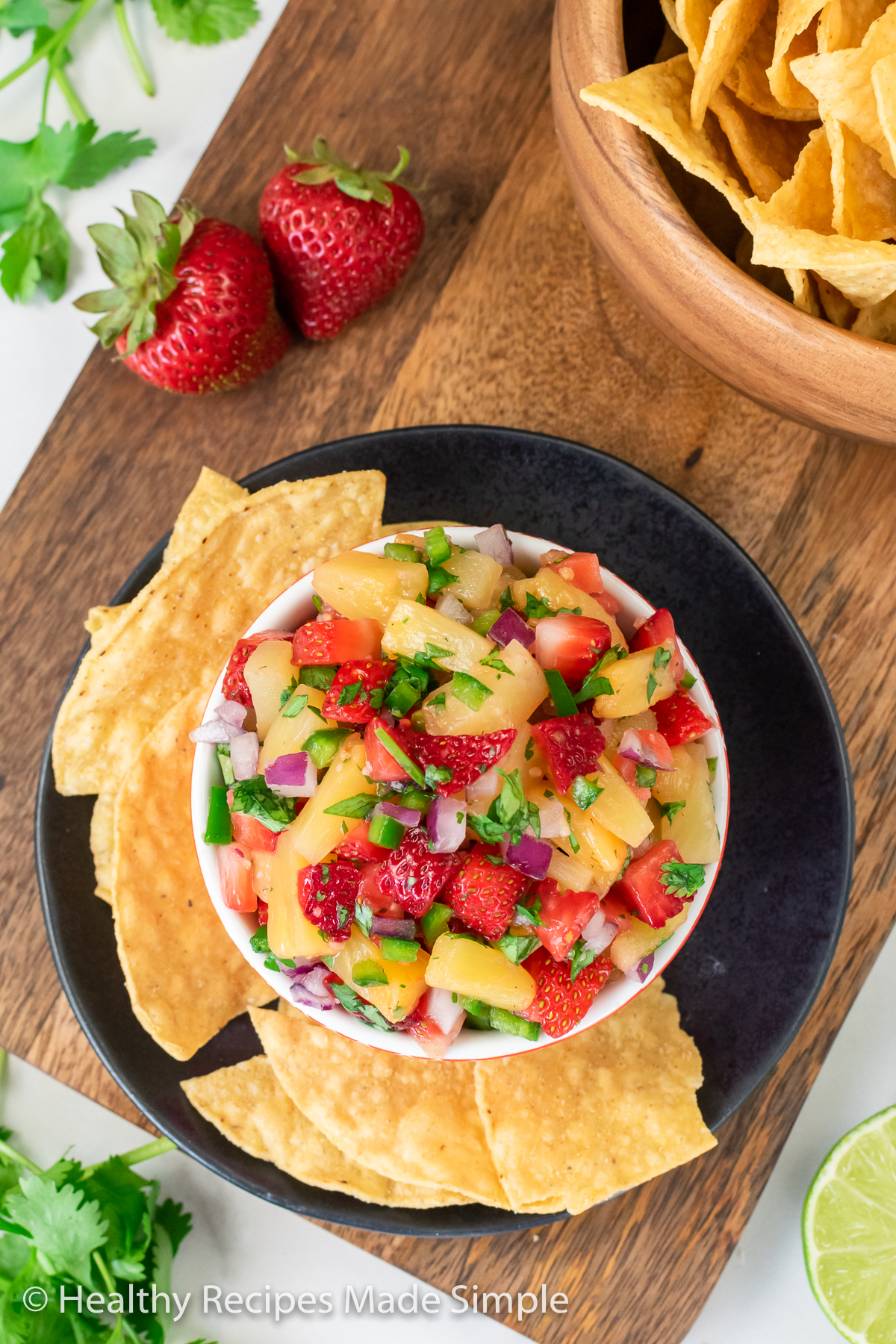 Add Salsa to These Recipes
❤️ THIS RECIPE? If you do, will you consider giving it a 5⭐️ review?
This will help us provide quality recipes for everyone to enjoy!
Recipe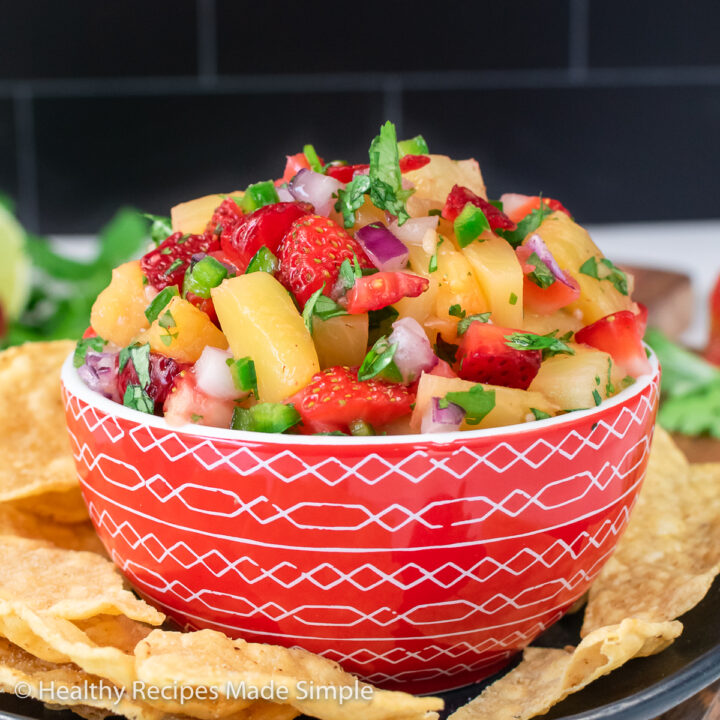 Strawberry Pineapple Salsa Recipe
This Strawberry Pineapple Salsa is perfect for any occasion. It's great on regular tortilla chips or cinnamon dessert chips. You can also use it to top grilled fish or chicken tacos for an incredibly fresh flavor.
Ingredients
1 - 20 ounce can pineapple tidbits*
1 ½ cup diced strawberries
½ cup diced red onion
1 tablespoon minced garlic
1 tablespoon lime juice
¼ cup chopped cilantro
Instructions
Drain the can of pineapple very well.
Combine all ingredients in bowl.
Cover and refrigerate up to 3 days.
Notes
You can use 2 cups of fresh pineapple in place of canned pineapple if you would like.
Want it a little sweeter? Stir in 1 tablespoon honey with the lime juice.
Nutrition Information:
Yield:

8
Serving Size:

½ cup
Amount Per Serving:
Calories:

54
Total Fat:

0g
Saturated Fat:

0g
Trans Fat:

0g
Unsaturated Fat:

0g
Cholesterol:

0mg
Sodium:

2mg
Carbohydrates:

14g
Net Carbohydrates:

12g
Fiber:

2g
Sugar:

9g
Protein:

1g